Lasagna Gardening is a Great Way to Build Soil
What a wonderful day in the garden I've had!  I've been interested in no-till gardening for years, since the 70's when I was influenced by Ruth Stout.  I've dug a garden all these years, but used lots of mulch as she advises. Last year, Mike built two raised beds for me
which we filled with purchased soil and manure.  In the fall, I added several inches of chopped leaves to put the beds to bed for the winter.  I used a garden weasel to mix the leaves  a bit with the soil this spring, but that is all the digging that will be done.
Last summer, we experimented with lasagna gardening at our cottage and since that garden outproduced the one here in town, we decided to add a third raised bed this year and start another lasagna garden. Also known as sheet composting, a lasagna garden is built by layering organic materials which eventually will decompose into wonderful garden soil.
PAID ENDORSEMENT DISCLOSURE: In order for me to support my blogging activities, I may receive monetary compensation or other types of remuneration for my endorsement, recommendation, testimonial and/or link to any products or services from this blog.
The good news is that it is not necessary to wait until that
decomposition occurs to begin planting in the layers.  I spent 3 – 4 hours building my garden today and hope to plant some cool weather plants this weekend.
Here's how I did it, but the great thing is that there is no exact right way to do this.  You may use whatever materials you have available as long as you use both "greens" and "browns". "Greens" include materials like grass clippings and manure and provide nitrogen. "Browns" include hay and leaves and provide carbon.
My first layer is a 1/2″ layer of
newspaper laid right on the ground – no need to dig first.  This layer will choke out the grass and weeds. Next, I added some partially decomposed hay that we had from last fall. I then added a layer of well rotted cow manure from a local farm. Any type of manure would be fine as long as it is not fresh. On top of the manure went several inches of chopped leaves.
Although not completely necessary, I then sprinkled very thin layers of bone meal and blood meal to add phosphorous and nitrogen respectively. I continued layering with more hay, manure and leaves and finished with a layer of compost. Here's my new finished bed, ready for planting,  alongside my two older beds: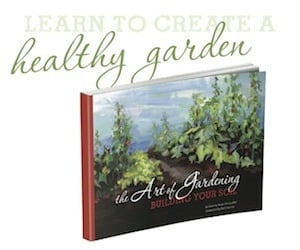 To learn how to build a garden that builds healthy soil, be sure to check out my eBook The Art of Gardening: Building Your Soil. You really can become a better gardener, and you really can grow healthy, nourishing produce. It's all about the soil! Click here to buy now.