If you are a gardener, and if, like me, you live in the northeast US, you are anxiously waiting to plant those tomato seedlings sitting under your grow lights. All winter, we have been eating pseudo-tomatoes. You know what I mean; that red thing that looks like a tomato, but is virtually tasteless. And if you've never tasted a cucumber, or a pepper that is still warm from the sun and harvested just minutes ago, you really don't know what you are missing. Fresh just tastes better! Most produce is harvested 4 – 7 days before reaching the supermarket. Because fresh produce loses nutrients so quickly, it is best to try and find a local source. Most of what our industrial agricultural system grows is chosen for its ability to withstand harvesting equipment and its toughness for transport and long shelf life, not for taste or nutrition. On the other hand, farmers that cater to a local market choose many varieties so that they can provide a long harvest season. Getting to know local grower often affords you the opportunity to see how the crops or animals are raised, or at least, to ask him about his growing practices. Buying from your neighbor supports your local economy, encourages community and ensures that your area will continue to have farms for generations to come.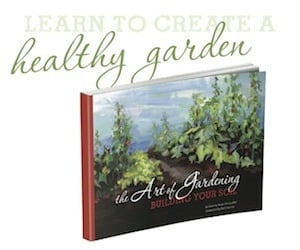 To learn how to build a garden that builds healthy soil, be sure to check out my eBook The Art of Gardening: Building Your Soil. You really can become a better gardener, and you really can grow healthy, nourishing produce. It's all about the soil! Click here to buy now.
PAID ENDORSEMENT DISCLOSURE: In order for me to support my blogging activities, I may receive monetary compensation or other types of remuneration for my endorsement, recommendation, testimonial and/or link to any products or services from this blog.