Probably the most frequent complaint about "homegrown" lettuce is that it is bitter. With a little attention, though, you can grow wonderful, crunchy, sweet lettuce.
Lettuce, of course, is a cool weather crop. So starting it early will help to prevent bitterness.
Mulch the soil to keep it cool. Once the weather warms up watch for plants that are bolting and cut back the flowers that begin to form. Plants that are flowering and going to seed are a major cause of bitterness.
PAID ENDORSEMENT DISCLOSURE: In order for me to support my blogging activities, I may receive monetary compensation or other types of remuneration for my endorsement, recommendation, testimonial and/or link to any products or services from this blog.
Water consistently, and pick frequently. Young leaves are much more tender. Another cause of bitterness is slow growth. This may be caused by low moisture and/or low nitrogen. Just be careful not to over fertilize since too much nitrogen can also cause bitterness.
The best advice is to wash your lettuce in cold water, spin dry, and then refrigerate for several hours. This seems to greatly reduce any bitterness. It has been a rainy, cool season for us in the NE, the perfect conditions for great lettuce!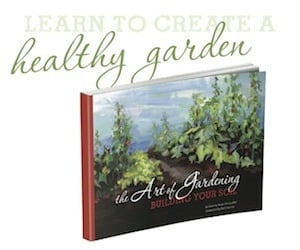 To learn how to build a garden that builds healthy soil, be sure to check out my eBook The Art of Gardening: Building Your Soil. You really can become a better gardener, and you really can grow healthy, nourishing produce. It's all about the soil! Click here to buy now.