Yes, Lye is a Dangerous Chemical
Lye is a very caustic chemical capable of causing serious damage. It can burn skin, cause blindness, and even cause death if ingested. And yet, this dangerous chemical is one of the main components of homemade soaps. Old timers will tell stories of how harsh lye soap is on the skin, but how well it cleans clothes.
It is true that extreme caution must be taken when using lye in soap making. Protective glasses should be worn, arms and legs should be kept covered, gloves should be worn, and an acid such as vinegar should be kept nearby to counter-act lye's alkalinity if it should come in contact with skin.
PAID ENDORSEMENT DISCLOSURE: In order for me to support my blogging activities, I may receive monetary compensation or other types of remuneration for my endorsement, recommendation, testimonial and/or link to any products or services from this blog.
Update: Most older soap making books and soap makers have recommended keeping vinegar on hand to neutralize any lye that may come in contact with your skin. This is no longer advisable. The vinegar will create more heat when it comes in contact with the lye. Instead, it is best to run the exposed area until cold water for 15 minutes.
Good ventilation is another consideration when working with lye. So, why would a soap maker continue to use such a harsh product?
After Saponification No Lye Remains
The other main ingredient of soap is fat – tallow, olive oil, or coconut oil, for example. When fat and lye are combined in proper proportions, a chemical reaction called saponification occurs. The end result is soap plus glycerin. (Glycerin is often removed from factory produced soaps which is why soap is often drying to the skin). When properly prepared and cured for several weeks, no lye remains in the final product.
So why does "lye soap" have a reputation of being harsh? In days past, homemakers made soap using lye made from wood ash. Sophisticated scales for measuring were not available and often too much lye was used. When saponification occurred, some lye was left in the soap, making it harsh on the skin. It is vitally important to measure carefully so that the correct amount of lye is used.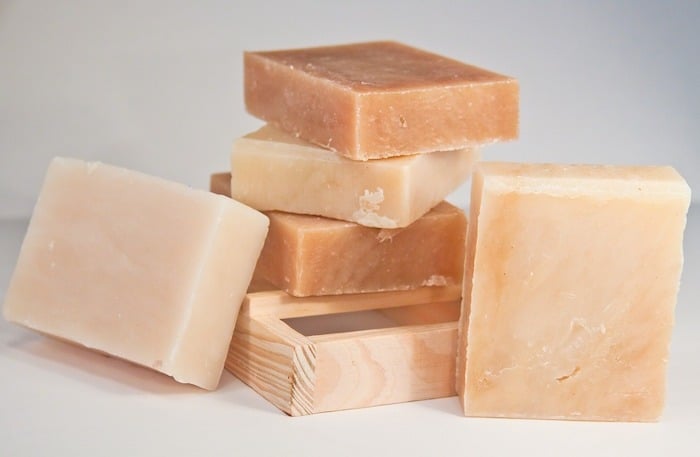 To answer the question, yes, soap made with lye is completely safe and is not harsh when made properly, using every precaution.
Have you avoided "lye soap", thinking that it was harsh or unsafe?
Where to buy lye for soap making. (Purchasing through this affiliate link helps to pay my blogging expenses, and doesn't cost you a penny more.)
Recommended Reading:
Natural Soap Making by Jan Berry.
DIY Bar Soap Gentle Enough for Babies