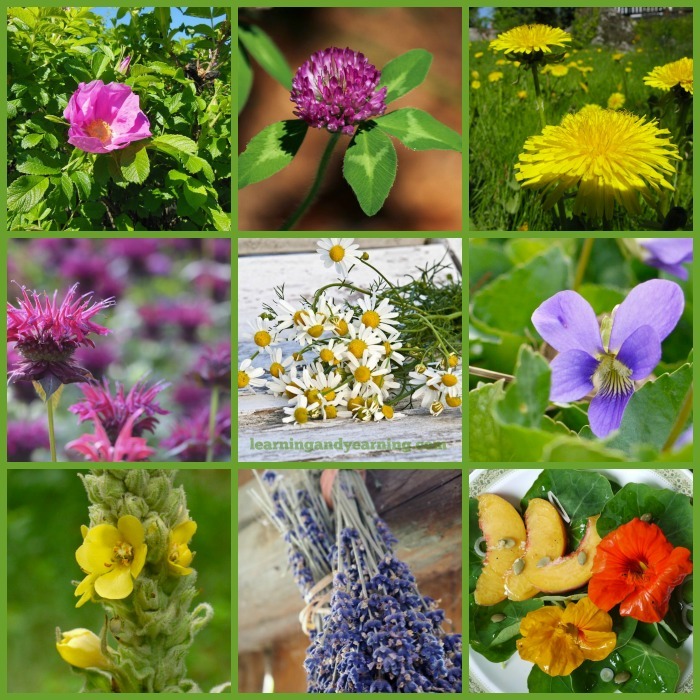 Flowers are more than beautiful; many are edible or medicinal. While not all flowers are edible, there are dozens which are. My focus here, though, is on edible flowers you can grow or forage and are amazing when used to make homemade herbal remedies.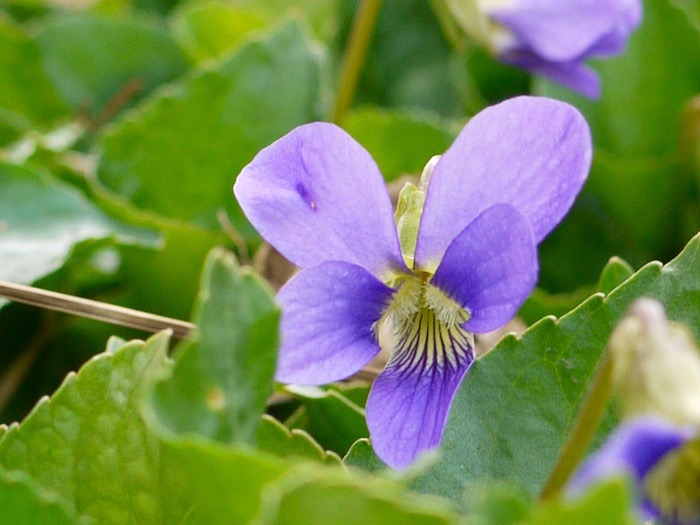 DISCLOSURE: In order for me to pay my blogging expenses, I may receive monetary compensation for my endorsement and/or link to products mentioned on this blog. As an Amazon Associate I earn from qualifying purchases.
Common Blue Violet
Viola sororia – both the leaves and flowers of the violet are edible and may be added to salads. The leaves are best when used young and can be cooked like spinach, or added to soups or stews as a thickener. The flowers are often candied to use as cake decoration, or made into a beautiful jelly.
Medicinally, violet is a demulcent, which means that it lubricates and relieves irritation of mucous membranes. It is a cooling herb, helpful during times of fever or for hot, inflamed skin.
Cover violet flowers with cold water and allow to infuse for 30 minutes, or use the leaves to make a hot infusion. Strain before drinking.
Violet is gentle and is safe for both children and adults. The leaves may be infused into oil and made into a salve as a home remedy to help relieve skin conditions like eczema, insect bites and hemorrhoids.
5 Ways to Make an Herb Infused Oil from Learning And Yearning
10 Things to Make With Violets from The Nerdy Farm Wife
A Family Herb: The Violet Plant from The Herbal Academy
Wild Violet Flower Infused Vinegar from Grow Forage Cook Ferment
Rose
Rosa spp. – The rose is surely a pretty face, but it is so much more. The lovely flowers are edible, as are the hips (the fruit). While all roses are edible, wild and aromatic roses are best. Never use a rose that has been sprayed with pesticides (those from a florist most likely have been sprayed).
Both the petals and hips may be brewed into tea, and the hips in particular are a great source of Vitamin C. Strain before drinking as the seeds in the hips can cause digestive distress.
Add these aromatic edible flowers to salads, use them to decorate cakes, or chop them and mix with softened butter to spread on muffins.
The hips may be eaten as a fruit but it is important to remove the seeds first. They are sweetest when collected after a frost.
Most of the hips I collect in my area are from the multiflora rose and are quite small. Since removing the seed from such a small hip is a difficult task, I prefer to use them where they will be strained and therefore I don't have to worry about removing the seeds. I like to add rose hips when I am making elderberry syrup, or hedgerow jelly.
Medicinally, the rose is cooling and drying. It is astringent, analgesic, nervine, anti-inflammatory, and antioxidant.
Teas and tinctures of rose support the immune system and are used to treat colds and flu, infection, and even wound healing. Rose is often used to calm during times of anxiety.
How to Make Rose Extract and Its Uses from Simply Beyond Herbs
10 Ways to Use Wild Rose Petals from Homespun Seasonal Living
34 Ways to Use Roses from The Herbal Academy
Cooking with Roses and Other Flowers from Ode a la Rose
Calendula 
Calendula officinalis – This is such an easy plant to grow here in PA. I planted seeds many years ago and each year it re-seeds itself. I love that because I never quite know where it will pop up next year. It's such a lovely flower and is both edible and medicinal so it gets no complaint from me.
Farther north, it may not be as successful at self seeding but the seeds are quite easy to save and may be planted in the spring. In warmer climates, it may be grown as a short-lived perennial.
Use calendula flowers to garnish dishes, scramble some into your eggs in the morning, or toss them into a salad. The flowers may also be dried to preserve them and can be added to soups and stews. Use sparingly, though, as calendula can be bitter.
Medicinally, calendula is warming and drying. It is anti-inflammatory, moves lymph, heals wounds, is mildly anti-fungal, anti-bacterial, and stimulates menstrual flow and bile.
Calendula, or pot marigold as it is often called, promotes cell repair and growth and thus is wonderful at wound and burn healing. It soothes irritated skin and is used in infusions, tinctures, lotions and ointments.
Caution: Calendula is not to be used internally while pregnant.
5 Ways to Preserve and Use Calendula Flowers from Joybilee Farm
How to Make Healing Calendula Oil from Tenth Acre Farm
5 Herbs That Should Be in Your Babies First Aid Kit from Growing Up Herbal
Red Clover
Trifolium pratense – Because of its high vitamin and mineral content, herbalist Rosemary Gladstar in her book Medicinal Herbs calls red clover "one of nature's best vitamin and mineral supplements."
Red clover flowers make a yummy tea and are a wonderful addition to salads and smoothies.
And red clover may be used both internally and externally as a wash to soothe skin problems. It is a known blood and lymphatic cleanser and helps to restore health after a respiratory infection.
Be sure to read the healing story I relate in my post on medicinal weeds.
Caution: Not recommended for women who are pregnant or breast feeding.
Drying and Using Red Clover from Homespun Seasonal Living
Red Clover Healing from The Herbal Academy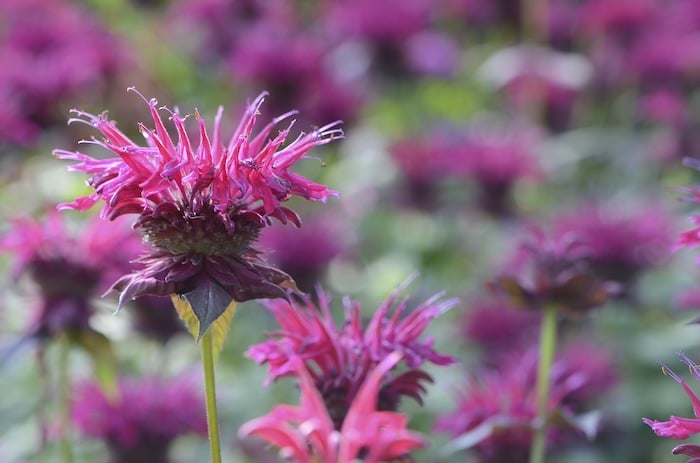 Bee Balm
Monarda spp – Both the leaves and flowers of bee balm can be enjoyed in a vegetable or fruit salad, or dried for herbal tea. Separate the petals before adding to your salad.
The taste of bee balm is similar to bergamot and may be used in Earl Grey tea or alone for a calming tea. The flowers can be made into jelly, or used in  salves, tinctures or oxymels. 
Bee balm has a high thymol content which is a strong antiseptic. Because of this, it is often used in mouth wash to relieve sore throats and toothaches.
Like lemon balm, bee balm tea is calming to the nervous system. It is in the mint family and like mint, helps to relieve upset stomach and gas.
Caution: Can interfere with thyroid medication.   
12 Ways to Use Bee Balm from Practical Self Reliance        
How to Grow, Harvest, and Preserve Bee Balm from Grow a Good Life
Recipes and Remedies Using Bee Balm from The Herbal Academy
How to Make Bee Balm Mouth Wash from Learning to Love Herbs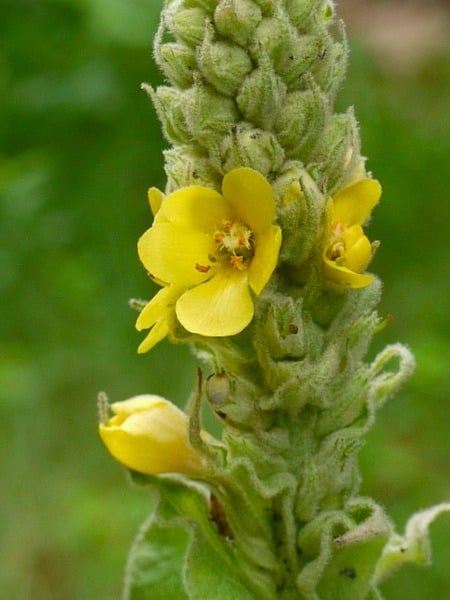 Mullein
Verbascum thapsus – of all the flowers I've mentioned, mullein is probably the one that is least likely to be mentioned as an edible. The flowers are, indeed, edible and like the others may be added to a tossed salad.
The herbal properties of mullein are expectorant, demulcent, anti-viral, anti-spasmotic and a mild laxative and mild sedative.
Dried mullein flower is pain relieving and is most commonly used by infusing it into oil and using it as a very effective treatment for earache.
Leaves from the 1st year plant are collected and dried for tea to treat coughs because of its ability to calm spasms. Be sure to strain well as the hair on the leaves can be irritating.
Foraging Mullein for Earaches and Coughs from Learning And Yearning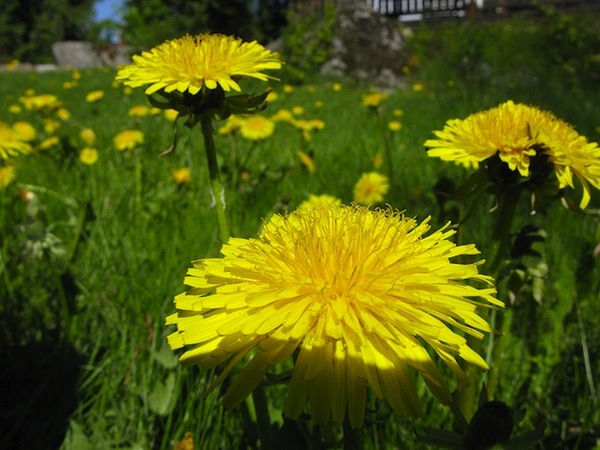 Dandelion
Taraxacum officinale – On one hand, everyone knows dandelion. But when it comes to really knowing this plant and all its uses it certainly is misunderstood.
All parts of the dandelion are useful as food and medicine – the flowers, stems, leaves, and roots. My favorite ways to eat this amazing plant are dandelion flower fritters, roasted dandelion root coffee, and dandelion leaf pesto.
Medicinally, dandelion is cooling and drying. The plant is often used to improve poor digestion, as a diuretic, to support liver function, and to soothe sore muscles.
Be sure to know how the dandelions you are harvesting were grown. I think it would be safe to say that no flower has been sprayed with more toxic chemicals than dandelion.
Dandelion Soda Recipe from Homestead Honey
Dandelion Salve for Sore Muscles and Chapped Skin from The Nerdy Farm Wife
Dandelion Root Bitters for Digestion from Grow Forage Cook Ferment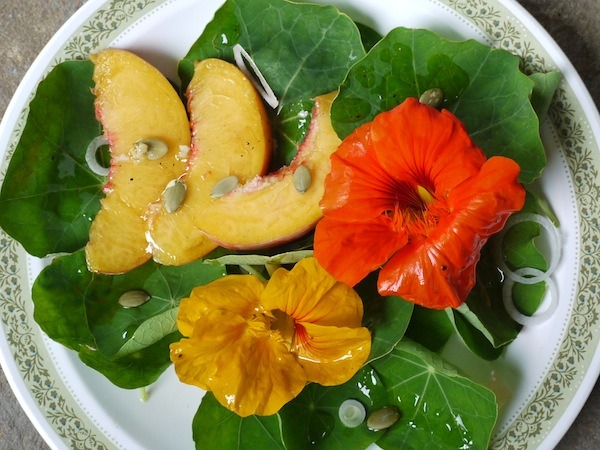 Nasturtium
Tropaeolum majus – I just love this beautiful flower and to me it is the queen of edible flowers. Both the leaves and flowers are truly delicious with a peppery kick. I make salads with them frequently and I love that the leaves are still perfect in hot weather when all the lettuce is bolting.
You can also use the leaves to make a pesto, and the flowers to decorate cakes.
High in Vitamin C, the leaves have been used in olden days to prevent scurvy. Because Vitamin C supports the immune system, nasturtium is a good choice when a cold is coming on.
To be effective as an herbal remedy, nasturtium must be used fresh. It has strong antibiotic and antimicrobial properties and has often been used to treat infections, especially those of the urinary tract.
Caution: Nasturtium should not be used while pregnant or breast feeding.
Nasturtium – Benefits, Uses and Side Effects from The Herbal Resource
Nasturtium Salad with Peaches and Pepitas from Learning And Yearning
Stuffed Nasturtium Leaves from Attainable Sustainable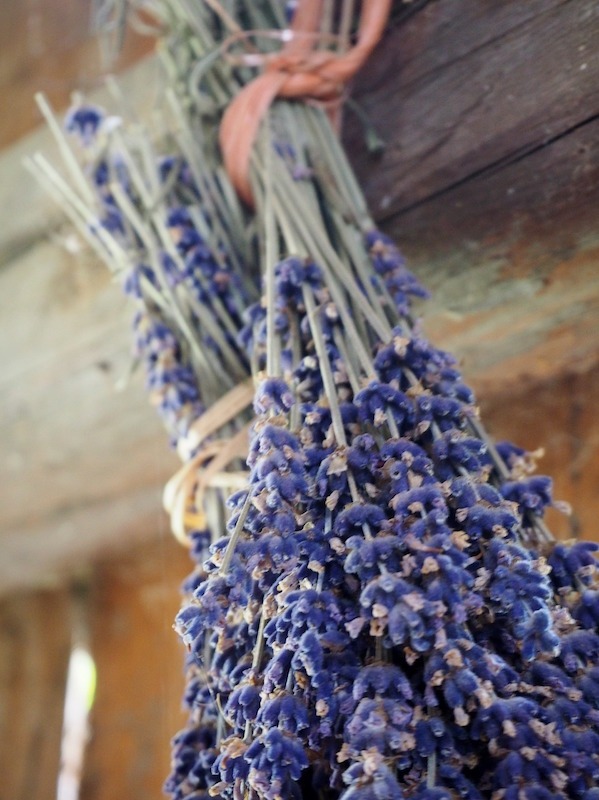 Lavender
Lavandula angustifolia – Say the word lavender and immediately the word calm comes to mind. It is a well known herb for promoting relaxation and sleep.
When cooking with lavender, a little goes a long way. Otherwise your dish may become bitter. It is used in all kinds of recipes from breads and cookies, to chicken and fish.
The lovely lavender is a warming herb. It is aromatic, antimicrobial, analgesic, and a relaxing nervine.
I find that lavender's analgesic properties work amazingly well when I get a burn in the kitchen. One drop of lavender essential oil which has been diluted in a carrier oil and the pain is gone.
And just a whiff of lavender has been found to be effective in reducing the pain of migraine headache.
Caution: Using lavender essential oil straight may cause a chemical burn. Dilute in a carrier oil at 1% dilution. Do not use internally without the supervision of a trained aromatherapist.
Make Your Own Herb Pillow for Sleep from Learning And Yearning
Lavender Lemonade with Honey from Small Footprint Family
Homemade Headache Balm from DIY Natural
How to Use Lavender for Home, Body and Food from Scratch Mommy
German Chamomile
Matricaria chamomilla – Chamomile is most often enjoyed as a relaxing tea; both the leaves and flowers are edible. This post has some great ideas for enjoying chamomile as food.
In herbal medicine, chamomile flowers are considered slightly cooling and drying. They are aromatic, relaxing nervine, carminative, a mild sedative, antispasmodic, wound healing and anti-inflammatory.
Chamomile is a gentle, but effective healer. It helps to bring on sleep, aids digestion, and is mild enough for babies for treating their diaper rashes and irritated skin. It is also safe to use to calm colic.
Use a steam inhalation of the herb to help relieve congestion.
Caution: Those allergic to ragweed should not use chamomile.
Homemade Chamomile Diaper Rash Cream from Live Simply
Chamomile Tea for Conjunctivitis from Naturally Better Kids
Growing Chamomile for Tea from Grow a Good Life
Soothing Chamomile Lip Balm from The Nerdy Farm Wife
Chamomile Uses and Benefits from Reclaiming Vitality
More Than Weeds
 A Foraging eCourse for Beginners
Are you interested in foraging, but a bit hesitant because you don't trust your own abilities? I created a mini eCourse just for you. In More Than Weeds: 5 Common Plants to Forage for Food and Medicine you'll learn that identifying plants is all in the details.
Using common plants with which may be someone familiar you'll learn beginner botany skills that you will be able to use as you move forward. You'll gain confidence to use these plants for your family in food and safe, home remedies. Get started now!
Recommended Reading For Edible and Medicinal Flowers
Peterson Field Guide to Medicinal Plants and Herbs of Eastern and Central North America
Medicinal Herbs: A Beginner's Guide by Rosemary Gladstar
Alchemy of Herbs by Rosalee de la Forêt
Backyard Medicine by Julie Bruton-Seal and Matthew Seal
Thank you for visiting Learning And Yearning. May "the LORD bless you and keep you; the LORD make his face shine upon you and be gracious to you; the LORD turn his face toward you and give you peace." Num 6:24-26