It's so much fun to grow lots of different varieties of heirloom tomatoes, isn't it? The best part is finding a new favorite that you'll grow year after year. That's when knowing how to save seeds from heirloom tomatoes really comes in handy.
DISCLOSURE: In order for me to pay my blogging expenses, I may receive monetary compensation for my endorsement and/or link to products mentioned on this blog. I am a participant in the Amazon Services LLC Associates Program, an affiliate advertising program designed to provide a means to earn fees by linking to Amazon.com and affiliated sites.
Saving Tomato Seeds
One of the advantages to growing heirloom tomatoes, as opposed to hybrids, is that you may save the seeds and count on them producing true in the next generation. (If you're confused about heirloom vs hybrid seeds, you'll find this post helpful).
There are a few steps to saving heirloom tomato seeds, but it is an easy process.
Tomato seeds are encased in a gel which contains growth inhibitors to prevent the seed from sprouting inside the tomato. This gel needs to be removed through a fermentation process in order to save the seed.
To save seeds from heirloom tomatoes, choose a quality tomato that is fully ripe. Cut it in half so that the stem end is on one side and the blossom end on the other. You will easily see the seed cavities when you cut the tomato this way.
Using a spoon, scoop the seeds into a glass container. Add a small amount of water so that the seeds are floating in liquid. Cover the top of the container with cheesecloth or a coffee filter and secure with a rubber band, to keep insects away.
Allow this to sit for 2 – 4 days so that the mixture can ferment. Don't forget to label each variety carefully to avoid confusion later on.
A layer of mold will form on the top of the liquid. When the layer is fully formed across the top, and the seeds have settled to the bottom, the process is complete.
Skim the mold from the top. Strain the seeds and rinse well under running water until all the pulp is removed and only seeds remain. Spread the seeds onto a plate or a coffee filter and allow them to dry thoroughly. They tend to stick to paper towels, so it is best not to use them.
The seeds will take several days to dry. Spread them around occasionally to prevent them from sticking to each other.
Once they are completely dry, store them in an envelope that is marked with the date and variety. It is best to store your envelopes in an airtight container such as a jar or a plastic bag. Properly stored, your seeds will be viable for 3 – 5 years.
Saving seeds from heirloom tomatoes is a simple process and an easy way to save money, and to share or trade seeds with friends.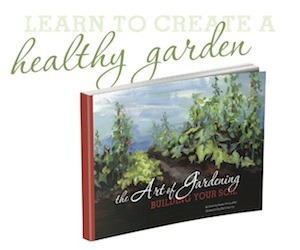 To learn how to build a garden that builds healthy soil, be sure to check out my eBook The Art of Gardening: Building Your Soil. You really can become a better gardener, and you really can grow healthy, nourishing produce. It's all about the soil! Click here to buy now.
Thank you for visiting Learning And Yearning. May "the LORD bless you and keep you; the LORD make his face shine upon you and be gracious to you; the LORD turn his face toward you and give you peace." Num 6:24-26