Dutch Oven Cooking
When we are at our cottage, we enjoy baking outdoors in our 10" cast iron Dutch oven. The Dutch oven is on legs, allowing coals to be placed underneath it, and the lid is flat with a lip around it so that hot coals can be placed on top.
The following recipe for Dutch oven zucchini bread requires a temperature of 350 degrees. To achieve that, we place 15 hot coals on the top of the lid, and 7 hot coals evenly spaced under the pot. On a colder day, we add another briquette or so.
DISCLOSURE: In order for me to pay my blogging expenses, I may receive monetary compensation for my endorsement and/or link to products mentioned on this blog. I am a participant in the Amazon Services LLC Associates Program, an affiliate advertising program designed to provide a means to earn fees by linking to Amazon.com and affiliated sites.
Heavy pot holders and long handled tongs are helpful for handling the pot. We place ours on a flat cast iron griddle, but a flat rock works just as well.
Sprouted Wheat Zucchini Bread
 Combine and mix well:
3 large eggs
¾ cup sucanat
1 cup melted butter
2 cups raw, grated zucchini
1 T pure vanilla extract
Sift together:
3 cups sprouted wheat flour (buy sprouted wheat flour here)
1 t sea salt
1 t baking soda
1 t baking powder
Add to zucchini mixture and stir until blended.
Add:
½ cup chopped nuts
½ cup dried cranberries or raisins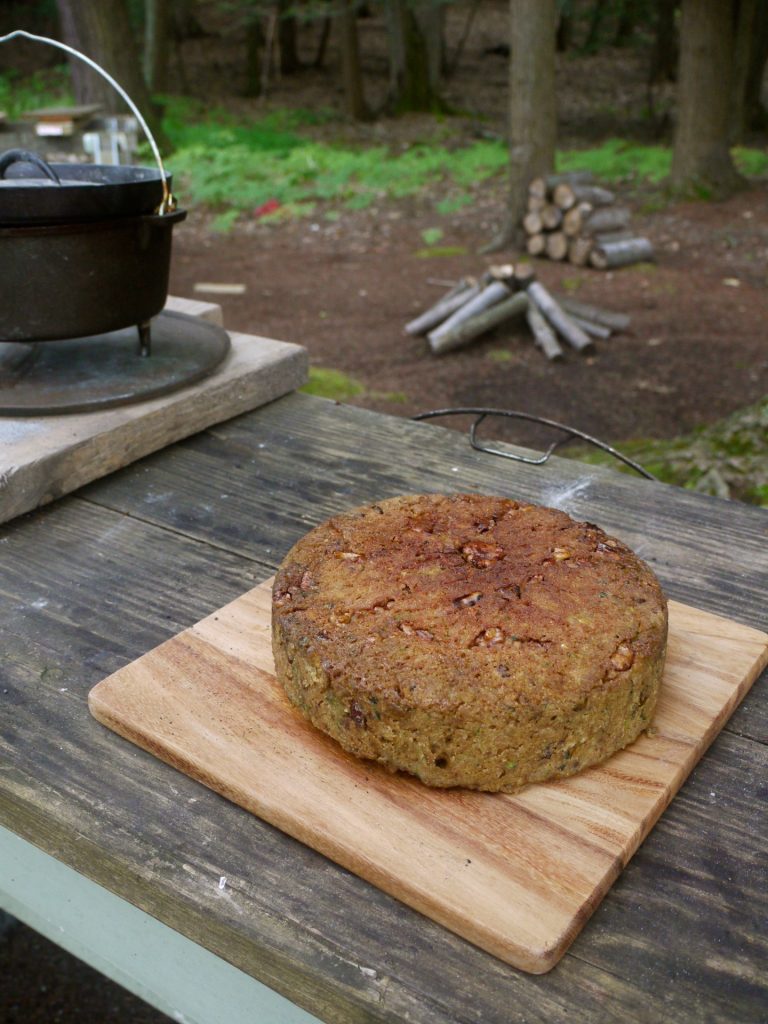 Heat the Dutch oven to 350 degrees.
Melt 1 T butter in the bottom of the oven.
Add 1 T sucanat and ¼ cup chopped or whole nuts.
Pour batter over this.
Return lid to top of pan and bake for 45 – 55 minutes or until an inserted toothpick comes out clean.
Remove the lid and move the Dutch oven so that it is no longer over any coals. Cool for 5 minutes.
Place a dish over the top of the pan and invert the zucchini bread onto the plate. The bread will be topped with nuts. Cool completely before serving.