If there was only one piece of advice I could give to improve your soil, it would be to compost. As a young gardener, no money was available for soil testing. When I finally had my garden soil tested, the results showed that it needed no further amending. How did I do that? I just kept adding compost to my garden year after year.
What Can I Compost?
This dark, crumbly, "black gold", is made up of decomposing organic matter. It improves your soil and keeps kitchen scraps and yard debris out of landfills. That's 30% of household waste!
DISCLOSURE: In order for me to pay my blogging expenses, I may receive monetary compensation for my endorsement and/or link to products mentioned on this blog. As an Amazon Associate I earn from qualifying purchases.
So many items are compostable – more than you would probably consider. For example:
grass clippings
leaves
straw
hay
yard waste
old potting soil
house plants if they are not diseased
vegetable and fruit scraps such as peelings, cores, etc.
nut shells
egg shells
bread and grains
coffee filters
tea bags
fresh manure
shredded paper (no colored ink or glossy paper)
used napkins and paper towels
dryer lint if your clothing is predominately natural fiber
natural fiber twine, string, yarn and thread
natural fiber fabric or clothing, shredded or cut into small pieces
toothpicks
hair
animal fur
pencil shavings
Is it Ok to Compost Animal Products?
It is generally recommended that food scraps from animal products not be included with the exception of egg shells.
If your compost has a secure lid that will keep animals out, you may add small scraps such as shrimp peel, dairy products, or even chicken bones that have been used for broth, if they are crumbly and soft.
Browns (Carbon) and Greens (Nitrogen)
For best results, the items you add to your bin should include both high carbon items, and high nitrogen items. This is referred to as browns (carbon) and greens (nitrogen). The recommended ratio is generally 25 – 30 parts carbon to 1 part nitrogen.
Generally, drier items such as leaves, newspaper, straw, and natural fibers are considered browns, and wetter items such as kitchen scraps, grass clippings, and fresh manure are considered greens.
Having a proper balance will provide the needed ingredients so that composition occurs relatively quickly. If you do not have the perfect balance, don't fret, and add what you have available. If you find that your compost is very smelly, try to add more browns. If leaves are not available, add some shredded newspaper.
On the other hand, if your compost seems to be just sitting there and not decomposing, then greens are what is needed. Keeping your compost as wet as a sponge which has been wrung out is about right. If it is dry, just add water.
Everything soon begins to rot as bacteria, fungi, protozoans and earthworms each do their part. Turning your compost monthly will increase aerobic activity and speed up the process, although it is better not to turn the pile during cold, winter weather to help maintain the heat in the pile. (Check out this post for composting in winter.)
Compost Bins
There are many types of bins available for purchase, but they tend to be pricey. Simple, inexpensive bins are easy to make. A garbage can with the bottom removed will work just fine. A 10′ length of galvanized chicken wire formed into a circle is another simple method.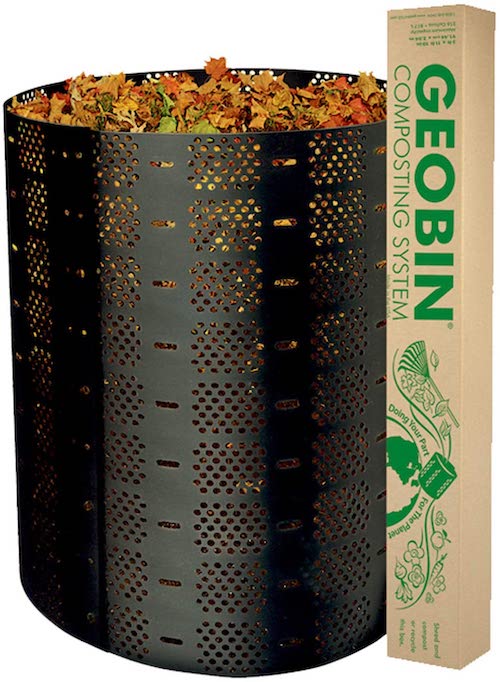 We have one compost bin with a locking lid which we use for food scraps. And we have 3 Geobin compost bins in which we compost leaves, grass clippings, and all our garden plants at the end of gardening season.
Using Compost
Compost may be used as a top dressing, or dug into the top few inches of soil. There never seems to be enough to go around, so I use it where it will give the most benefit.
I add a large handful to each hole as I am planting my tomatoes, peppers and other vegetables. I top dress plants such as clematis, peonies and hydrangea. And I always save some for any new plant that I am adding to my landscape.
Do you compost? What unusual item do you add to your compost bin?
More Organic Gardening Posts You'll Love
How to Compost Weeds the Safe Way
Lasagna Gardening – the Best Way to Garden
Plastic Mulch in the Garden: Friend or Foe?
Using Wood Chip Mulch in the Vegetable Garden
Hay vs. Straw in the Garden: Which is Better?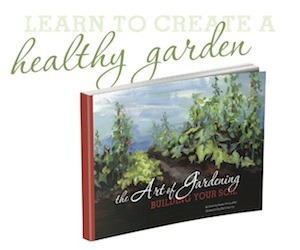 To learn how to build a garden that builds healthy soil, be sure to check out my eBook The Art of Gardening: Building Your Soil. You really can become a better gardener, and you really can grow healthy, nourishing produce. It's all about the soil! Click here to buy now.
Thank you for visiting Learning And Yearning. May "the LORD bless you and keep you; the LORD make his face shine upon you and be gracious to you; the LORD turn his face toward you and give you peace." Num 6:24-26