So, my sister-in-law makes THE BEST cream of broccoli soup. EVER. And she won't give me the recipe because the person who gave it to her made her swear never to give it away. Can't she cheat a little? I was determined to make this soup and it had to be just as good. In the end, it was my husband who made a suggestion that made the soup rock. I was missing the cheese!
If you want some tips for growing broccoli, check out this post. It includes another recipe, and yeah, that one has bacon and cheese in it as well. Of course, I always use bacon without nitrates from pastured pigs and cheese from grass-fed cows when I can get it.
DISCLOSURE: In order for me to pay my blogging expenses, I may receive monetary compensation for my endorsement and/or link to products mentioned on this blog. I am a participant in the Amazon Services LLC Associates Program, an affiliate advertising program designed to provide a means to earn fees by linking to Amazon.com and affiliated sites.
And if you want to be amazed at how healthy broccoli is, read 43 Science-Backed Health Benefits of Broccoli.
Cream of Broccoli Soup with Bacon
Ingredients:
1/2 lb. of nitrate-free bacon, chopped (where to purchase)
4 c broccoli, diced
1 large onion, chopped
1 stalk celery, chopped
2 cloves garlic, minced
1 T parsley
1/8 t cayenne powder
4 c chicken bone broth
1 c heavy cream
1 c milk
3 T butter
3 T arrowroot powder, or flour
1/4 c grated parmesan cheese
1/4 c cheddar cheese, cubed
sea salt and pepper, to taste
Saute the chopped bacon until crisp. Add onion and celery and saute until tender. Add garlic and cook another minute. Add the bone broth, broccoli, and parsley and bring to a boil; reduce the heat and simmer for 10 minutes. Add the cayenne powder. Puree with a potato masher or immersion blender. In a small sauce pan, melt 3 T butter. Stir in arrowroot powder. Slowly add in milk and cream, stirring until thick and bubbly. Add the cream mixture to the soup, along with the cheeses. Season to taste with sea salt and pepper. This soup is great served with some crusty bread.
Do you have a sister-in-law that won't give away her recipes? Mine also makes sesame-seed chicken wings that are to-die-for. You guessed it – I can't get that recipe either.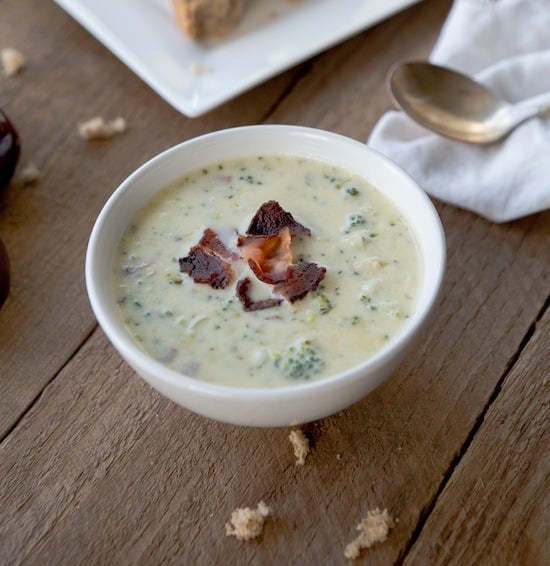 Recommended Reading: Good Meat: The Complete Guide to Sourcing and Cooking Sustainable Meat  by Krasner, Nilsson, and Sanders
MORE SOUP RECIPES:
Do you want even more Winter Soup Recipe ideas? Check out this incredible eBook that was put together by over 50 Real Food bloggers (including me)! Learn more by clicking here or click here to buy it now.
Over 50 nourishing, REAL FOOD soup recipes
47+ of those recipes are Gluten-Free
33 + are Dairy-Free
30+ are Paleo-friendly
25+ are GAPS Diet-friendly
Full-color photos and print-ready pages
Photos by Kim Winey