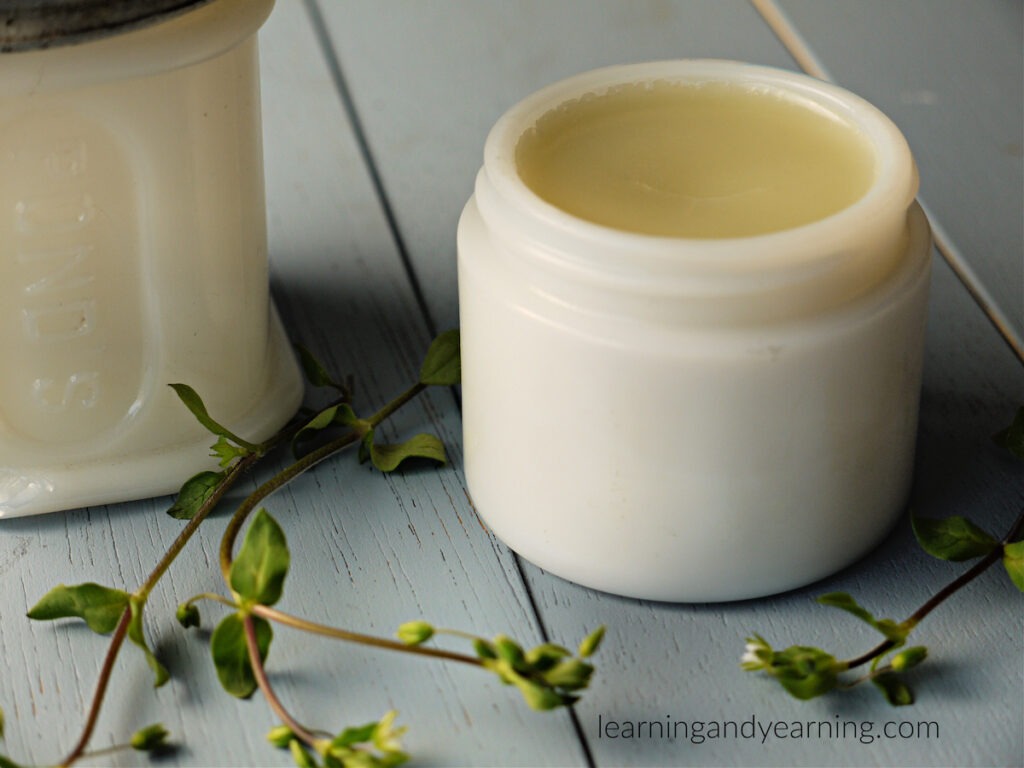 Chickweed is a wonderful herbal "weed" to forage, and is both edible and medicinal. Be sure to try this chickweed salve recipe – it's easy to make and is great for itchy skin and all types of skin irritation.
How to Identify Chickweed
Common chickweed, or Stellaria media, is a small, herbaceous plant that grows in clusters and often forms a mat. It has oval-shaped, opposite leaves with a pointy tip, and has a line of hair growing along the stem. Its small, star-shaped white flowers appear to have 10 petals but closer observation will show that these are in fact 5 deeply cut petals.
Mouse ear chickweed, Cerastium fontanum, is a variety of chickweed which has hairy leaves and stems. The leaves of both types of chickweed are edible raw or cooked, but the hairs on the mouse ear chickweed make it less palatable. Both types of chickweed are medicinal.
Chickweed prefers moist, shady areas, although it does tolerate some sun. It is found primarily in North America and Europe and prefers cool weather so is easiest to find in the spring and then again in the fall.
Chickweed leaves are best when harvested young; simply snip with scissors to harvest.
Benefits of Chickweed
Because of the saponins it contains, chickweed is a cooling medicinal herb which will sooth rashes, itching, burns, cuts, and other skin irritations.
According to PubMed, chickweed "is associated with accelerating the wound healing process and its emollient properties soothe the itching and irritation. Its chief constituents include mucilage, triterpene saponins, hentiacontanol, coumarins, phytosterols, tocopherols, gamma-linoleic acid, minerals, flavonoids (mainly apigenin C-glycosides and rutin), organic acids (carboxylic acids), and vitamin C."
Chickweed is anti-inflammatory and I have heard it called a natural steroid because of the steroid saponins it contains.
How to Use Chickweed
Chickweed's flowers and leaves are a delicious edible and may be added raw to salads, made into pesto, or cooked like spinach, or added to soup.
The most common medicinal use is to make a healing chickweed salve, herbal oil, or soap for skin irritations. It is also sometimes made into a tincture or this chickweed bath vinegar.
2 oz Amber

Round Glass Jars






How to Make Chickweed Salve
The recipe for chickweed salve begins by using the herb and oil to make an infused oil. There are several ways to make an herb infused oil which is as simple as steeping quality herbs in a quality oil. Time and warmth are needed to allow the volatile oils in the herb to become infused in the oil.
In the recipe card below, several months and a dark cupboard are used to infuse the chickweed into olive oil. If you prefer a quicker method, see my post Five Ways to Make an Herb Infused Oil.
After your oil is ready, beeswax is added to thicken the oil into a salve, and then essential oils can be added, but are optional. The salve is poured into containers and cooled. It is now ready to use to soothe burns, cuts, rashes, and other skin irritations.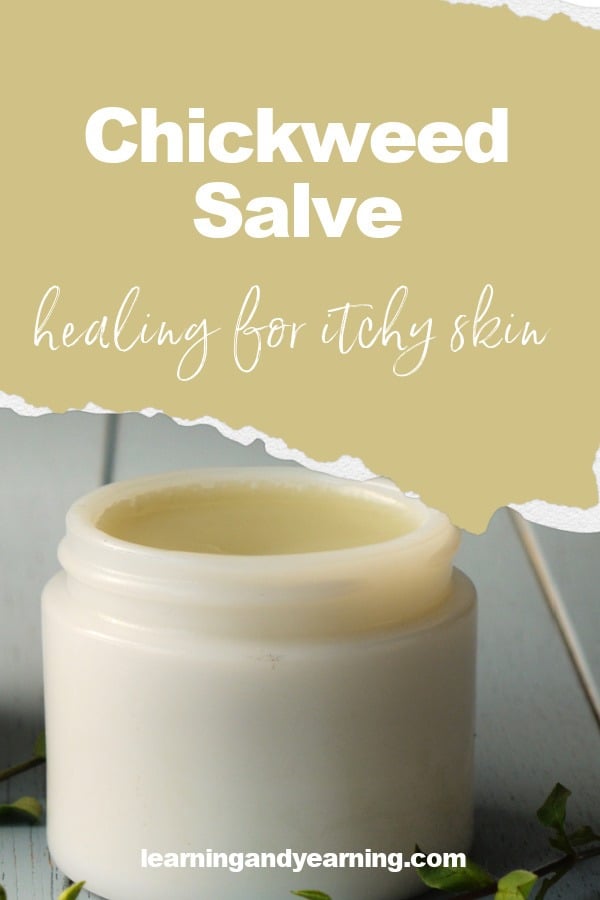 Chickweed Look A-likes
The leaves of scarlet pimpernel or young spurge are sometimes confused with chickweed. The flowers of scarlet pimpernel, however, are salmon colored and its stem is square, compared to the round stem and white flowers of chickweed. Break a stem of spurge and you will find a milky sap which chickweed does not have. Both scarlet pimpernel and spurge are toxic to humans.
More Posts You'll Love
Violet Infused Aloe Soothing Gel
Homemade Arnica Salve for Sprains and Bruises
8 Alternatives to Petroleum Jelly for Taking Care of Your Skin
Plantain and Jewelweed Home Remedy for Poison Ivy
From Plantain Leaf to Healing Balm
Homemade Tallow Moisturizer for Natural Skin Care
Chickweed Salve
Be sure to try this chickweed salve recipe – it's easy to make and is great for itchy skin and all types of skin irritation.
Print
Pin
Rate
Ingredients
2

cups

chickweed leaves

1

cup

olive oil

1/2

cup

beeswax

grated

10

drops

essential oil

optional; lavender, tea tree, or peppermint are good choices for itchy skin.
Instructions
Chop chickweed into small pieces and allow to wilt for a day at room temperature.

Place the wilted chickweed in a pint jar with lid.

Pour the olive oil over the wilted chickweed leaves.

Place lid on jar, and mark ingredients and date on the jar.

Place in a dark place for 1 – 3 months. *

Strain the mixture through cheesecloth or a fine-mesh strainer.

Measure your oil in a heat proof measuring cup or mason jar. Add more olive oil to equal 1 cup.

Place 3 canning jar rings in the bottom of a sauce pan. Add water to cover the metal rings, plus another inch or so.

Place the jar of olive oil on top of the rings in the pot. Add beeswax to the jar.

Heat gently until the beeswax is melted, stirring occasionally. Remove from heat.

Add essential oil, if using. Stir thoroughly.

Pour into salve container(s). Allow to cool.

Use the salve to soothe burns, cuts, rashes, and other skin irritations.

The salve will keep for up to 6 months at room temperature.
Thank you for visiting Learning And Yearning. May "the LORD bless you and keep you; the LORD make his face shine upon you and be gracious to you; the LORD turn his face toward you and give you peace." Num 6:24-26