Why I Haven't Used Cover Crops in the Past
One of the most important things to me as an organic gardener is to build healthy soil, so that I can have healthy, nutrient-dense produce. I've found that a great way to do that is by building no-dig, lasagna style garden beds.
Cover crops have interested me because of their ability to revitalize soil, but I've never actually planted a cover crop because of the recommendation to till them under in the spring. I'm pretty adamant about not wanting to till my garden – here's why.
I've not been able to find a lot of info about using a cover crop in a no-dig garden. As I've thought it out, though, I've realized that if I planted an annual, rather than a perennial crop, and if I cut it down in the spring before it went to seed, and left it right there on top of the garden, it would act as a mulch.
And that's why I'm now experimenting with using a cover crop in my no-dig garden.
Benefits of Cover Crops
Cover crops:
add organic matter as a "green manure"
prevent erosion
suppress the growth of weeds
improve soil tilth
improve the water holding capacity of soil
add nutrients to the soil as they decompose
Why I'm Planting Annual Ryegrass
As I mentioned, it was important that I choose an annual cover crop for my experiment. A perennial cover crop would be killed when it's dug in, but to just cut it as I'm planning to do would allow it to continue to grow. But I still wasn't sure which cover crop to use.
Soooo, I did the smart thing. I talked to someone who would know. In this case, that was Noah at The Urban Farmer. Noah recommended annual ryegrass because it:
germinates and establishes quickly
will shade out weeds
is inexpensive
scavenges nutrients (ryegrass prevents nitrogen from leaching from the soil by holding it, and then releases it back into the soil when it dies)
germinates well in cool soil
has an extensive root system which helps to prevent soil compaction
How to Plant Ryegrass
So, I ordered a pound of annual ryegrass from The Urban Farmer and got busy planting. We had just started a new area of garden using the method I teach in my eBook The Art of Gardening: Building Your Soil. But instead of topping with a few inches of wood chips as I normally would, I planted my ryegrass.
I made sure to get the seed planted at least a month before the first killing frost for my area. In the spring, I'll be sure to cut the ryegrass down before it goes to seed so that I don't create a weed problem.
One pound of ryegrass is enough to cover 1000 sq. ft. The area I wanted to cover is only 18′ x 18′, but I went ahead and used the entire pound. I just sprinkled it on top of my prepared bed (the top layer here is composted leaves) and lightly raked it in. I watered every few days and in about 8 days, I began to see the ryegrass sprouting.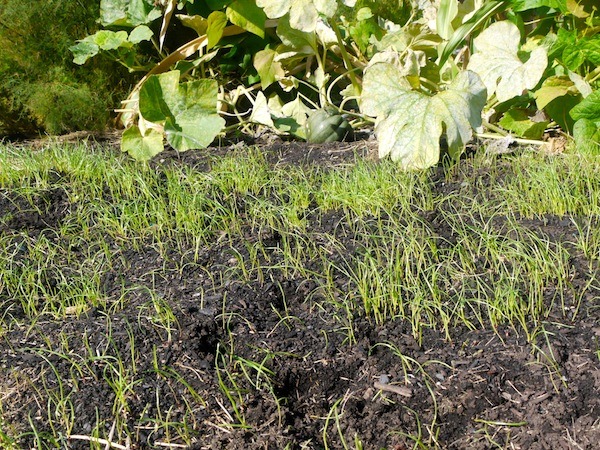 Thank you for visiting Learning And Yearning. May "the LORD bless you and keep you; the LORD make his face shine upon you and be gracious to you; the LORD turn his face toward you and give you peace." Num 6:24-26