Guys, I've been caffeine-free for six months! Seriously, I tried to quit coffee for years -without success – because it was killing my adrenal glands. With much prayer and the help of Roasted Dandelion Root Coffee, I finally succeeded.
I don't love dandelion root coffee as much as I love coffee, it's true, but as long as it's dark roasted, it's pretty darn good. But I had the thought that I'd like to spice it up – literally – by making my own roasted dandelion root chai.
Benefits of Dandelion
Dandelion,  Taraxacum officinale, has been used for centuries to support the liver, kidneys, spleen, and gallbladder. When I was quitting coffee, I was told that drinking dandelion coffee would not just be a replacement for the coffee taste, but that it would help to prevent the headaches often associated with caffeine withdrawal because of its liver cleansing abilities.
I woke up on the second night after quitting with a massive headache, but that was the only one I experienced during my withdrawal. I like to think that the dandelion helped.
The best tasting dandelion root is the root you dig and roast yourself. And the secret to really great tasting roasted dandelion root is to dark roast it – here's how.
If you can't roast your own, you can purchase it here.
Benefits of the Spices in Dandelion Root Chai 
Ginger has traditionally been used to help ease nausea and reduce inflammation. It may even help to reduce cholesterol and help treat heart disease. Source.
Cinnamon, like ginger, can reduce cholesterol and inflammation. It can regulate blood sugar, reduce appetite and act as an antioxidant. Source. Purchase organic cinnamon sticks here.
Peppercorns help you to digest proteins; did you know that? Source. It does so by increasing the secretions of hydrochloric acid in the stomach. And it does so much more – it provides "relief from respiratory disorders, coughs, the common cold, constipation, indigestion, anemia, impotency, muscular strains, dental disease, pyorrhea, diarrhea, and heart disease." Source. Purchase organic peppercorns here.
Cloves help to protect us from environmental pollutants, prevent joint inflammation, and digestive tract cancers, is anti-bacterial, and anti-inflammatory, and is a good source of manganese, magnesium, calcium, vitamin C, and omega 3 fatty-acids. Source. Purchase organic cloves here.
Cardamom is thought to be anti-carcinogenic, can help to control hypertension, helps to keep cholesterol at healthy levels, and may even be useful in treating depression. It is rich in manganese, iron, magnesium, and zinc. Source. Purchase organic green cardamom pods here.
Star Anise has shown both anti-fungal and anti-bacterial properties. It contains anti-oxidants and can help to fight colds and flu. Source. Purchase organic whole star anise here.
Allspice increases circulation, relieves pain, stimulates the immune system, fights fungal infections, and reduces blood pressure and inflammation. It contains manganese, iron, magnesium, and calcium, as well as vitamin C. Source. Purchase organic whole allspice here.
But guess what? I use all these spices just because they're delicious. I sure am glad, though, they in the process they are helping to protect my health.
More Than Weeds
 A Foraging eCourse for Beginners
Are you interested in foraging, but a bit hesitant because you don't trust your own abilities? I created a mini eCourse just for you. In More Than Weeds: 5 Common Plants to Forage for Food and Medicine you'll learn that identifying plants is all in the details.
Using common plants with which may be someone familiar you'll learn beginner botany skills that you will be able to use as you move forward. You'll gain confidence to use these plants for your family in food and safe, home remedies. Get started now!
More Posts You'll Love
Black Magic Cake with Dandelion Root Coffee
Why I Switched to Cold-Brewed Coffee
Roasted Dandelion Root "Coffee" Ice Cream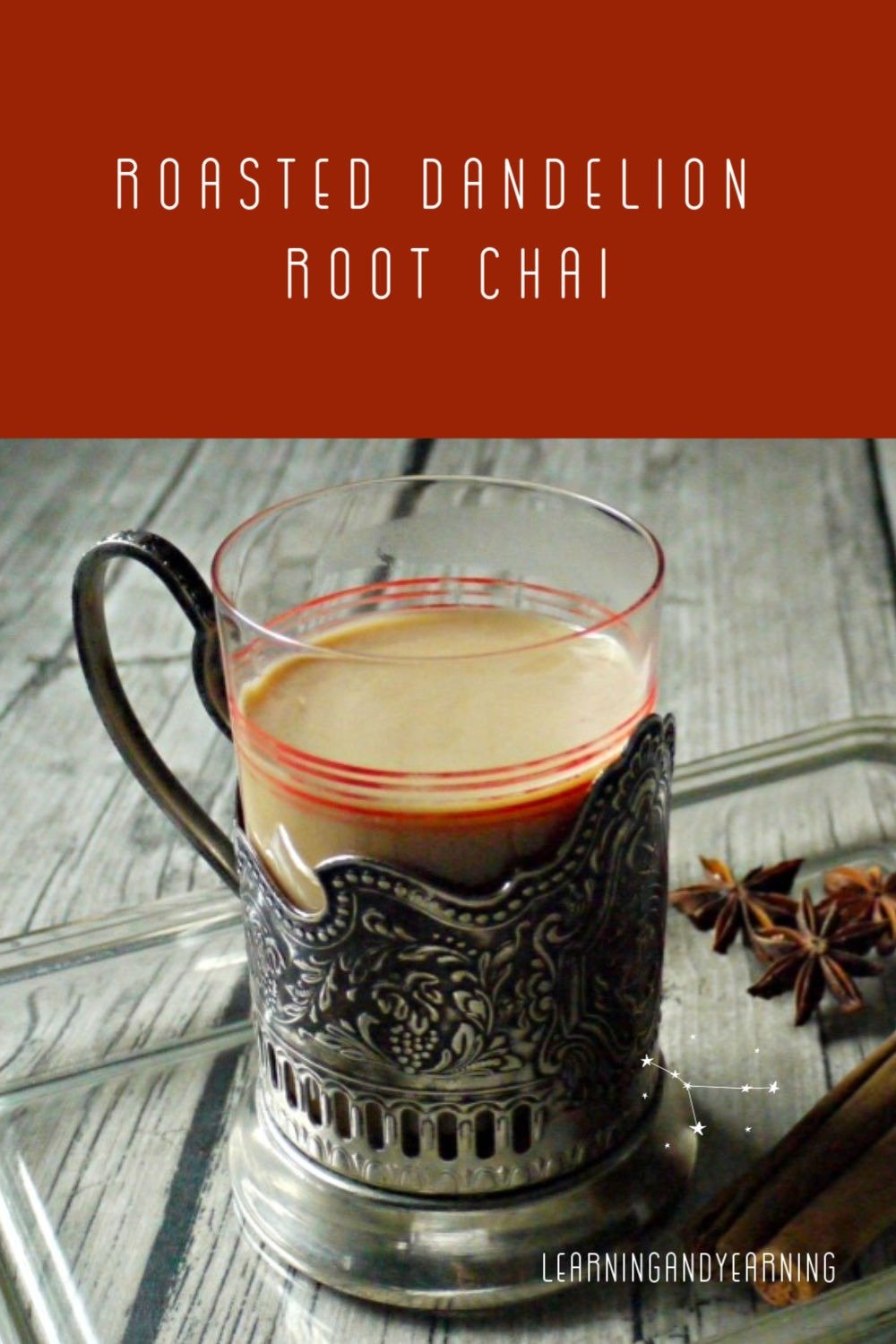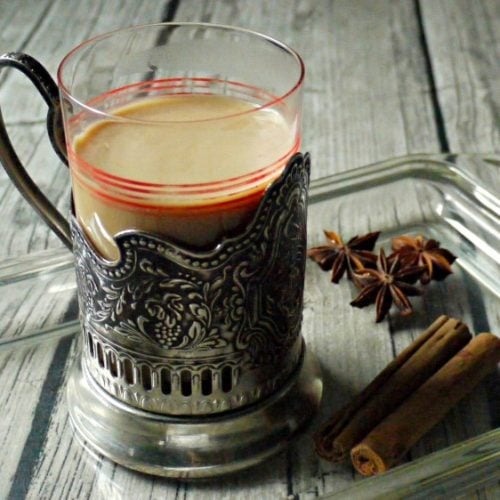 Ingredients
2

tablespoons

roasted dandelion root

1

inch

piece of fresh ginger root

cut into thin rounds - no need to peel

1

cinnamon stick

broken into several pieces

1

teaspoon

black peppercorns

lightly crushed

5

whole cloves

lightly crushed

4

green cardamom pods

lightly crushed

1

whole star anise

lightly crushed

3

whole allspice

lightly crushed

3

cups

cold water

whole raw milk

or milk of your choice

raw honey or maple syrup

or sweetener of your choice
Instructions
Combine the dandelion root and spices in a saucepan. Add the cold water.

Bring to a boil over high heat. Reduce the heat to medium-low and simmer for 10 - 15 minutes. Remove from heat.

Remove the dandelion and spices by straining.

Fill mugs 3/4 of the way full. Add milk to fill the cup and sweeten to taste with raw honey, or maple syrup.
Thank you for visiting Learning And Yearning. May "the LORD bless you and keep you; the LORD make his face shine upon you and be gracious to you; the LORD turn his face toward you and give you peace." Num 6:24-26