One of the ways that is often recommended to dry fresh herbs is to hang a bunch upside down in a dry spot with good air circulation. I have done this, but have not been satisfied with the results. The herbs dry well enough but don't have the strong taste I'm looking for.
As much as I would love a dehydrator, it's just not in the budget right now. So, I've been drying herbs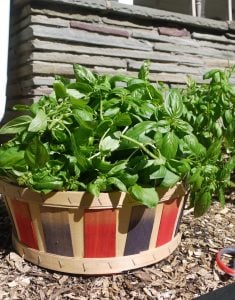 (and tomatoes and blueberries and squash) in my oven. I'm delighted with the results! The herbs taste and smell wonderful.
DISCLOSURE: In order for me to pay my blogging expenses, I may receive monetary compensation for my endorsement and/or link to products mentioned on this blog. I am a participant in the Amazon Services LLC Associates Program, an affiliate advertising program designed to provide a means to earn fees by linking to Amazon.com and affiliated sites.
After harvesting the herbs, I cut the leaves and smaller stems with my wonderful herb scissors onto a parchment lined cookie sheet. I spread them evenly into a layer, no more than 1/2″ thick and place them in a 150 degree oven. I stir occasionally.
The herbs are dry in 1 – 3 hours depending on the type and the amount of herbs on the tray. In general, parsley takes an hour, and a wetter herb like basil takes 2 or so hours. I store the cooled herbs in an airtight container and I'm good to go.
Do you dry herbs? What's your method?
Thank you for visiting Learning And Yearning. May "the LORD bless you and keep you; the LORD make his face shine upon you and be gracious to you; the LORD turn his face toward you and give you peace." Num 6:24-26