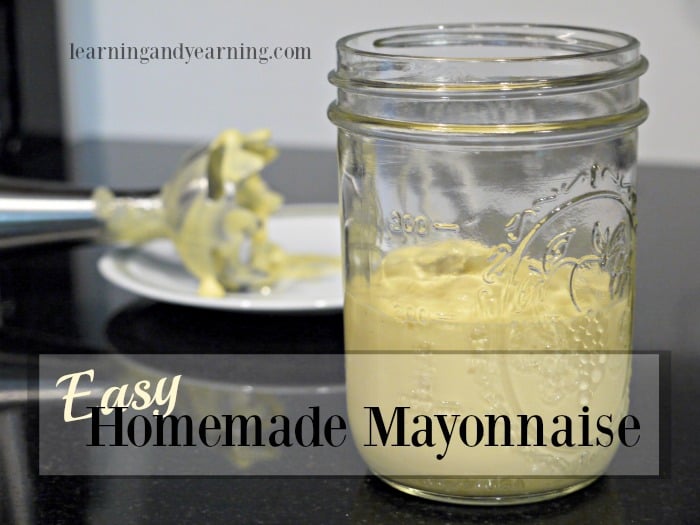 The first time I made mayonnaise was close to 40 years ago and it was anything but easy. I whisked it by hand. It turned out fine, but the effort involved was over-the-top. That's why I'm so glad I've found a way to make an easy, homemade mayonnaise that's super delicious, and full of quality nutrient-dense ingredients.
Everything I eat doesn't have to be homemade. But it's not so easy to find a store-bought mayonnaise that has quality ingredients. Most use soy and/or canola oil, both of which I avoid. Primal Kitchen Mayonnaise is an exception. It's made with avocado oil, is delicious, and has no questionable ingredients. My easy, homemade mayonnaise uses virtually the same ingredients.
DISCLOSURE: In order for me to pay my blogging expenses, I may receive monetary compensation for my endorsement and/or link to products mentioned on this blog. I am a participant in the Amazon Services LLC Associates Program, an affiliate advertising program designed to provide a means to earn fees by linking to Amazon.com and affiliated sites.
The Ingredients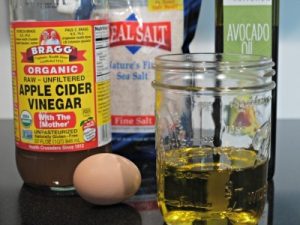 Basic mayonnaise uses only oil, egg, and vinegar. Other ingredients may be added depending on taste. I like sea salt added to mine. Some add sugar, or mustard powder. Spices like cayenne may be added as well.
For best results, be sure all of your ingredients are at room temperature.
Oil – for the best mayonnaise, use a light oil without a lot of flavor. Avocado oil is perfect, as is a light olive oil. I don't recommend extra virgin olive oil as the flavor is too strong for mayonnaise.
Acid – this can be vinegar, lemon juice, or even lime juice. I use Braggs Raw Apple Cider Vinegar.
Egg – it is traditional to use only the yolk of the egg which may produce a richer mayonnaise. I use a whole egg, as do many mayonnaise makers, and don't notice a lot of difference. I always use pastured eggs.
Sea Salt – a pinch or two of sea salt is just plain good in mayonnaise. It can be left out if you prefer. I use Real Salt Sea Salt.
The Secret to Easy Homemade Mayonnaise
Making mayonnaise can be challenging. Hand whisking it is a part-time job. I've made mayonnaise in a blender and in a food processor with mixed results. It's really discouraging to use expensive, high-quality ingredients only to have your mayonnaise separate.
The secret? Use an immersion blender. I have this one (and use the mini-processor a lot as well).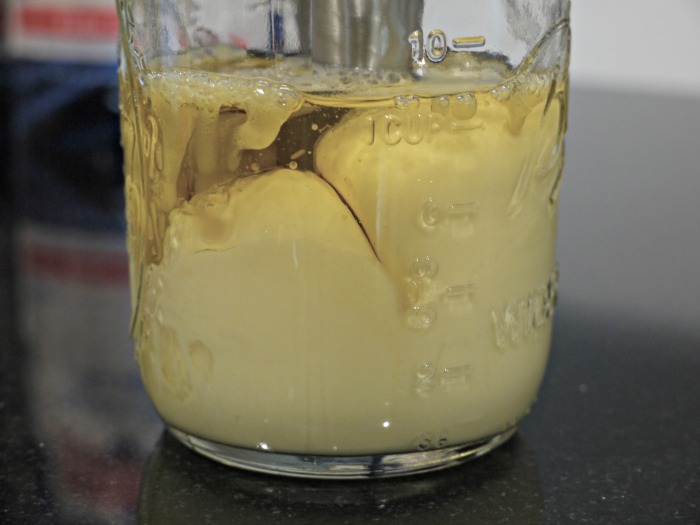 Here's how easy it is: Place all of your ingredients into a wide mouth canning jar. Place the immersion blender into the jar with the blade touching the bottom of the jar. It is important that you leave the blade on the bottom and don't begin to raise it until most of the ingredients have emulsified into mayonnaise.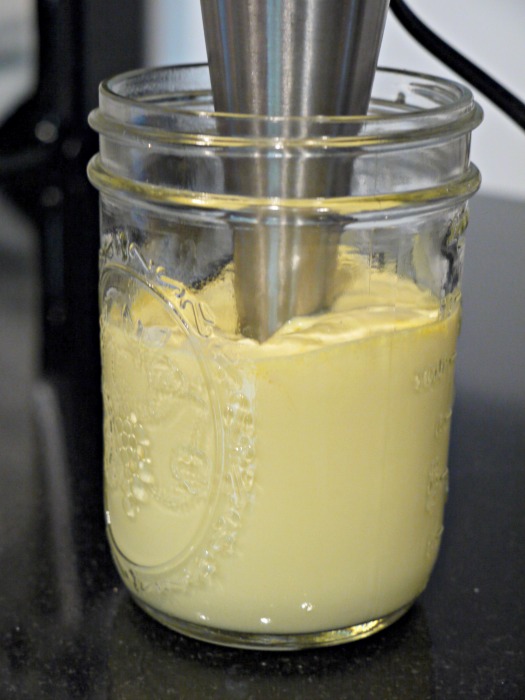 Once emulsification of most of the ingredients has occurred, you may then slowly raise the blade to completely incorporate all of the ingredients. Start to finish, this process takes only a minute or so.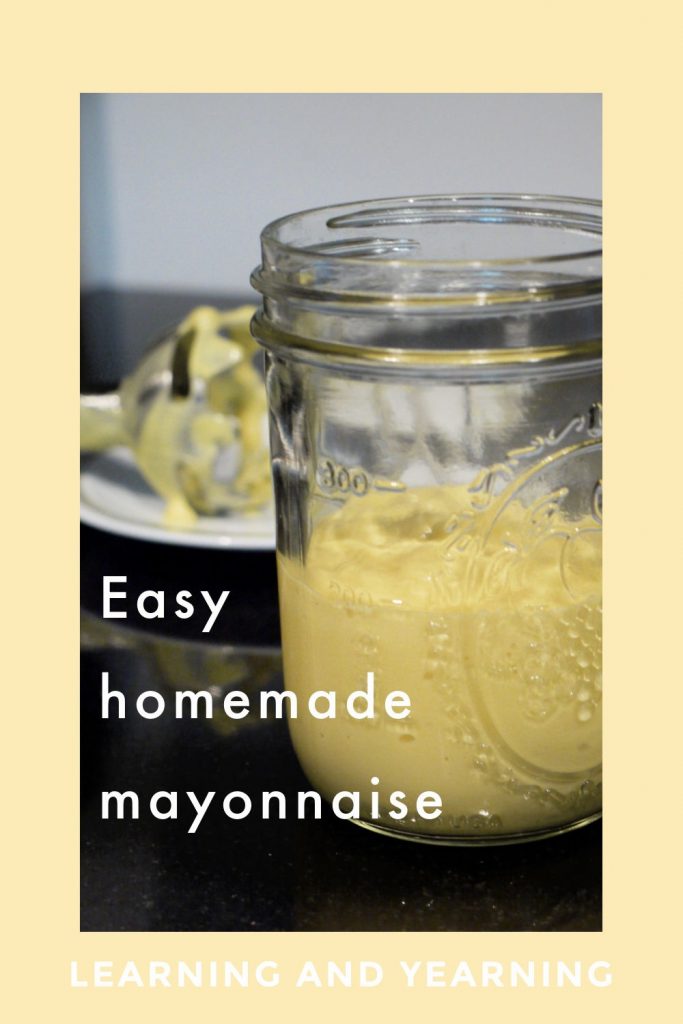 Easy Homemade Mayonnaise
Print recipe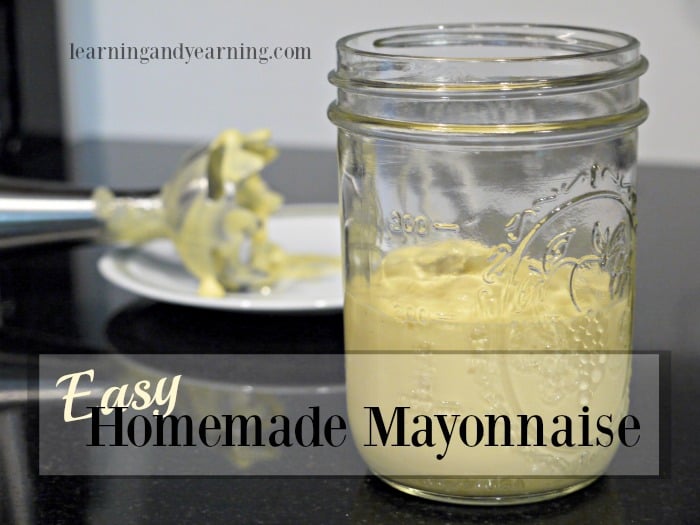 Ingredients
3/4 cups avocado or light olive oil
1 egg (room temperature)
1 tablespoon apple cider vinegar or lemon juice
pinch or 2 of sea salt
Directions
| | |
| --- | --- |
| 1. | Place all ingredients into a wide mouth jar. Using an immersion blender, place the blade on the bottom of the jar. Turn the blender on high speed, being careful to keep the blade on the bottom of the jar. When most of the ingredients are emulsified, slowly raise the blender to incorporate all of the ingredients. The mayonnaise will be pourable at this point, but will thicken in the refrigerator. Keep refrigerated. |
Thank you for visiting Learning And Yearning. May "the LORD bless you and keep you; the LORD make his face shine upon you and be gracious to you; the LORD turn his face toward you and give you peace." Num 6:24-26