If you've ever tasted a cucumber, or a pepper that is still warm from the sun and harvested just minutes ago, you know the difference between fresh produce and that which has traveled across the country to land in your grocery store. Fresh just tastes better!
Most produce is harvested up to a week before reaching the supermarket and precious nutrients are lost. And our industrial agricultural system chooses to grow produce that can withstand harvesting equipment, transport and has a long shelf life; their choices are not based on taste or nutrition.
DISCLOSURE: In order for me to pay my blogging expenses, I may receive monetary compensation for my endorsement and/or link to products mentioned on this blog. I am a participant in the Amazon Services LLC Associates Program, an affiliate advertising program designed to provide a means to earn fees by linking to Amazon.com and affiliated sites.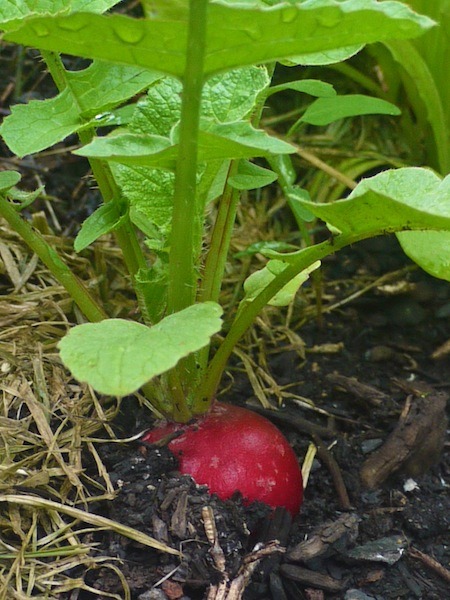 On the other hand, farmers that cater to a local market choose many varieties so that they can provide a long harvest season. Getting to know local growers often affords you the opportunity to see how the crops or animals are raised, or at least, to discuss their growing practices.
And purchasing from your neighbor supports your local economy, encourages community and ensures that your area will continue to have farms for generations to come.
If buying and eating local is a goal of yours, but you just don't know where to start, there's help. Join local foods expert Tatiana Abatemarco of Mama Philosopher, and homesteader, gardener, and food preservationist Teri Page of Homestead Honey by taking the Empowered Eating eCourse, a 4-week adventure in local food.
Here's a glimpse inside Empowered Eating:
Week 1: Creating personalized definitions of "local"
Identifying local food sources
Seasonal meal planning
Week 2: Two-week Local Food Challenge Begins!
Bioregionalism
Wild foraging
Growing your own food
Week 3: Local Foods Challenge continues
Lacto-fermentation
Preserving food through canning and freezing
Week 4: Complete Local Foods Challenge
Preserving food through dehydrating and root cellaring
Eating local in a four season climate
And more!
Are you ready to take control of your food sources? To empower yourself, your family, and your community by growing, eating, and sourcing food locally? Then the Empowered Eating eCourse is for you!
The 4-week cou
rse will run August 25 – September 19, 2014 but you are welcome to complete the course at your own pace. There's even a private Facebook group where you can meet and get help from other like-minded locavores. And a Pinterest board for recipes!
And the really great news is that this $98 course is being offered for only $49 in the next few days. Don't miss this fantastic opportunity to learn more about eating local!
Click here now for more info and to purchase the Empowered Eating eCourse. You'll be glad you did.
Thank you for visiting Learning And Yearning. May "the LORD bless you and keep you; the LORD make his face shine upon you and be gracious to you; the LORD turn his face toward you and give you peace." Num 6:24-26