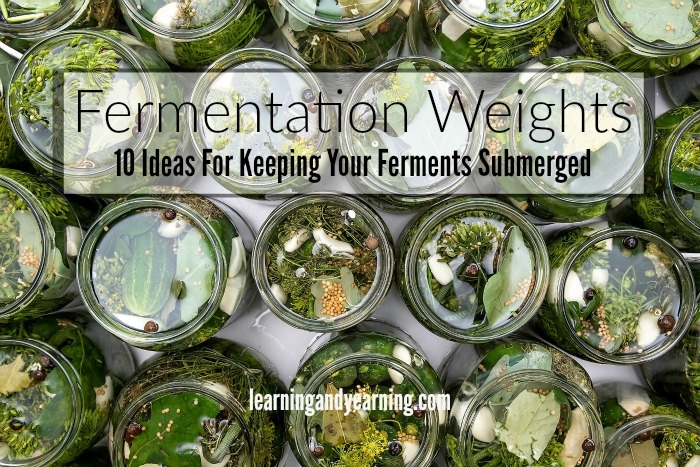 One of the requirements for successful fermentation is to provide an anaerobic environment to prevent oxidation and mold. Keeping your fruits or vegetables completely submerged in brine or natural juices is the way to achieve that.
But those darn small pieces of cabbage, or those cranberries just love to float to the top and ruin it all. The solution? Fermentation weights.
DISCLOSURE: In order for me to pay my blogging expenses, I may receive monetary compensation for my endorsement and/or link to products mentioned on this blog. As an Amazon Associate I earn from qualifying purchases.
There are lots of ways to successfully keep your precious produce submerged. Be creative; you're sure to find a fermentation weight or two in a drawer or cabinet. You just didn't realize it had more than one use! Be sure that your weight is clean and food-safe and you're good to go.
And if you don't like any of my use-what-ya-got ideas, there are just as many products available for purchase.
Some Great Ideas for Fermentation Weights
Rocks – The right size and shape rock will make a perfect weight. Be sure to boil them first for about 20 minutes to kill any competing or harmful bacteria.
Marbles tied a in cheesecloth or muslin – Marbles work well because they can easily fit whatever size or shape jar you are using. Be careful, though, that the marbles are paint or glaze-free, and lead-free. You may also want to stay away from anything made in China.
Plastic bag with brine – I often use this method because it can fill every nook and cranny. I use brine, not water, in case the bag leaks.
Whiskey stones – if you have any soapstone whiskey rocks around, they can be used like the marbles to weigh your ferments. Or purchase them here.
A small jar or glass – ideally the jar should be just slightly smaller in diameter than the lid of your fermentation jar. It can be filled with water to give it more weight.
Ceramic pie weights – another item that can be used like marbles and placed inside a cloth, or even a mesh bag. If you don't already have any of these, they may be purchased here.
A cabbage leaf – placing a cabbage leaf on top of your ferment and tucking the sides down works well. Occasionally a small weight will be needed in addition to keep the leaf in place.
A plate – when I ferment in a large crock, I place a plate on top of the vegetables, and then a jar filled with water on top of that to hold it down.
Silicone cupcake liners – I've not tried these, but they should work nicely to hold down the ferment and then add a rock or other item to give it weight. These are made in the USA.
Store-bought weights – if none of the above suggestions appeal to you, there are a plethora of fermentation weights available for sale right here.
What other ideas do you have for fermentation weights?
More Posts You'll Love
LearningAndYearning's Top 10 Posts on Lacto-Fermentation
How to Ferment Store-Bought Condiments
Preserving Vegetables Through Fermentation: A Primer
Lacto-Fermented Cranberry Apple Relish
Honey Mustard Salad Dressing with Probiotics
Making Fermented Garlic and Ways to Use It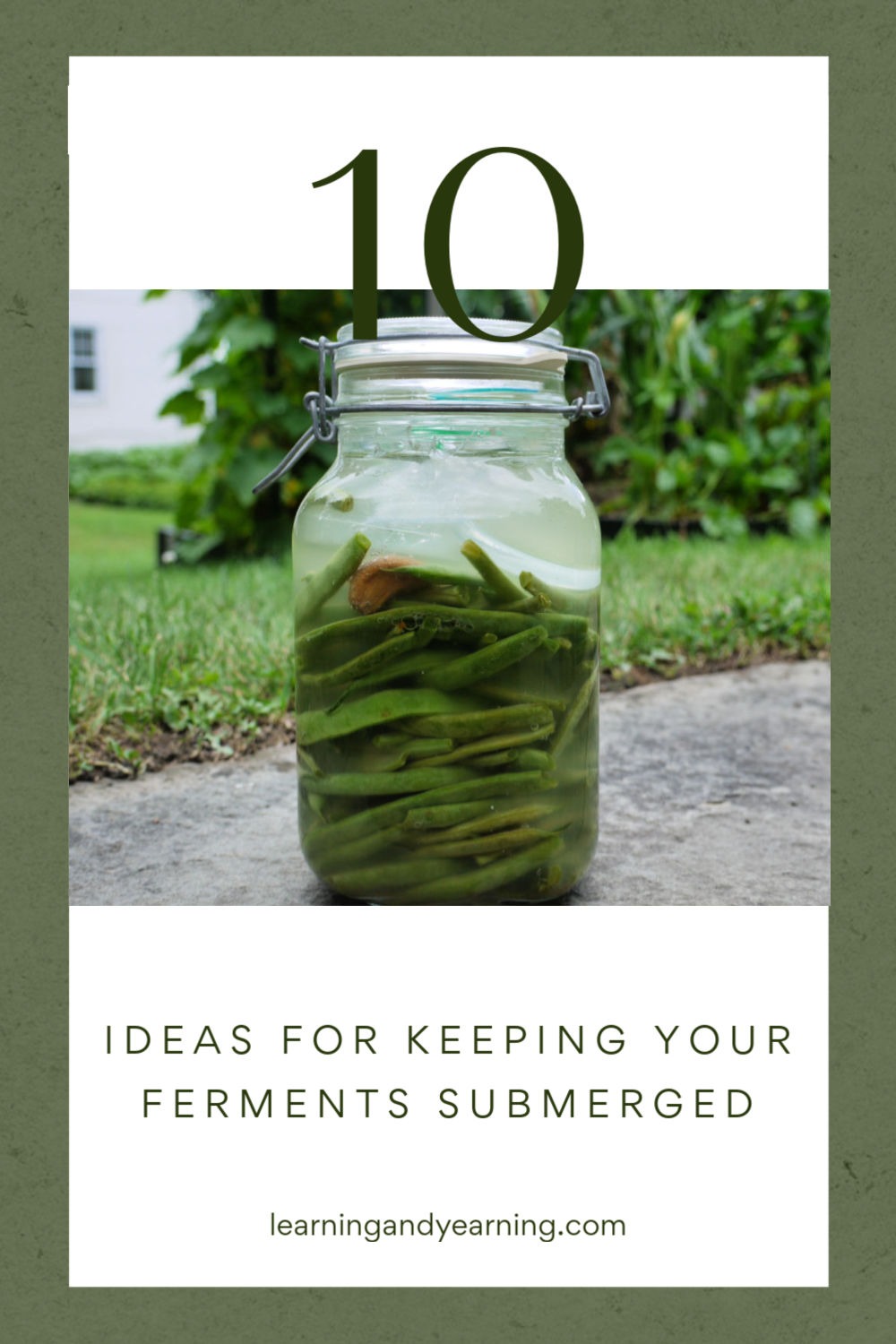 Thank you for visiting Learning And Yearning. May "the LORD bless you and keep you; the LORD make his face shine upon you and be gracious to you; the LORD turn his face toward you and give you peace." Num 6:24-26