August is such an amazing time in the garden. Barely a day goes by that I'm not able to harvest a nice basketful of fresh vegetables.
Green beans are no exception, and they really benefit from daily harvesting. If beans are left on the plant too long, the plant will think it's time to produce seed and will stop producing the flowers that turn into crisp, delicious green beans.
DISCLOSURE: In order for me to pay my blogging expenses, I may receive monetary compensation for my endorsement and/or link to products mentioned on this blog. I am a participant in the Amazon Services LLC Associates Program, an affiliate advertising program designed to provide a means to earn fees by linking to Amazon.com and affiliated sites.
I'm not a fan of canned green beans, and I'm really not a fan of the way that canning can destroy nutrients. Freezing is a good option. I've yet to try dehydrating green beans, although it's definitely on my to-do list.
I am, however, a huge fan of fermented green beans. They are tasty, still raw, and more nourishing after months in the refrigerator than the day they were harvested. Hard to beat that, isn't it?
In Nourishing Traditions , author Sally Fallon states:
The proliferation of lactobacilli in fermented vegetables enhance their digestibility and increase vitamin levels. These beneficial organisms produce numerous helpful enzymes as well as antibiotic and anti-carcinogenic substances. Their main by-product, lactic acid, not only keeps vegetables and fruits in a state of perfect preservation but also promotes the growth of healthy flora throughout the intestine.
And my lacto-fermented green beans last in my refrigerator for months and months. (For a primer on lacto-fermentation, see my post, Preserving Vegetables Through Fermentation).
Recommended Resources 
Lacto-fermented Green Beans
Print recipe
Ingredients
3 1/2 cups fresh green beans
2 - 3 cloves garlic
1/4 teaspoon red pepper flakes (optional)
3 cups water (unchlorinated)
2 tablespoons sea salt
Directions
| | |
| --- | --- |
| 1. | Wash and trim the stem end off of the green beans. Cut in half if desired. |
| 2. | Pack the green beans into a wide-mouth quart canning jar, or a Fido jar. |
| 3. | Add the garlic and red pepper flakes to the jar. |
| 4. | Dissolve the sea salt in the water, and pour over the green beans, leaving 1" of head space at the top of the jar. You may not need all of the water. |
| 5. | Weigh the beans down so that they remain completely submerged. You may use a scrubbed rock, a small plastic bag filled with water and sealed, or a purchased weight. |
| 6. | Place the lid on your jar. Cover with a tea towel and leave at room temperature for 5 - 7 days. Refrigerate. The beans will continue to ferment in the refrigerator but at a much slower pace. They may be eaten at any time. |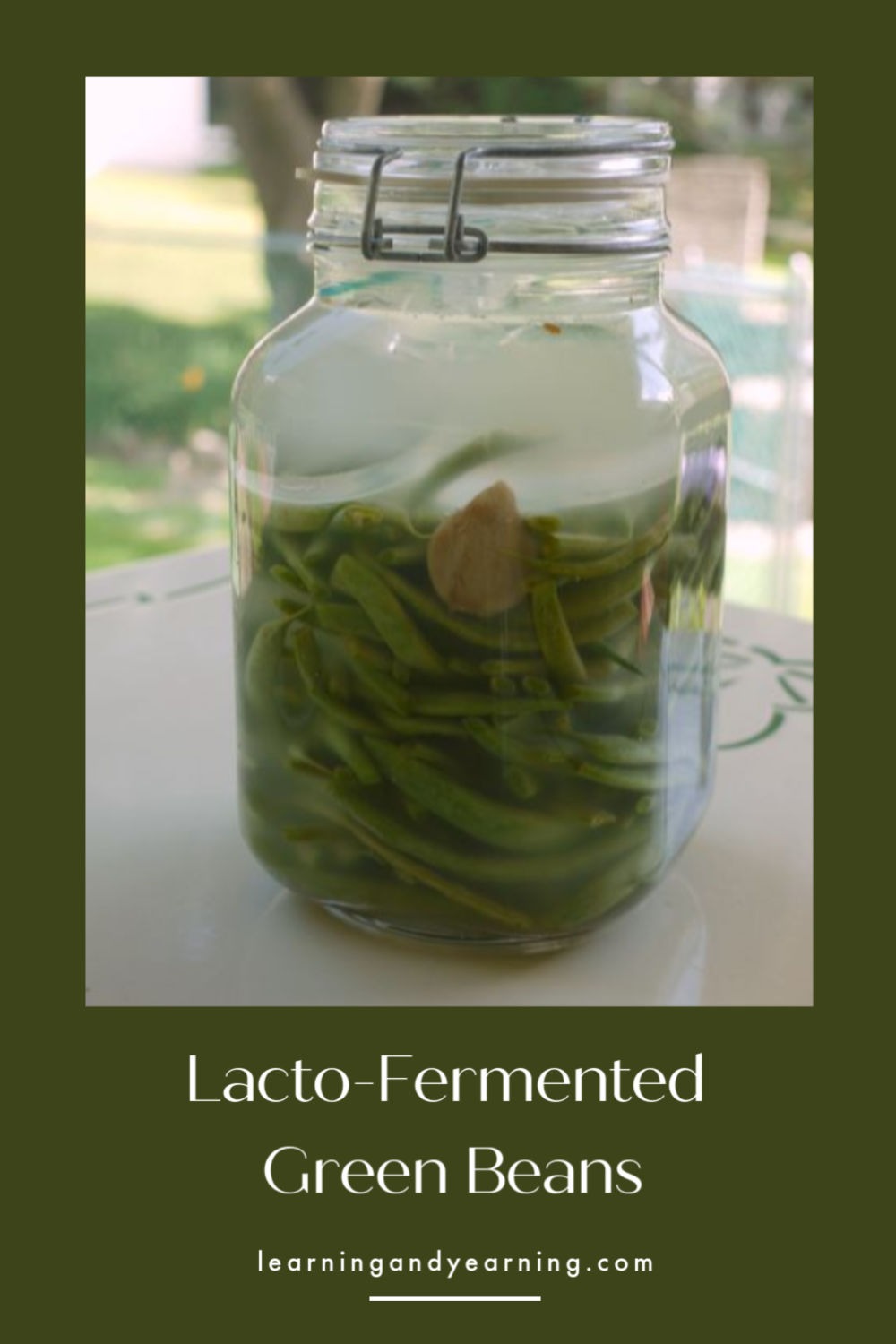 Thank you for visiting Learning And Yearning. May "the LORD bless you and keep you; the LORD make his face shine upon you and be gracious to you; the LORD turn his face toward you and give you peace." Num 6:24-26