For us, foraging is a hobby. We love identifying plants, gathering mushrooms and other wild edibles, and we enjoy the added variety that foraging adds to our diet. But we are in no way dependent on foraging to live. But still, we think there is wisdom is increasing our knowledge of wild edibles and medicinals, and extending that knowledge to include the winter months. Because, yes, there are still a number of plants (and fungi) that we can forage in winter.
Successful foraging in winter depends on a number of factors – there will certainly be more to forage in early winter than late winter and factors like snow cover and temperature affect what is available as well. But even in northern climates, there is always something to be found.
The Pinaceae (Pine) Family of Trees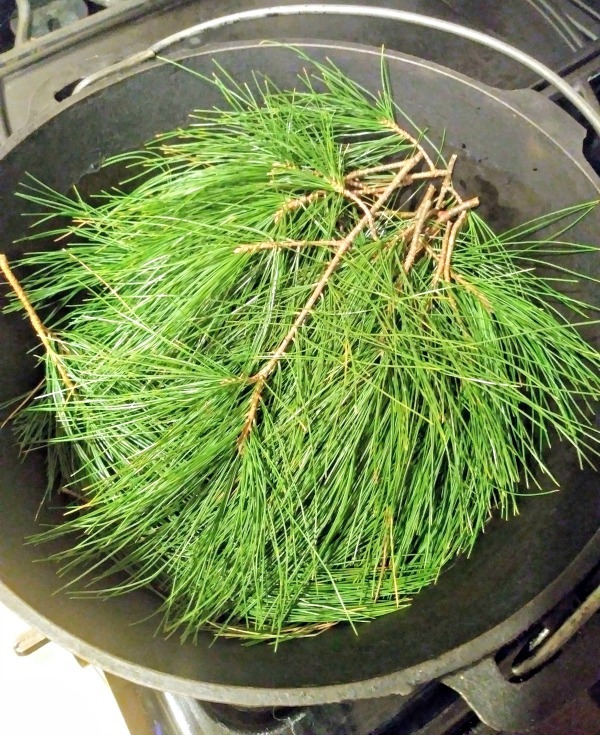 The best place to start with winter foraging, in my view, is with the pines, spruces, firs, and hemlocks. That's because they are so widely available, easy to forage even in the worst weather, and a good source of vitamin C.

And the pine family is delicious and medicinal as well!

How to Identify Pine, Spruce, Fir, and Hemlock

Pine Needle Oil for Winter Wellness

Pine Needle Sugar Cookies
Oven Roasted Potatoes on a Bed of Pine Needles
Pine and Raspberry Fermented Soda
Pine and Honey Moisturizing Lip Balm
Pine Bath Salts for Natural Stress Relief

How to Harvest Pine Resin and Use it to Make a Salve

Spruce Tip Ice Cream
Foraging Sugar with Tree Sap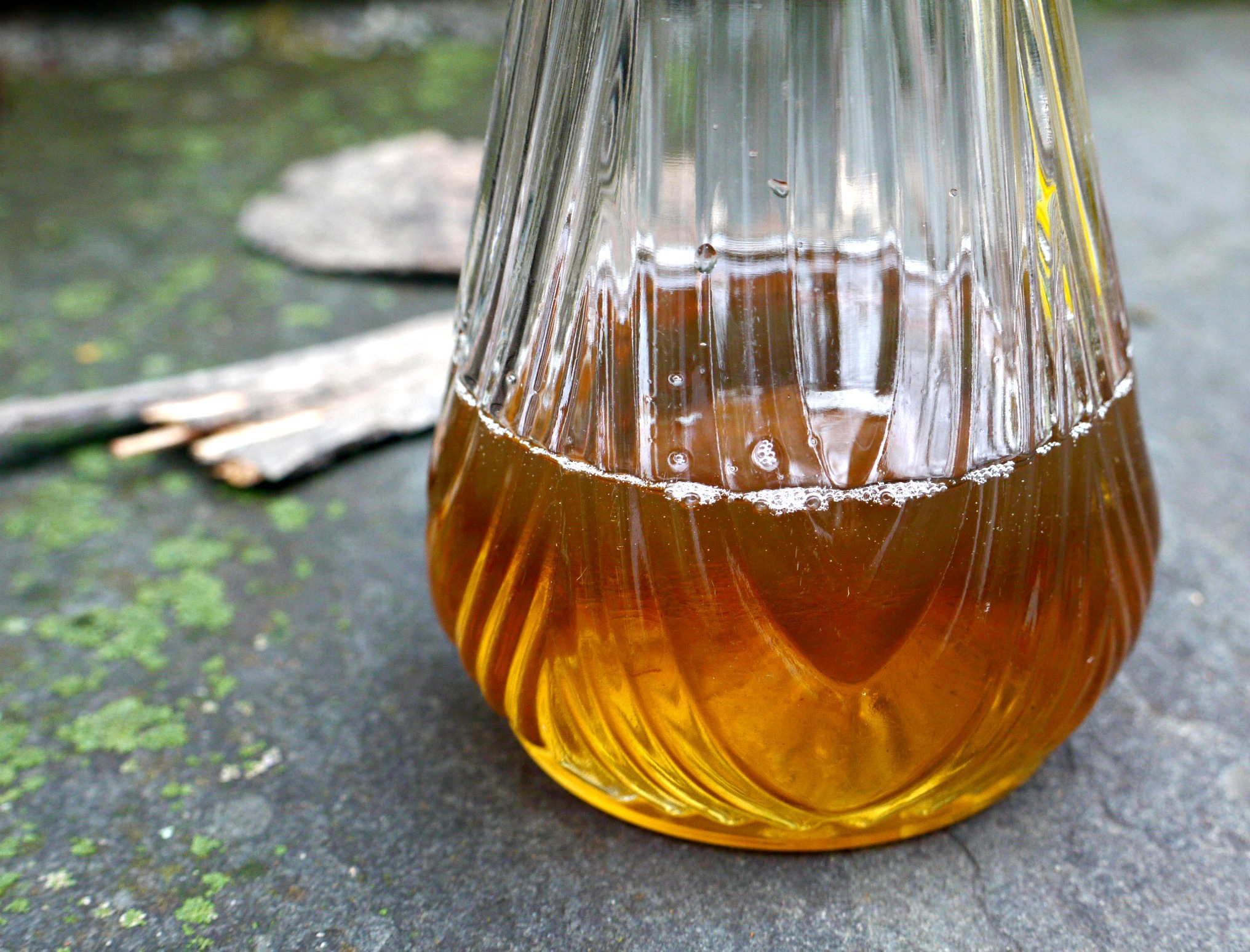 Mid-to-late winter is tree tapping time. Sugar maple is the most popular tree to tap, but any maple may be tapped for syrup as well as many other species of trees including black walnut, box elders, butternut, and birches.

How to Tap Black Walnut Trees for Syrup

Backyard Maple Sugaring

How to Make Birch Syrup

How to Tap Maple Trees for Syrup

In addition, syrup can be made from the bark of the Shagbark Hickory tree:

How to Make Hickory Bark Syrup
Foraging Wintergreen in Winter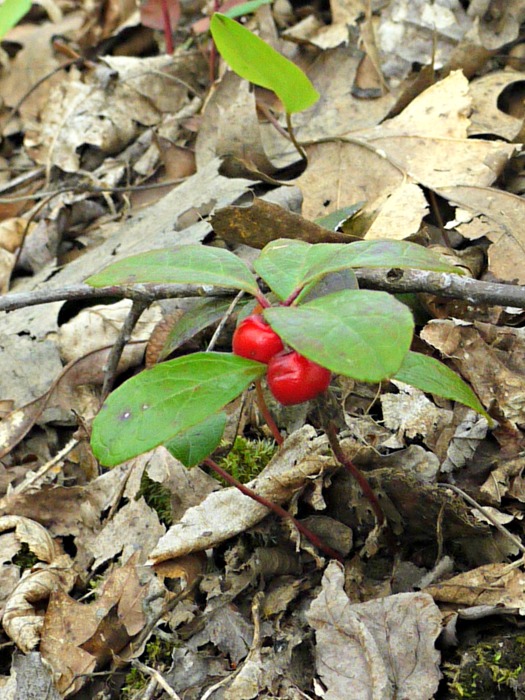 One of my favorite plants to forage in winter would have to be wintergreen. Seeing this green on the forest floor and especially smelling this scent is a genuine treat to me. Wintergreen (also known as teaberry) is an evergreen that can be foraged year round.

Wild Foraged Wintergreen Oil Salve

How to Make Wintergreen (Teaberry) Extract

The Trick to Delicious Wintergreen Tea

Homemade Teaberry Ice Cream
Black Walnuts, Acorns, and Other Nuts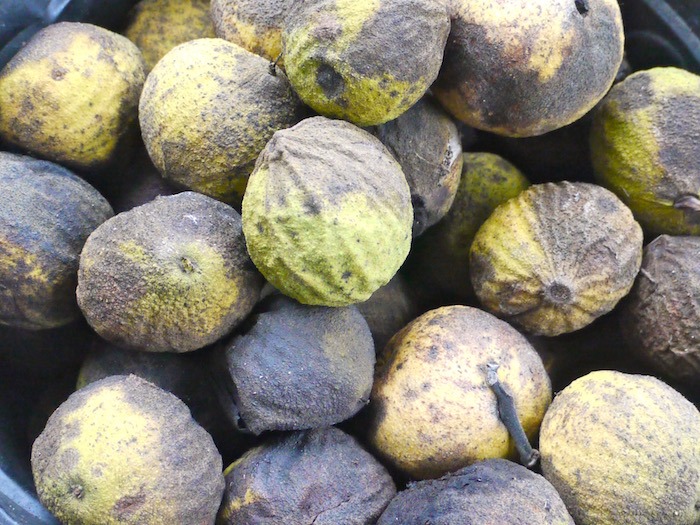 Nuts are most often found in the fall, but it is not unusual to continue finding them into winter. They are a great high calorie foraged treat.

How to Harvest and Crack Black Walnuts

Black Walnut Pie: A Wonderful Fall Foraged Treat

Making and Using Acorn Flour

Foraging Beech Nuts

Wild Mushrooms
Two mushrooms we forage in winter are chaga and turkey tail. Chaga grows on birch trees, is not particularly abundant, and grows very slowly, so should be harvested sparingly. Turkey tail, on the other hand, is quite abundant and is an incredible medicinal (as is chaga).
These, of course, are not the only two mushrooms that can foraged in winter; Practical Self Reliance has a post on 16+ mushrooms to forage in winter.

Chaga Hot Chocolate

Foraging and Harvesting Chaga Sustainably

Turkey Tail Mushrooms: Identification and Uses
Dock Seed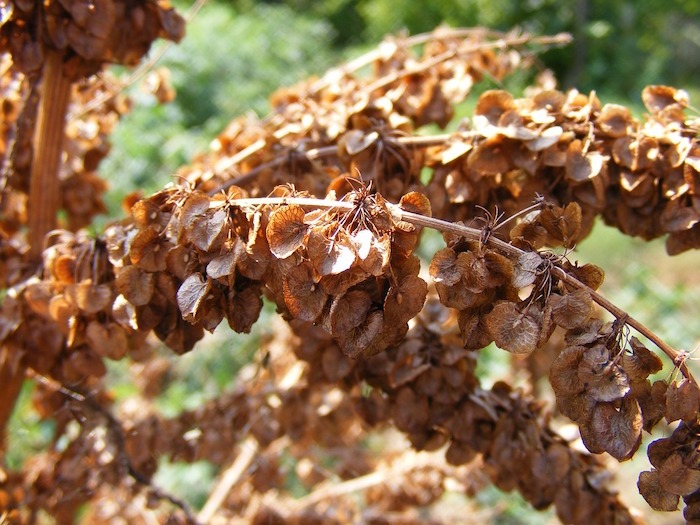 Young dock greens are best foraged in the spring, but the seeds that form in the fall hold on to the plant and are often still available to forage in the winter. They make a wonderful, high-fiber flour.

How to Forage and Make Dock Seed Flour

Dock Seed Brownies: Amazingly Delicious Foraged Fare
Fruit to Forage in Winter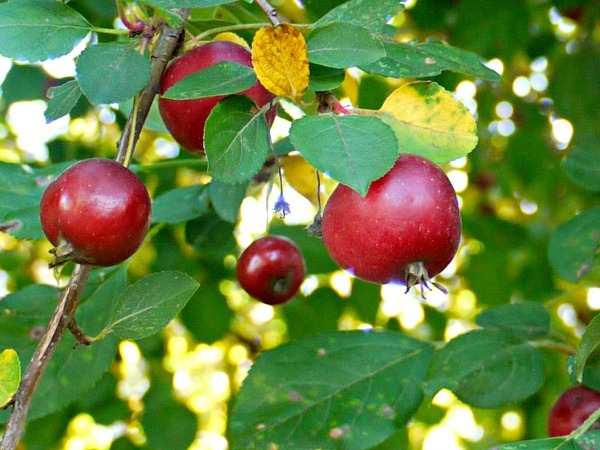 Fruit may seem like the last thing you would expect to forage in the middle of winter. But many fruits actually sweeten with the cold weather, and some even dry on the plant making them available for harvest. Crabapples, cranberries, hawthorne, juniper berries and rose hips can often be found in the winter months.

I have juniper berries listed in with these other fruits, and while it's technically a conifer, it can be used as fruit.

Canning Hedgerow Jelly: A Delicious Mixture of Fall Foraged Fruit (any of these fruits may used in this recipe, although I would go light on juniper berries)

Homemade Crabapple Jelly with Canning Instructions

Cranberries From the Wild

Hawthorne Berries: Identify, Harvest, and Make an Extract

Foraging for Juniper Berries and What to Do With Them

Foraging and Using Rose Hips

Wild Greens
Like fruit, foraging for greens in the middle of winter can be a bit of a surprise. But many greens thrive in cold weather and we often find cold-loving watercress (if the water is not frozen), garlic mustard, and chickweed.

Foraging: Homemade Creamy Watercress Soup

Ramps and Garlic Mustard Frittata

Foraging for Chickweed
Roots and Tubers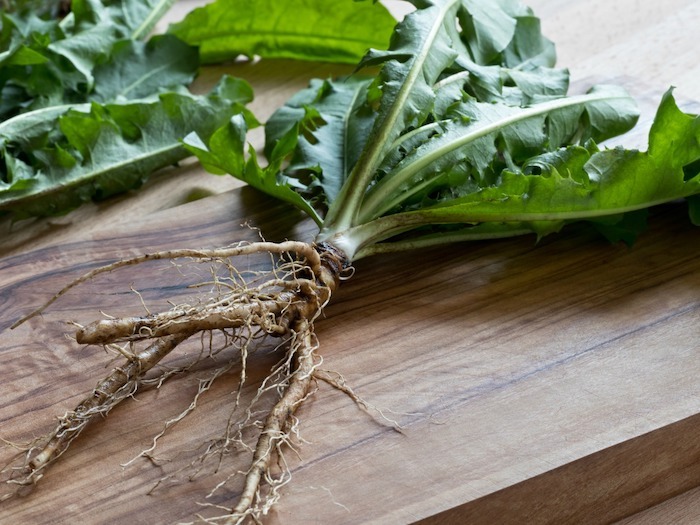 Digging for roots or tubers in winter does require that the ground not be frozen. In addition, it is essential that you have a clear understanding of the identification of the "dead" upper part of the plant.

Roots and tubers that you may wish to forage in winter include cattail, burdock, chicory, dandelion, wild carrot, and Jerusalem artichoke.

Roasted Dandelion Root Coffee

Roasted Dandelion Root Coffee Ice Cream

Foraging Cattail

Foraging Burdock

Foraging and Roasting Chicory Root

Wild Carrot – Queen Anne's Lace

Foraging Jerusalem Artichoke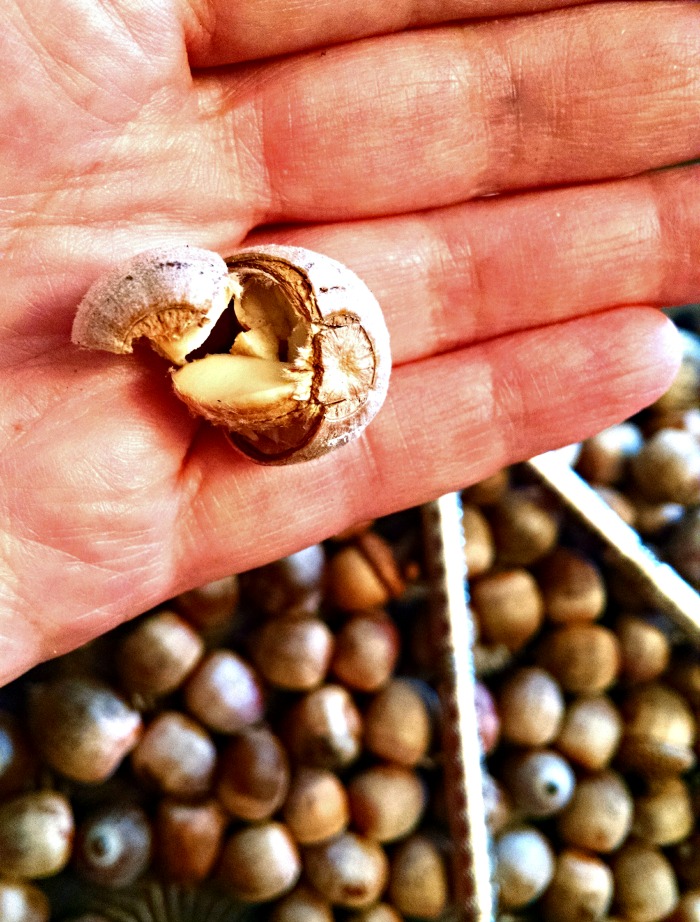 What other plants or mushrooms have you foraged in winter? How difficult was it to do so?
Other Foraging Posts You'll Love
17 Plants for Early Spring Foraging

How to Forage Ostrich Fern Fiddleheads

Stuffed Grape Leaves Recipe (with foraged grape leaves)

Sumac Lemonade Fermented with Wild Yeast

Wild Ramp Salt Recipe (with Foraging Tips)
A Foraging eCourse for Beginners
Are you interested in foraging, but a bit hesitant because you don't trust your own abilities? I created a mini eCourse just for you. In More Than Weeds: 5 Common Plants to Forage for Food and Medicine you'll learn that identifying plants is all in the details.
Using common plants with which may be someone familiar you'll learn beginner botany skills that you will be able to use as you move forward. You'll gain confidence to use these plants for your family in food and safe, home remedies. Get started now!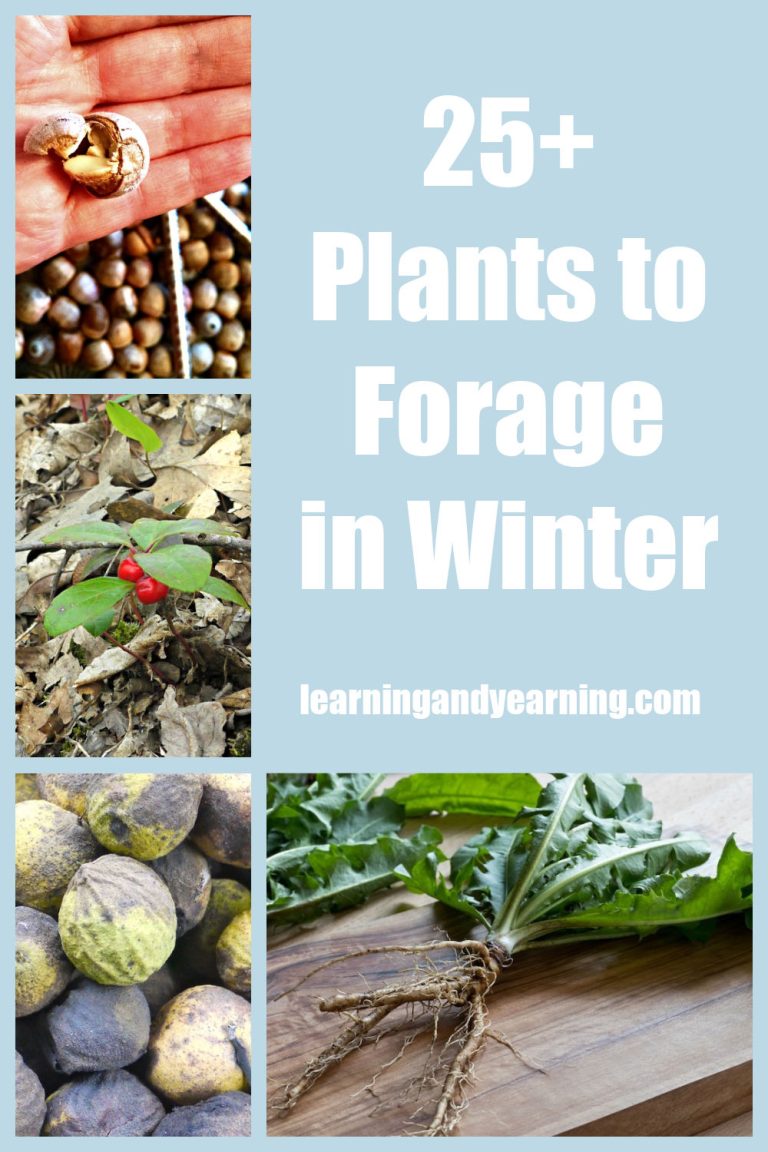 Thank you for visiting Learning And Yearning. May "the LORD bless you and keep you; the LORD make his face shine upon you and be gracious to you; the LORD turn his face toward you and give you peace." Num 6:24-26