In the spring and fall, in northern climates, frost can be a concern. Providing frost protection for plants in your vegetable garden doesn't have to be complicated, though. Being prepared is what's important, since frosts can be unpredictable and can come on quickly.
How Frost Damages Plants
Under the right conditions, water vapor in the atmosphere will turn to ice crystals, causing frost to form. Depending on the severity of the frost, and the hardiness of the plants, a frost can cause the water in plant cells to freeze, damaging or even killing the leaves and stems.
During a light frost, the air temperature reaches freezing but the ground does not freeze. With a hard frost, both the air and ground reach freezing temperatures.
What does frost do to plants?
Under the right conditions, water vapor in the atmosphere will turn to ice crystals, causing frost to form. Depending on the severity of the frost, and the hardiness of the plants, a frost can cause the water in plant cells to freeze, damaging or even killing the leaves and stems.
Hardy vs Tender Plants
A plant that is easily damaged by even a light frost is considered a tender plant. A hardy plant, on the other hand can withstand a frost. Some can even withstand a hard freeze.
In my eBook, The Art of Gardening: Building Your Soil I provide information on growing plants and separate them according to their hardiness. You can find a complete list in the eBook.
A list of tender plants would include heat loving plants such as:
cucumber
eggplant
tomato
watermelon and more
Hardy plants would include cool loving plants such as:
asparagus
broccoli
brussels sprouts
kale and more
Plants do vary as far as how much cold they can tolerate. For example, lettuce can tolerate a light frost, while Brussels sprouts thrive even after a freeze. We pick them fresh right through January in our northern garden.
How to Predict a Frost
It is important to know the average dates for the last spring frost, and first fall frost in your area. Enter your zip code at this calculator to find the average dates for your area.
Knowing your frost dates will help you to plan ahead, and will remind you to be diligent and to keep your eye on the weather forecast.
Predicting frost isn't as simple as knowing the temperature, however. Frost can occur with temperatures as high as 38°F. That's because the temperature at the ground can be several degrees cooler than at about 4 – 5 ft above the surface, where official temperatures are recorded.
Frost is more likely on a still night than a windy one, and more likely when the skies are clear than when they are cloudy. Clear skies allow heat to escape the atmosphere.
Dew point also needs to be taken into consideration. The dew point is the temperature to which air must be cooled before dew or frost begins to form. Air holds varying amounts of water vapor. As temperatures cool, this water vapor turns to water (dew), or ice (frost) if temperatures are cool enough.
Frost Protection for Plants
Protect With Plant Covers
Covering your plants can provide insulation to protect them when expecting a frost.
What to use for plant protection:
bedspreads or other heavy fabric
cardboard boxes
hay or straw
Simply lay the blanket over your plants and secure it with rocks or bricks so that it doesn't blow away. The cover must touch the ground because that is what will trap any warmth the ground may hold. Remember to remove the plant cover in the morning so that condensation will not refreeze.
If using hay or straw, loosely cover your garden plants with the natural material, including the ground surrounding the plant.
In the photo above, author and blogger Amy Strass of Tenth Acre Farm uses Agribon row cover for plant protection. Notice that she is careful to bring the frost blanket down to the ground rather than just tucking it around the stems, and she uses rocks to keep the plant covers firmly in place.
Protect With Micro-Climates
Have you ever noticed that there are certain areas of your property that sometimes stay frost-free despite other areas being covered in frost? That area is a micro-climate which is in some way providing protection for your plants, and you can find ways to create such areas yourself.
Raised beds are one form of micro-climate. The soil is generally warmer than surrounding areas. Many of your plants will likely still need to be covered in a raised bed but the warmth of the soil will be helpful.
Planting against a south facing wall is another way to capture heat.
Place rocks around your plants during the day while the sun is shining. The rocks will absorb heat and release it during the evening hours. Water filled bottles will help in the same way.
What Not to Use for Covering
Frost blankets and other plant covers are different than low-tunnels and greenhouses in that the frost cover is laid right on top of your plants. There is generally no space between the plant and the cover over it.
For that reason, using plastic can be more harmful than helpful. That's because plastic, unlike cloth, will hold moisture. That moisture will freeze causing damage to the plants with which it is in contact.
More Organic Gardening Posts You'll Love
Plastic Mulch in the Garden: Friend or Foe?
Sub-Zero Weather Can Benefit Your Garden
7 Great Benefits of Common Lawn and Garden Weeds
The Easy Way to Improve Soil Fertility
6 Simple Steps to Planning a Vegetable Garden Each Year
Lasagna Gardening: an Easy and Productive Way to Garden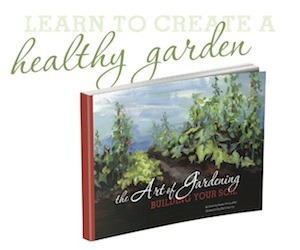 To learn how to build a garden that builds healthy soil, be sure to check out my eBook The Art of Gardening: Building Your Soil. 
You really can become a better gardener, and you really can grow healthy, nourishing produce. It's all about the soil! Click here to learn more.
Thank you for visiting Learning And Yearning. May "the LORD bless you and keep you; the LORD make his face shine upon you and be gracious to you; the LORD turn his face toward you and give you peace." Num 6:24-26