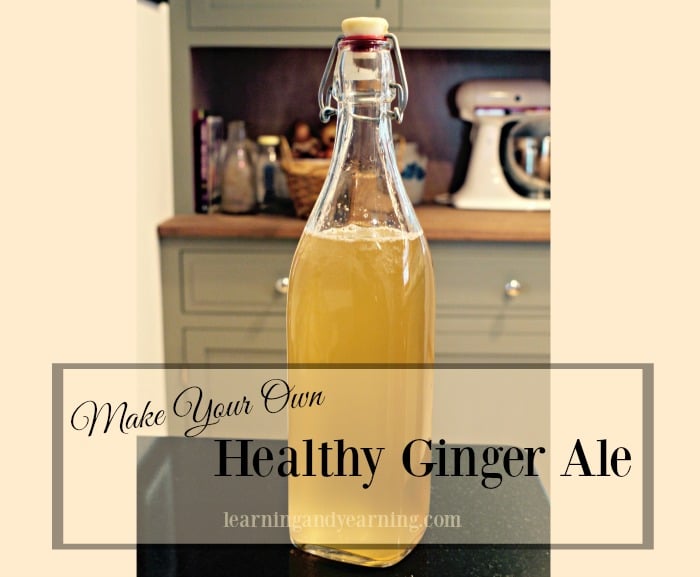 Does something that reminds you of being sick belong in the category 'Good Memories'? My mom gave us flat ginger ale whenever we were recovering from a bout of stomach flu. It was part of being cared for, and it definitely settled my stomach. So, for me, it's a memory of comfort.
Yes, we drank soda when we were kids on special occasions, although back then I would choose orange or root beer, rather than ginger ale. I rarely drink store-bought soda these days – but, if I had to choose, it would be ginger ale. I guess my tastes have changed.
DISCLOSURE: In order for me to pay my blogging expenses, I may receive monetary compensation for my endorsement and/or link to products mentioned on this blog. I am a participant in the Amazon Services LLC Associates Program, an affiliate advertising program designed to provide a means to earn fees by linking to Amazon.com and affiliated sites.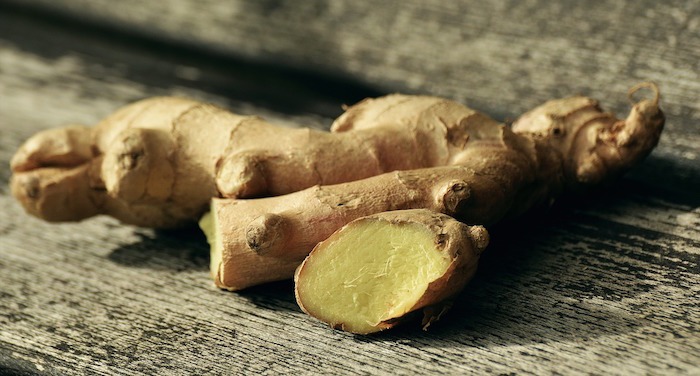 But really, there's no need to choose store-bought when I can make my own healthy ginger ale that's full of good enzymes, and beneficial yeasts and bacteria. And I can control the amount of sugar.
Benefits of Ginger
Most of us are aware that ginger, Zingiber officinale, really does the job when it comes to easing nausea. But did you know that it may help relieve the pain of osteoarthritis because of its ability to reduce inflammation?
Start With a Ginger Bug
The tastiest ginger ale begins with a ginger bug, but whey (the liquid strained from a good quality plain yogurt) may be used as well. Think of a ginger bug as a sourdough for homemade sodas. It has to be fed to continue reproducing. But it can be used for all kinds of sodas – not just ginger ale. Think homemade root beer or even fermented sodas made from herbal tea.
Your ginger bug will capture wild yeasts and bacteria. You'll feed those little beasties sugar and they in turn will emit carbon dioxide, the magic that will make your soda fizz.
The fact that you are feeding your bug sugar doesn't mean that your beverage will have a high sugar content. That's the beauty of the beasts – they are consuming the sugar and the longer you let your soda ferment, the less sugar it will contain.
Ginger Bug
Print recipe
Ingredients
fresh organic ginger
organic cane sugar
non-chlorinated water
Directions
| | |
| --- | --- |
| 1. | Grate a 2" piece of fresh ginger. |
| 2. | Add the ginger to a jar along with 1 tablespoon of sugar and 1/2 cup of water. Stir. |
| 3. | Cover your jar loosely and place in a warm spot in your kitchen. A coffee and a rubber band work well to cover it. |
| 4. | Each day, stir in another 2" piece of ginger, grated, 1 tablespoon of sugar and 2 tablespoons of water. |
| 5. | Continue for 5 - 6 days, or until bubbly. |
| 6. | You may then refrigerate your ginger bug and reduce the feeding to once a week, if desired. To re-activate, remove from the refrigerate and begin feeding daily. |
| 7. | Use 1/2 cup of ginger bug per 1/2 gallon of sweetened liquid to make soda. |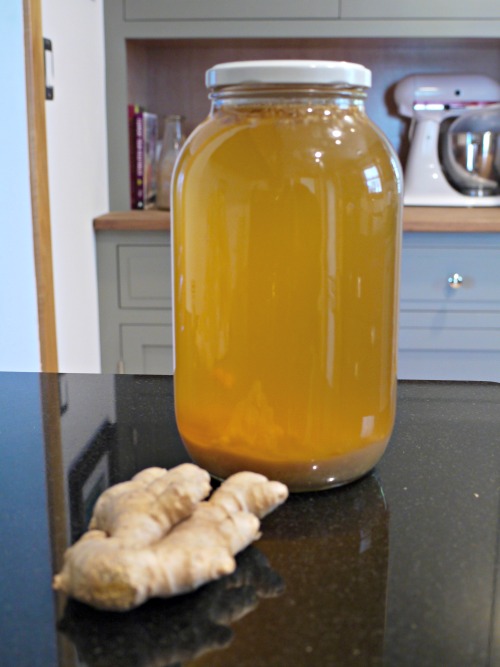 Ginger Ale
So once you get your ginger bug ready, you can start your ginger ale. Yes, this is slow food, just the way I like it!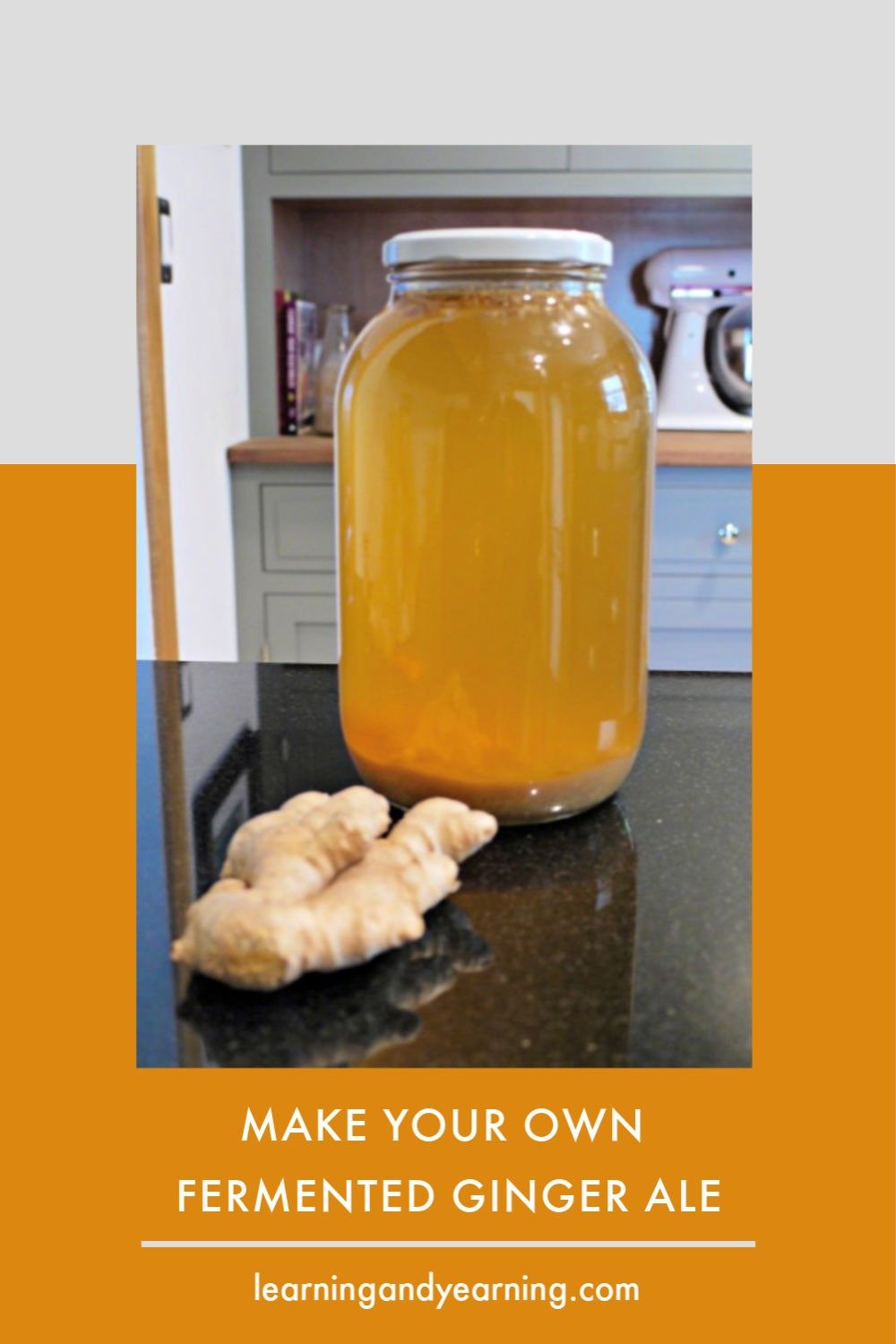 Homemade Ginger Ale
Print recipe
Ingredients
2 " piece of fresh organic ginger (grated)
1/2 cup organic cane sugar
1 teaspoon organic molasses
1/4 teaspoon sea salt
3 tablespoons fresh squeezed lemon or lime juice
1/2 cup ginger bug or whey
7 cups non-chlorinated water
Directions
| | |
| --- | --- |
| 1. | Ad 3 cups of water, ginger, sugar, molasses and sea salt to a saucepan. |
| 2. | Bring to a boil and then simmer for 5 - 10 minutes. |
| 3. | Remove from the heat and add 4 cups of water. Cool to room temperature. |
| 4. | Transfer to a 1/2 gallon glass container with lid. |
| 5. | Add lemon or lime juice, and ginger bug or whey. Stir. |
| 6. | Put lid on jar and tighten. |
| 7. | Allow to ferment on counter for 2 - 6 days. (Shorter time period if room is warm and longer time period if room is cold.) |
| 8. | Once bubbling begins, burp the jar by loosening the lid and then re-tighten. |
| 9. | Strain and bottle in Grolsch bottles and refrigerate. Will last for several months. Check the bottles occasionally and burp the lid to prevent too much build-up of gases. |
Thank you for visiting Learning And Yearning. May "the LORD bless you and keep you; the LORD make his face shine upon you and be gracious to you; the LORD turn his face toward you and give you peace." Num 6:24-26