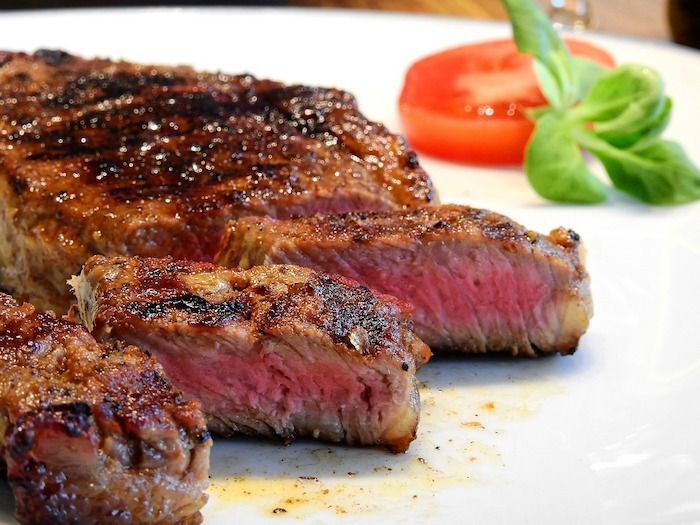 When you've been doing something for a while and it's become second nature to you, you sometimes wonder how it ever felt so confusing. But when we made the switch to pastured and grass-fed meats, as the family cook, I was definitely confused. I didn't know how to roast a pastured chicken or how to grill grass-fed steak and keep the meat moist and tender.
This meat was different and needed to be cooked differently. I remember thinking that I'd never get to eat a moist roast chicken again. But then I learned to brine my chicken and all was well.
DISCLOSURE: In order for me to pay my blogging expenses, I may receive monetary compensation for my endorsement and/or link to products mentioned on this blog. I am a participant in the Amazon Services LLC Associates Program, an affiliate advertising program designed to provide a means to earn fees by linking to Amazon.com and affiliated sites.
With beef, the biggest hurdle was finding the right farmer. Once we found beef we loved, our farmer explained to us that the animals always need to be gaining weight. Even to just maintain weight results in inferior beef.
A juicy, tender cut of beef depends both on how the animal is raised, and how the meat is cooked. Keeping the heat low, and cooking to lower temperatures are both recommended for grass-fed beef.
But what about food pathogens like E.coli? Doesn't cooking to a lower temperature increase the risk of food-borne illness? According to Shannon Hayes, author of Free Range Farm Girl: Cooking Grassfed Beef:
. . . empirical evidence suggests this hazard is greatly reduced in grassfed beef. Not only is E.coli found in much lower numbers in grassfed meat, it is also a strain that is easily vulnerable to our bodies' natural defenses. Even when E.coli is found on grassfed beef, it rarely survives our own digestive acids. Further, grassfed animals are highly unlikely to carry the particularly virulent E.coli 0157:H7, because that strain of bacteria evolved in the unnaturally hyper-acidic stomachs of grain-fed factory-farmed beef.
To Grill Grass-fed Steak
Steaks, like rib eye, Porterhouse, T-bone, and NY strip all come from the most tender parts of the animal and are well-suited to the dry heat of grilling.
Grilling, of course, is cooking over flames, whether wood, charcoal, or gas. The temperatures can reach 500°F and as I mentioned above, grass-fed beef does not lend itself to high temperatures.
So what's the secret?
Indirect grilling.
I learned this secret in Free Range Farm Girl: Cooking Grassfed Beef. This awesome cookbook isn't just about grilling. You'll learn the best way to cook all your cuts of grass-fed beef.
With indirect grilling, a fire is kept on only one side of the grill. With gas, you light only half of the grill, and with charcoal, you move your hot coals to one side.
You quickly sear your steak over the open fire, and then move it to the unlit side of the grill. It's also important to know the weight of your steak, and to use a meat thermometer.
With indirect grilling, your grass-fed steak will stay juicy and tender. Every time.
Grilled Grass-fed Steak
Print recipe
Ingredients
sea salt
fresh ground black pepper
1 grass-fed steak (1 1/4" - 1 1/2" thick)
Directions
Sprinkle salt and pepper on both sides of your steak. Allow to come to room temperature.
Preheat your grill until it is hot. (It will be hot enough when you can hold your hand 3" - 4" above the grate for no more than 3 or 4 seconds).
On a gas grill, turn off all but one of the burners. On a charcoal grill, rake all the coals to one side.
Sear the steak for 2 minutes on each side over direct heat. (If you are using thinner steaks, cut this time in half).
Move the steaks to the unheated side of the grill. Close the lid and allow the steaks to cook, without turning, until they reach 120°F - 135°F, about 5 - 7 minutes per pound.
Remove the steaks from the grill and allow them to rest for 5 minutes before serving.