Broccoli, to me, is one of the unsung heroes of the garden, providing a harvest early summer through fall, even tolerating a light frost. Broccoli seedlings are set out in late April/early May in NEPA and generally produce a large head ready for harvest in about two months. But then they continue to produce side shoots right up through October. There aren't too many garden plants that I know of that have such a long harvest season. Cut the florets with a knife while they are still tightly closed. As soon as the buds begin to swell, they will have a more yellow cast to them and may be a bit bitter. Be sure to be diligent in keeping the side shoots harvested, especially in hot summer weather, to keep the plant from bolting (going to seed).
As I've mentioned, what's for dinner around here depends on what's in the garden. I made a great Broccoli Casserole with these side shoots recently that I think you'll love:
DISCLOSURE: In order for me to pay my blogging expenses, I may receive monetary compensation for my endorsement and/or link to products mentioned on this blog. I am a participant in the Amazon Services LLC Associates Program, an affiliate advertising program designed to provide a means to earn fees by linking to Amazon.com and affiliated sites.
Ingredients
about 8 cups of broccoli florets
3 strips of bacon, cut into 1/2″ strips
1/3 cup flour
5 eggs, beaten
1 1/2 cups of whole milk (or 1/2 cup cream and 1 cup milk)
1/4 – 1/2 t. red pepper flakes
1/2 t. sea salt
4 oz feta cheese
4 oz cheddar cheese
Preheat oven to 425 degrees. Cook the bacon in a cast iron skillet until browned. Remove the bacon and saute the broccoli in the bacon fat left in the pan. Place both the broccoli and the cooked bacon into a 2 – 3 quart casserole dish, and mix together. In a bowl, whisk the eggs into the flour, then whisk in the cream and milk. Add the red pepper flakes and salt. Mix in the feta cheese and half of the cheddar cheese. Pour the egg mixture over the broccoli and evenly sprinkle the remaining cheese over the top. Bake for 30 – 40 minutes, until set.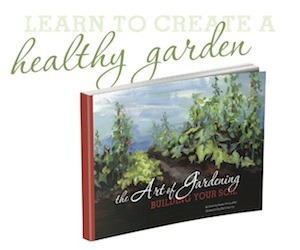 To learn how to build a garden that builds healthy soil, be sure to check out my eBook The Art of Gardening: Building Your Soil. You really can become a better gardener, and you really can grow healthy, nourishing produce. It's all about the soil! Click here to buy now.
Thank you for visiting Learning And Yearning. May "the LORD bless you and keep you; the LORD make his face shine upon you and be gracious to you; the LORD turn his face toward you and give you peace." Num 6:24-26