Have You Taken a Farm Tour Lately? It's Great Fun!
I think that Sean Zigmund and Cheyenne Miller are audacious. They have a few acres in upstate NY and they call it a farm. And you know what? It is a farm. These young people know how to work the land so that they are both producing and building soil for the years to come. On the day we visited Root N Roost Farm, they were busy processing duck, but Cheyenne took the time to show us around the farm. (Yes, we emailed ahead of time). On this small plot, they are producing enough to fill 15 CSA (Community Supported Agriculture) shares, in addition to stocking their farm stand and feeding themselves and their apprentices. And they are raising hens for eggs, and pigs, ducks, turkeys, and chicken for meat, and bees for honey and pollination.
DISCLOSURE: In order for me to pay my blogging expenses, I may receive monetary compensation for my endorsement and/or link to products mentioned on this blog. I am a participant in the Amazon Services LLC Associates Program, an affiliate advertising program designed to provide a means to earn fees by linking to Amazon.com and affiliated sites.
Their raised beds are built using hugelkultur and/or lasagna gardening. And they use hoop houses to extend their growing season (winter CSA shares are available). And if you think they couldn't possibly fit one more thing on their land, you would be wrong. They recently built two small ponds!
Missing from the farm are tractors or even rototillers. All of the work is done by hand – well, the animals help work the land as well.
While "pretty" or "manicured" would probably not be apt descriptions of their farm, you could certainly ascribe the adjective "resourceful" to these farmers. Their outbuildings are built from pallets, and one of their coops is made from an old truck cap. Sean and Cheyenne know how to recycle or, I should say, upcycle. We're not talking dog-patch, though. (That's the probably not politically correct term we use for people whose property is littered with junk that they think they will some day use). No, Sean and Cheyenne put this rescued junk to good use.
As if they aren't busy enough, they love what they are doing so much that they conduct classes to share their knowledge with others. While you may not live near Root N Roost, you live near a farm. Call them up; take a tour. You'll learn something, and hopefully you'll take home some fresh organic produce and eggs like we did.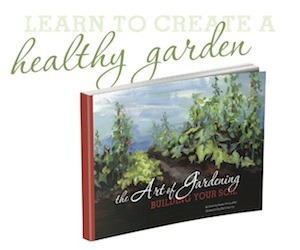 To learn how to build a garden that builds healthy soil, be sure to check out my eBook The Art of Gardening: Building Your Soil. You really can become a better gardener, and you really can grow healthy, nourishing produce. It's all about the soil! Click here to buy now.
Thank you for visiting Learning And Yearning. May "the LORD bless you and keep you; the LORD make his face shine upon you and be gracious to you; the LORD turn his face toward you and give you peace." Num 6:24-26