Rose petal jelly is a beautiful, fragrant jelly perfect for spreading on a scone, or to top vanilla yogurt; this option is low sugar!
What Roses Can I Use
Virtually all rose petals are edible. All, however, do not have the same amazing flavor. I used Rosa rugosa for my low sugar rose petal jelly, and it's is the perfect rose for this sweet treat.
So before proceeding, taste your roses; if you enjoy the flavor, it will work for this jelly recipe.
DISCLOSURE: In order for me to pay my blogging expenses, I may receive monetary compensation for my endorsement and/or link to products mentioned on this blog. As an Amazon Associate I earn from qualifying purchases.
An important consideration to me in choosing a rose is that it has been grown organically. I would especially stay away from roses purchased from a florist or grocery store. These have been heavily sprayed with pesticides and fungicides to assure a perfect rose.
Harvesting Rose Petals
Use scissors or pruners to harvest the entire rose leaving the stem behind. Choose young flowers which have recently opened.
Once gathered, separate the petals from the flowers. You will use only the petals for the jelly.
Benefits of Rose
Rose petals contain antioxidants that protect your body from cell damage. They have anti-inflammatory properties and may help to relieve pain, including bloating and period-related cramping.
When ingested, the rose increases bile production, helping to better digest food. They may also help you to relax.
Rose petals are a good source of Vitamins A, C, and E as well as iron and calcium.
Contraindications
Rose petals should not be consumed by anyone allergic to roses, or by those who take blood thinners or antidepressants.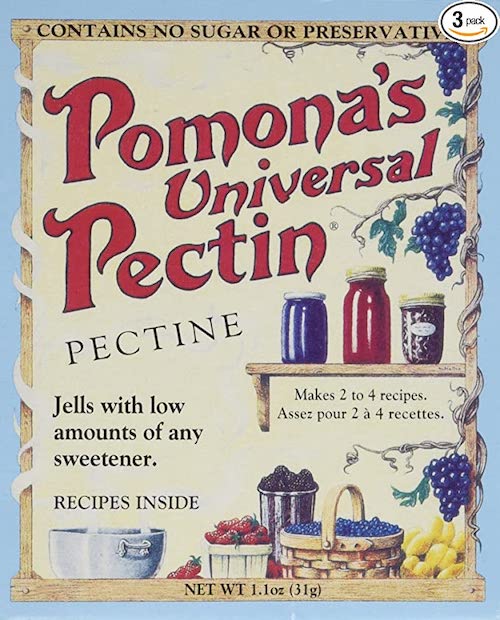 Rose Petal Jelly
Jams and jellies are a wonderful treat and a great way to preserve the harvest, in many cases. The problem with jelly, though, is that it is generally loaded with sugar. I'm no purist, but I like to keep sugar to a minimum.
And while I do use raw honey, I never cook it since I want to preserve the amazing enzymes it contains. That means, for me, it's not an option in jams and jellies. That's why I love Pomona's Pectin – a low-methoxyl pectin which allows you to make jams and jellies using much less sugar than traditional recipes. 
To make the low sugar rose petal jelly, a "tea" is made and strained. Then sugar and Pomona's Pectin is added. Full instructions are in the recipe card below.
The jelly can be preserved by freezing, or canning in a hot water bath for 10 minutes for half pint jars.
Other Posts You'll Love
Low Sugar Wild Violet Jelly Recipe
Low Sugar Raspberry Jalapeño Jam
Two Ingredient Strawberry Maple Jam Recipe
Canning Low Sugar Elderberry Jelly
Hedgerow Jelly: a Delicious Mixture of Fall Foraged Fruit
Low Sugar Rose Petal Jelly
Rose petal jelly is a beautiful, fragrant jelly perfect for spreading on a scone, or to top vanilla yogurt!
Print
Pin
Rate
Instructions
Prepare the calcium water by combining ½ teaspoon calcium powder included in your box of Pomona's pectin with ½ cup water in a small jar with a lid. Shake well. The extra calcium water should be stored in the refrigerator for future use.

Measure sugar into a bowl. Thoroughly mix pectin powder into sugar. Set aside.

Rinse 3 cups of lightly packed fresh rose petals and drain. Put the rinsed and drained  flowers into a sauce pan or heat proof bowl with lid.

Pour 3 1/2 cups of boiling water over the rose petals. Cover and allow the rose petals to steep for 20 – 30 minutes.

Using a strainer, drain and compost the rose petals, reserving the infused water.

Measure 3 cups of infused water into a sauce pan, adding extra water if necessary. 

Add calcium water and lemon juice to the rose water, and mix well. 

Bring mixture to a full boil. Add pectin and sugar mixture, stirring constantly for 1 to 2 minutes to dissolve the pectin while the jelly comes back up to a boil. Once the jelly returns to a full boil, remove it from the heat.

Fill hot jars to ¼" of top.

At this point I allow the jelly to cool, place a lid on the jar, and freeze. If you prefer to can, process in a hot water bath for 10 minutes.

Once open, refrigerate and use within 3 weeks.
Notes
Be sure to use rose petals that have not been sprayed with pesticides. Remove any green or white at the base of the petal. 
Thank you for visiting Learning And Yearning. May "the LORD bless you and keep you; the LORD make his face shine upon you and be gracious to you; the LORD turn his face toward you and give you peace." Num 6:24-26