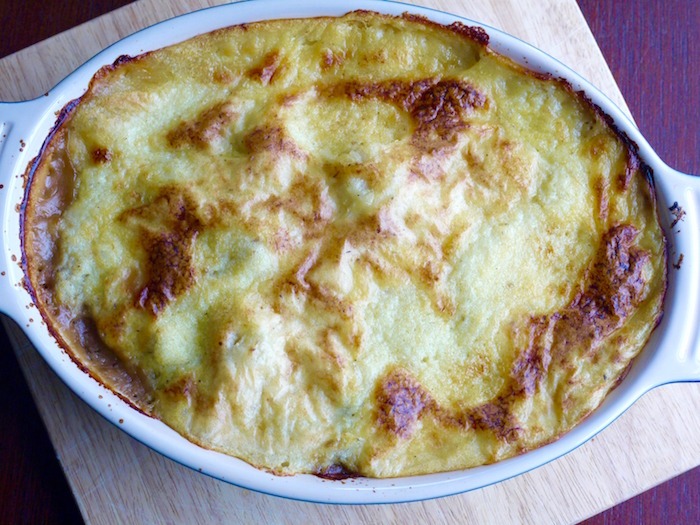 Back in the day when we were first married (guys, that was 40 years ago!), we lived in a run down house in the country without running water and only a wood stove for heat. The road we lived on was used so infrequently that grass grew down the middle of the road in spots.
The woman who delivered our mail was one of the few vehicles that we saw in a day, and this wonderful woman was worried about us – we were just kids. She would leave presents in our mailbox from her garden. One of the things she would leave were Jerusalem artichokes, which I had never before experienced.
DISCLOSURE: In order for me to pay my blogging expenses, I may receive monetary compensation for my endorsement and/or link to products mentioned on this blog. I am a participant in the Amazon Services LLC Associates Program, an affiliate advertising program designed to provide a means to earn fees by linking to Amazon.com and affiliated sites.
Over the years, I've grown Jerusalem artichoke, but I inevitably end up pulling them all up because they can be so invasive. But that doesn't mean that I don't get to enjoy them – I find them growing wild near our cottage at the lake, and they're also available at local farmer's markets.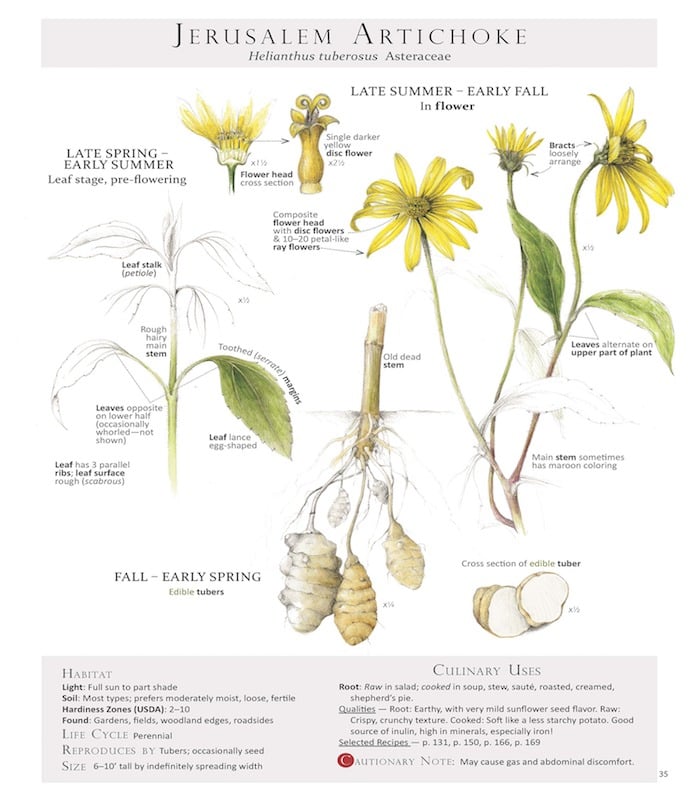 I've enjoyed Jerusalem artichokes raw and cooked, but I was delighted when I found a recipe for them in Foraging & Feasting: A Field Guide and Wild Food Cookbook by Dina Falconi; illustrated by Wendy Hollender.
Falconi uses the Jerusalem artichoke in a way I hadn't thought of – in Shepherd's Pie. She calls the pie Hunter's Pie when venison is used and I'm following suit. Feel free to use ground beef, lamb or venison. It's all good!
Foraging & Feasting: A Field Guide and Wild Food Cookbook by Dina Falconi is a gorgeous book, with botanical illustrations by Wendy Hollender (see the above illustration for Jerusalem artichoke). The book features 50 wild edible plants found in many of the temperate zones throughout the world. Each is beautifully illustrated for precise identification.
In addition to the illustrations, there are recipes included for each plant. I admit I was a little confused at first because each recipe has a "master" recipe with numerous variations.
I quickly realized how genius this is. With most  "normal" recipes, you run to the grocery store when you don't have an item on hand.
Not so easy with foraging. With all the variations you can easily use another root crop you've foraged or grown, for example, instead of the artichokes in this recipe for Hunter's Pie.
The following recipe is very close to the one in Foraging & Feasting: A Field Guide and Wild Food Cookbook. I've made some minor changes, mostly with the herbs, based on the ingredients I had on hand.
One of the ingredients I used instead of the ketchup that the author calls for is ketchup I made from autumn olives foraged in the fall. It was a perfect substitute.
Other recipes in Foraging & Feasting: A Field Guide and Wild Food Cookbook that use Jerusalem artichoke include Jerusalem Artichoke Bisque and Braised Meat with Jerusalem Artichoke.
Hunter's Pie with Jerusalem Artichoke
Print recipe
Ingredients
2 cups Jerusalem artichoke roots (peeled and cut into 1" pieces)
2 cups potatoes (peeled and cut into 2" pieces)
3/4 cups heavy cream
2 tablespoons lard or butter
1 onion (finely chopped)
1 carrot (finely chopped)
1 celery stalk (finely chopped)
3 cloves garlic (minced)
1 1/2lb ground venison
2 teaspoons dried oregano
2 teaspoons dried basil
2 teaspoons dried parsley
2 tablespoons ketchup (autumn olive ketchup works great)
2 teaspoons coconut aminos
1/2 teaspoon molasses
1/2 teaspoon apple cider vinegar
sea salt and pepper (to taste)
1 tablespoon butter
Note
May be doubled.
Directions
Cook the Jerusalem artichokes and potatoes in a covered pot of simmering water, until tender. Drain the roots, place them in a bowl, add heavy cream, and salt and pepper to taste. Mash or purée until smooth.
In a large pan heat fat. Add onion, carrot, celery and garlic. Sauté on medium-low heat until vegetables are almost soft, about 7 minutes.
Add ground venison to the pan and a few pinches of sea salt and pepper. Cook on medium high heat until nicely browned, about 10 - 15 minutes. Periodically stir mixture and break up any meat clumps that form.
Stir in the remaining ingredients, except butter, and cook for another 3 minutes. Taste and adjust seasonings.
Spread the meat mixture evenly into a 2-quart baking dish that is about 2 inches deep. Spread the mashed roots on top of the meat, and dot with butter.
Bake in a 400°F oven until the mashed-root topping is gently browned and slightly crisped, about 45 minutes. Remove from oven and serve.