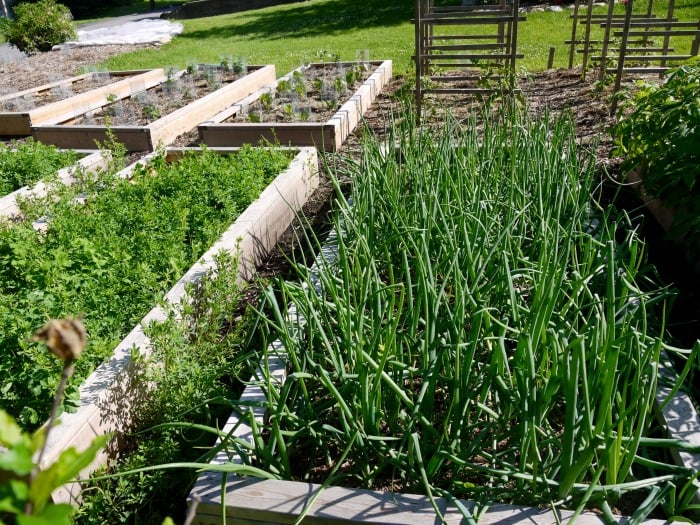 Welcome to my Pennsylvania garden! Be sure to scroll to the bottom to get a tour of 11 other gardens. How fun is that?
The June garden, for the most part, is a young garden. While the cool weather plants like onions, peas and broccoli have been in the ground for a month or two, tomatoes, peppers, eggplant and okra were planted just a few short weeks ago.
Horseradish in the front, herbs and garlic in the back.
A broccoli head starting to form. We had some heavy winds that blew most of the broccoli plants over. Thankfully there was no permanent damage, but rocks were needed to hold the plants back up.
Little heads of cabbage are just beginning to form.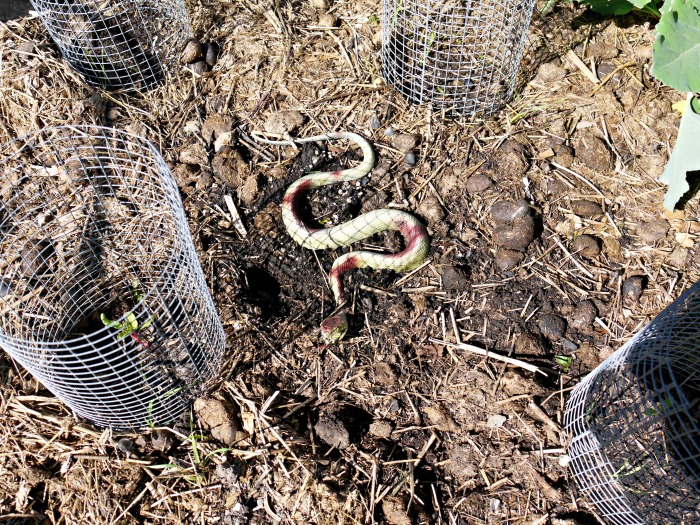 We put fake snakes here and there to scare the chipmunks and squirrels, who do more damage to our garden than any other critter.
Yummy kohlrabi!
While I do grow some leaf lettuce, I prefer to grow heads of lettuce. Here's how to keep it from getting bitter.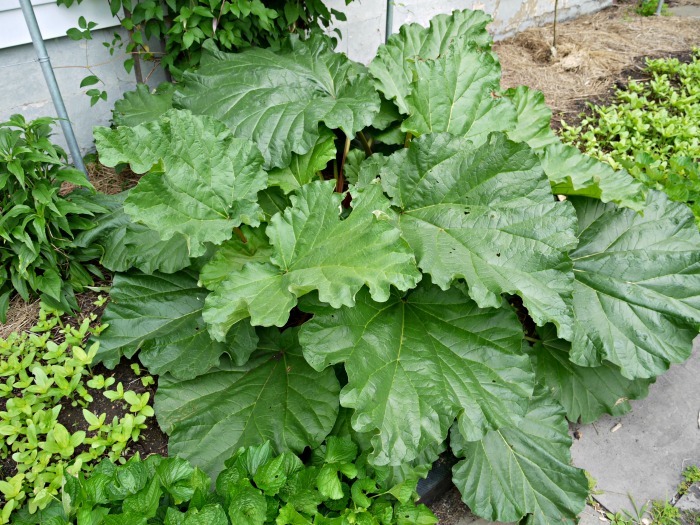 Our rhubarb is large and prolific. It has really thrived in our lasagna garden.
Mike planted two dwarf pear trees just last year and is training them in an espalier style.
It will be a while before we get to enjoy these parsnips, but they are worth the wait. My favorite way to eat parsnip? Parsnip cake with orange infused icing.
Virtually every seedlings needs to be placed in a small cage. Otherwise the chipmunks and sometimes the squirrels dig them out looking for the seed and leave the plant to die.
Our potato patch.
We grow tomatoes up these trellises.
Our first tomato of the season!
I love using alfalfa as mulch in the garden. The only alfalfa we can buy locally is genetically modified, so we've planted two beds of alfalfa. It's not a lot, but it's a start.
Peas have the loveliest flower.
The peony blossoms are short-lived, but so worth it.
To keep the chipmunks from digging up the corn, we cover it with Agribon cloth until it is about 8″ tall. This also warms the soil.
I lifted the cloth so you can see the corn growing underneath. We plant in wood chips.
Our asparagus patch.
Raspberries.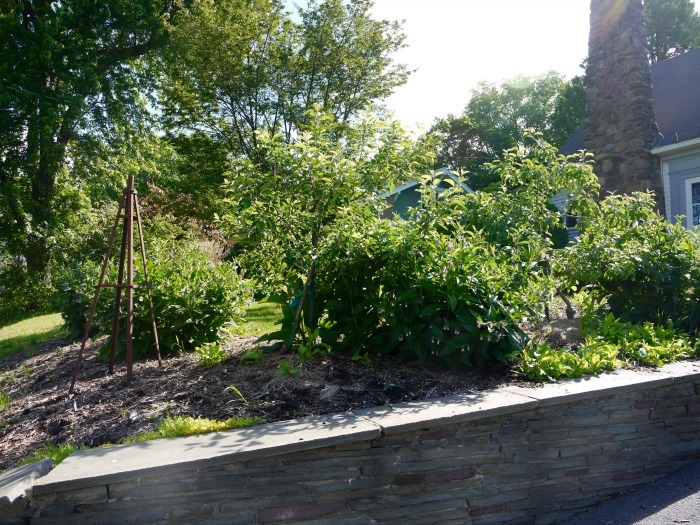 Dwarf apple trees, comfrey and calendula.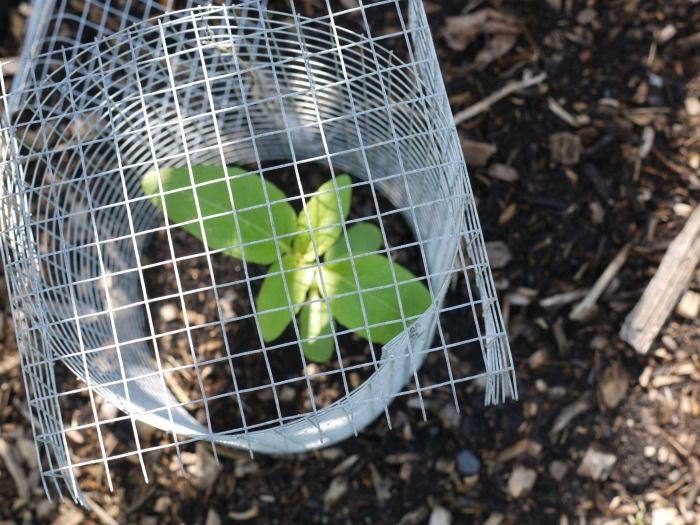 Most of the cages do not need tops, except those that protect our sunflower seedlings. Sunflowers are a favorite of the chipmunks and they will climb up and over the cages to get to them.
I have a very special treat for you today, which is a virtual garden tour of eleven other gardens! I love seeing how others are growing food, herbs and flowers. Plus, on this tour you will visit gardens in USDA gardening zones 3 through 9a. That means that some of the gardens are just beginning their season, while others (zone 9a!) are wrapping up their harvests. Join the virtual tour by clicking through to the other sites on the list below. Have fun!
Homestead Garden Tour
Joybilee Farm (British Columbia, Zone 3)
Homespun Seasonal Living (Montana, Zone 4b)
Homestead Honey (NE Missouri, Zone 5b)
Family Food Garden (British Columbia, Zone 5b)
Homestead Lady (SW Missouri, Zone 6)
Reformation Acres (Ohio, Zone 6)
Timber Creek Farm (Maryland, Zone 7b)
Grow Forage Cook Ferment (Oregon, Zone 8a)
A Farm Girl in the Making (Washington, Zone 8a)
Preparedness Mama (Texas, Zone 8b)
Schneiderpeeps (Texas, Zone 9a)
Thank you for visiting Learning And Yearning. May "the LORD bless you and keep you; the LORD make his face shine upon you and be gracious to you; the LORD turn his face toward you and give you peace." Num 6:24-26