Lemon Balm for Cold Sore Lip Balm
Do you suffer from cold sores? If so, I highly recommend that you grow lemon balm, Melissa officinalis, in your herb garden. Also called Sweet Melissa, its oil has a strong antiviral effect on the herpes virus and can easily be made into a healing cold sore lip balm.
What this means is that if you apply this lip balm for cold sores topically, it can inhibit the virus directly and can help speed up the healing time (source).
A Woman's Garden
The recipe I'm sharing is from author Tanya Anderson's beautiful new book,  A Woman's Garden, where she shares dozens of ways to use garden plants for skincare, home remedies, crafts, dyes, food, and so much more. The recipe for cold sores is reprinted with the publisher's permission.
A Woman's Garden contains step-by-step instructions for 35 projects including:
pallet strawberry planter
floral ice cubes
DIY herb spiral
lavender and alkanet soap
natural wood furniture polish
fossil imprint stepping-stones
and more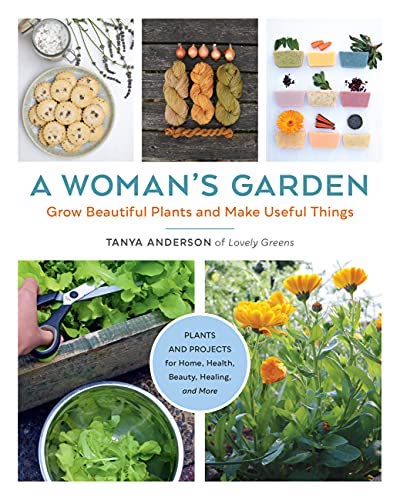 In A Woman's Garden you'll learn not just how to use many amazing garden plants, but how to grow them as well. You'll learn how to:
create a new vegetable garden
grow edible flowers
grow culinary and medicinal herbs
build a raised garden bed
grow plants for dyeing fabric
keep gardening low cost
grow plants for skin care
Lemon Balm Benefits
Lemon balm is both a culinary and medicinal herb. I love it for its calming effects when I'm stressed or feeling anxious. And because it's calming, it can help relieve insomnia.
As already mentioned, lemon balm is antiviral, and may even help with indigestion and nausea.
This powerful herb is meant to be used short term, and can negatively affect thyroid function. Be sure to check its interaction with any medications you are taking.
How to Grow Lemon Balm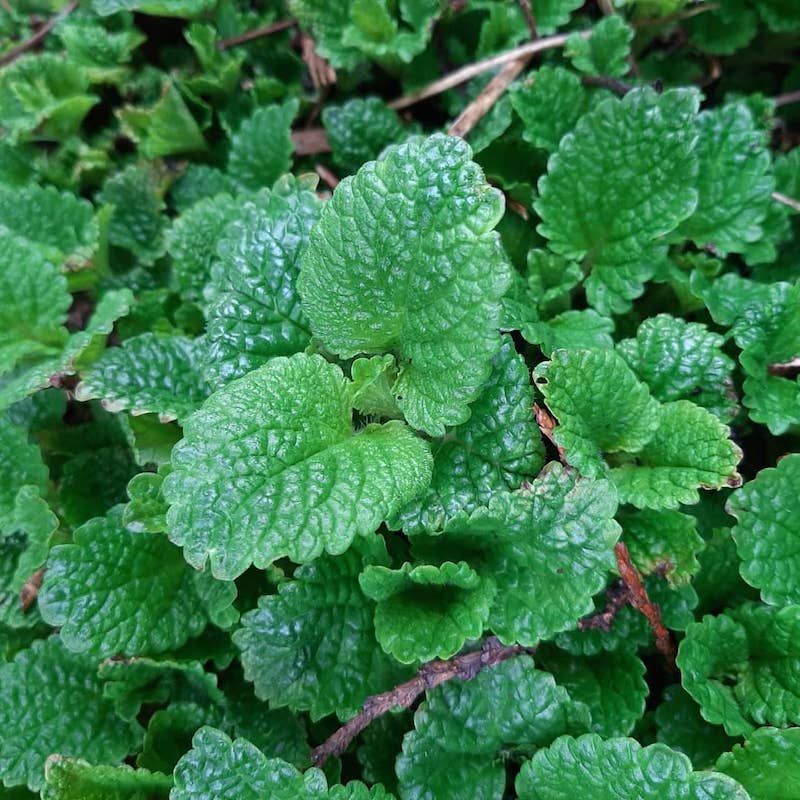 Lemon balm is in the Lamiaceae, or mint family; if you plant it in an open garden bed, be prepared for it to take over. Fortunately, it grows just as well in medium to large pots, providing that the soil is rich and you keep it well watered.
This perennial herb grows 12″ – 24″ tall and likes cooler temperatures; it is one of the first herbs to pop up in my garden in the spring. It blooms during the summer months, but I like to keep most of the blooms pinched back because the leaves become more bitter after the herb blooms.
Plant lemon balm in partial to full sun in well drained, fertile soil. If you plan to grow lemon balm from seed, start seeds indoors about 8 weeks before the last frost for your area. About a week before planting, begin hardening the plants off by slowing acclimating them to outdoor conditions. Plant lemon balm after your last frost, spacing plants approximately 12″ apart.
More Posts You Will Love
Lemon Balm Tincture from Simply Beyond Herbs
Pine and Honey Moisturizing Lip Balm
10 Edible Flowers You Can Also Use for Home Remedies
The Forager's Guide to Harvesting and Drying Herbs and Plants
How to Make Your Own Herbal Tea Bag from a Coffee Filter
From Plantain Leaf to Healing Balm
Lemon Balm Cold Sore Lip Balm
Lemon balm has a strong antiviral effect on the herpes virus, and is perfect for this healing, homemade lip balm for cold sores.
Print
Pin
Rate
Ingredients
For the lemon balm infused oil
Instructions
Make the lemon balm infused oil
Fill a clean and sterilized 8 ounce jar with half of the dried lemon balm leaves. Pour the oil over it. Seal, shake, and leave the jar in a dark, warm place to infuse for two weeks. Shake daily.

Strain the lemon balm leaves from the oil and discard. Refill the jar with more leaves and use the strained oil to cover the leaves. Repeat the process of infusing the oil for another two weeks.

Again strain the lemon balm leaves from the oil and discard. Bottle the lemon balm infused oil and mark with contents and date.
Make the cold sore lip balm
Weigh the candelilla wax (or beeswax) and place in a small saucepan with a pouring spout. Fill the larger pan partway with water, bring to a boil, and float the smaller pan with the wax in it. Melt the wax until liquid, and remove the top pan from the heat.

Weigh the lemon balm infused oil and pour into the melted wax. Return to the pan of hot water to remelt, stirring it gently with a wooden skewer.

When fully melted, remove from heat, and add the essential oil, if using. Stir well. Next, pour the mixture into the lip balm pots or tubes. The balm will take up to three days to fully set but afterward has a shelf life of up to 1 year.

Apply the lemon balm cold sore lip balm when you have a cold sore or any time that your lips need some TLC.
Thank you for visiting Learning And Yearning. May "the LORD bless you and keep you; the LORD make his face shine upon you and be gracious to you; the LORD turn his face toward you and give you peace." Num 6:24-26