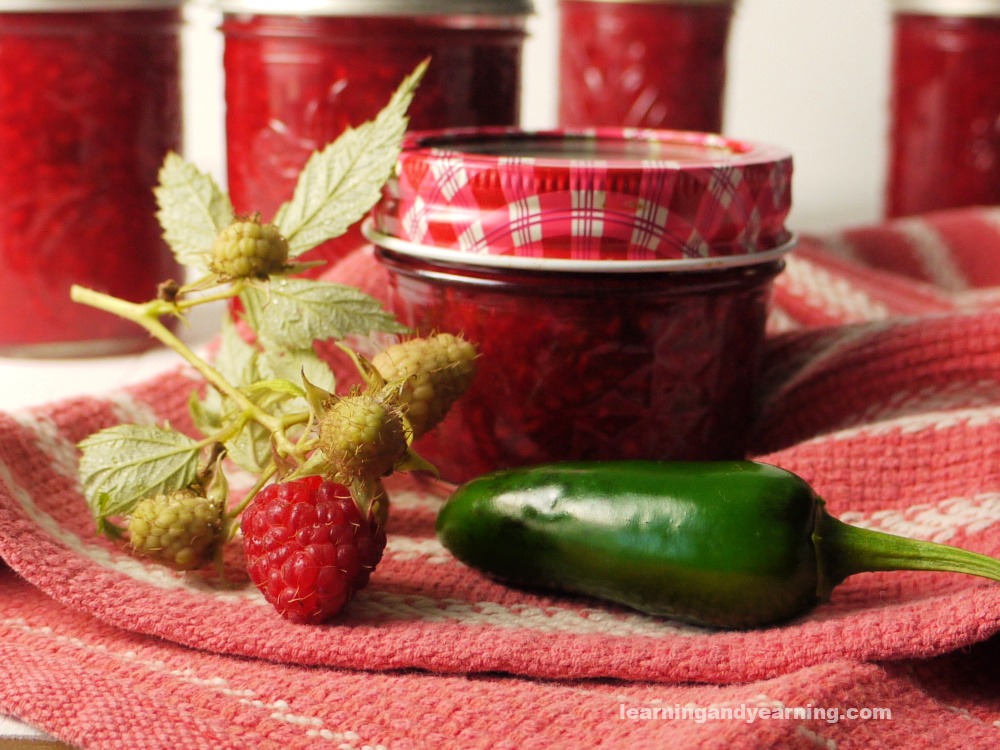 We grow everbearing raspberries, and the way we manage them, they produce a heavy crop of berries from mid-August through September. And it just so happens that our jalapeño peppers ripen during that time as well. Thus, the perfect combination for an amazing treat – low sugar raspberry jalapeño jam!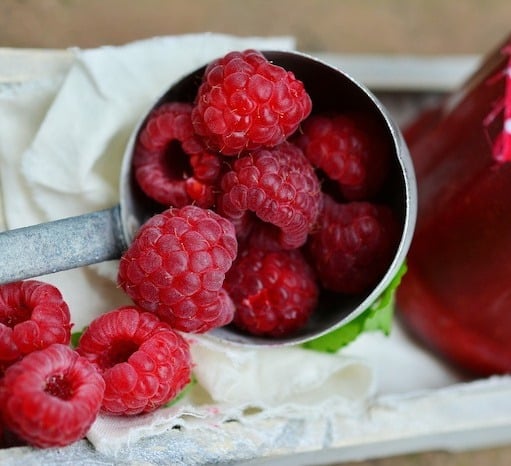 But don't worry, you don't have to have fresh raspberries (or grow your own) for this recipe; frozen work just as well.
My husband really loves jams and jellies, and tops his daily yogurt with it. I like to keep things low sugar or even sugar-free, and have been using Pomona's Pectin for years to accomplish that goal.
DISCLOSURE: In order for me to pay my blogging expenses, I may receive monetary compensation for my endorsement and/or link to products mentioned on this blog. As an Amazon Associate I earn from qualifying purchases.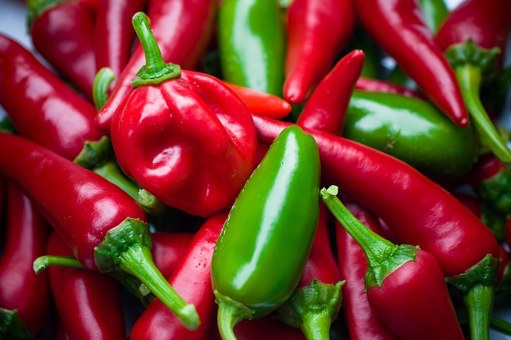 With Pomona's I can sweeten jams and jellies with much less sugar than traditional recipes, or even with maple syrup. And we actually find that the finished product is more delicious because the fruit flavor really shines through, and the finished product is not overly sweet.
Using Pomona's is a little different than traditional pectin. When you open the box, you'll find two little packages. One is calcium and the other is pure citrus pectin (no dextrose or preservatives). Traditional pectin uses sugar to activate the pectin; with Pomona's Pectin, the calcium takes on that role so that sugar can be drastically reduced. Complete instructions are included in the package.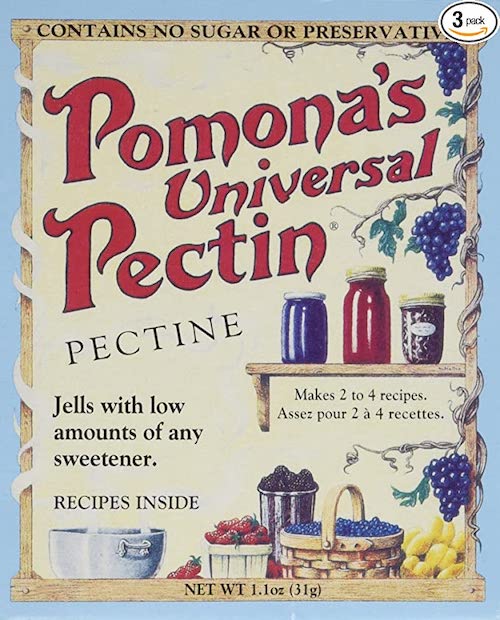 Canning Jams and Jellies
Jams and jellies are processed in a boiling water bath:
Get your water bath canner ready before starting to make your jelly or jam.
Fill the canner half full with hot water so that the level will be 1-2 inches over the tops of the jars after they are added. Center the canner over the burner and turn the heat on low for now. 
Wash the canning jars in hot, soapy water and rinse. Then keep the jars in hot water until it's time to fill them. 
Wash and rinse your canning lids and bands.
Proceed making your jam or jelly. Pour the boiling jelly or jam into hot jars, leaving 1/4-inch headspace.
Wipe the jar rims with a clean, damp paper towel. Place a canning lid and ring on each jar.
Using a canning jar lifter, place filled jars on a rack in the canner filled with hot water. The water should cover the jars by one or two inches; add more boiling water if needed, pouring it between the jars and not directly on them.
Cover the canner. Turn the stove burner to high and bring the water in the canner to a full boil. Boil jars gently for 10 minutes. (It is not necessary to sterilize jars first, but if you choose to, then boil jars for 5 minutes).
Remove the jars to a protected surface and allow to cool away from drafts.
The 10 minute processing time is for altitudes of 0-1000 feet. Add 1 minute of processing time for each 1000 feet of additional altitude.
More Jam and Jelly Recipes You'll Love
Two Ingredient Strawberry Maple Jam Recipe
Canning Low Sugar Elderberry Jelly
Hedgerow Jelly: a Delicious Mixture of Fall Foraged Fruit
Low Sugar Raspberry Jalapeño Jam
This delicious, low-sugar jam has a touch of hot that makes it perfect on crackers with cream cheese. It can even be sweetened with maple syrup if desired.
Print
Pin
Rate
Ingredients
8

cups

fresh or frozen raspberries

2 – 3

jalapeño peppers

finely chopped, include seeds if more heat is desired

1

small sweet red pepper

finely chopped

3/4 – 1

cup

organic sugar

or pure maple syrup

1

package

Pomona's Pectin
Instructions
Place raspberries and chopped jalapeño and sweet peppers in a large pot.

The package of Pomona's Pectin contains 2 smaller packages. One is pectin powder and the other is calcium powder. Put 1/2 teaspoon white calcium powder and 1/2 cup water in a small jar with lid. Shake well. (Any leftover calcium water will last for several months in the refrigerator, or may be frozen indefinitely).

Add 2 teaspoons of the calcium water to the pot and stir.

Place sugar or maple syrup in bowl and thoroughly mix in 2 teaspoons of pectin from package of Pomona's Pectin. Set aside.

Bring raspberry and pepper mixture to a full boil

Add pectin-sugar (or maple syrup) mixture to the pot, stirring for 1 to 2 minutes to dissolve the pectin while the jam comes back up to a boil. When the jam returns to a full boil, remove it from the heat.

Ladle the jam into clean, hot, 8 ounce canning jars to 1/4" of top. Wipe rims of jar clean and screw on 2-piece canning lids. Process in a hot water bath for 10 minutes. Full canning instructions are given in text of post.
Thank you for visiting Learning And Yearning. May "the LORD bless you and keep you; the LORD make his face shine upon you and be gracious to you; the LORD turn his face toward you and give you peace." Num 6:24-26