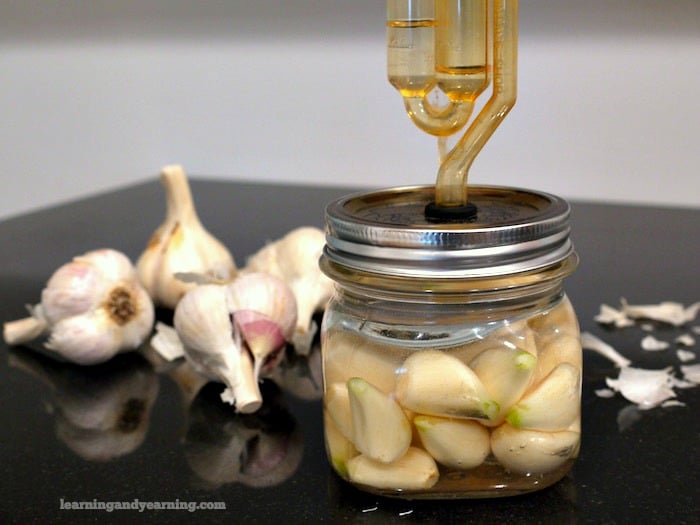 Garlic is rich in antioxidants, helps to prevent and lessen the duration of the common cold, strengthens the immune system, may slow the development of atherosclerosis, and lower blood pressure. And, umm. It's delicious!
Garlic is such a healthy food, it's hard to imagine that there's a way to make it even more beneficial. But fermenting garlic does just that by adding probiotics which increase vitamins and improve digestion.
DISCLOSURE: In order for me to pay my blogging expenses, I may receive monetary compensation for my endorsement and/or link to products mentioned on this blog. I am a participant in the Amazon Services LLC Associates Program, an affiliate advertising program designed to provide a means to earn fees by linking to Amazon.com and affiliated sites.
Making Fermented Garlic
First, decide on the size jar you want to use. It takes a lot of garlic to fill a quart, so I suggest either a pint, or half-pint canning jar, or Fido jar (like this). All you need in addition to the jar and garlic are some sea salt and chlorine-free water. An airlock lid (like this) is optional.
Here's how to make fermented garlic:
Peel enough garlic cloves to fill your jar, leaving an inch-and-a-half at the top. Next, fill the jar to within an inch of the top with a salt-water brine. The proportions for the brine are 1/2 tablespoon sea salt to each cup of chlorine-free water.
Place a weight on top of the garlic to keep it submerged.
I have a glass disk that I use, but a small plastic bag filled with water, or a scrubbed rock work as well. You'll find more ideas for fermentation weights here. I then place my airlock on the jar (here's how I made one myself). A Fido jar is a great alternative.
If you don't have either an airlock lid, or a Fido jar, just place a regular canning lid on the jar, and release the built up gas every other day or so. Cover the jar with a cloth to keep out light, and leave on your countertop for about a week, then move to your refrigerator.
Fermentation will continue in the refrigerator, although at a much slower pace. I find another few weeks in the refrigerator gives ferments a nice mellow flavor.
Using Fermented Garlic
Lacto-fermented garlic may be used in any recipe that calls for garlic that will remain raw. You don't want to use it in recipes that are cooked, since the heat will destroy the probiotics. Here are some of my favorite ways to use it:
Garlic Salad Dressing
2 tablespoons fresh squeezed lemon juice, or a good quality vinegar
1/3 cup olive oil
1/2 teaspoon sea salt
1/2 teaspoon oregano
1/2 teaspoon basil
2 cloves fermented garlic, pressed
Combine all ingredients. This makes enough dressing for a large salad. Guests love this, and always ask for my recipe.
Tomato Salad
For each person you need:
1 tomato, cut into wedges
1 – 2 teaspoon mayonnaise
1/2 – 1 clove fermented garlic, pressed
sea salt and pepper to taste
Toss all ingredients together. This is a super easy, but yummy salad. It's especially delicious with fresh-from-the-garden sun-ripened tomatoes.
Garlic Butter
1/2 c. butter, softened
2 – 3 cloves of fermented garlic, pressed
sea salt and pepper, to taste
Combine the ingredients. This is super delicious on crusty Italian bread.
Pesto
2 cups fresh basil leaves
3/4 cup grated parmesan cheese
3/4 cup olive oil
2 tablespoon pine nuts
6 cloves fermented garlic
Process all ingredients in a blender or food processor until smooth. Great on pasta, as a sandwich spread, or as a dip.
And More
Fermented garlic is also a great addition to Guacamole and other dips.
What other ideas do you have for using fresh fermented garlic?
You'll Also Enjoy:
How to Grow, Harvest, and Cure Garlic
Garlic Scape Infused Olive Oil
Homemade Root Beer Syrup (for Fermented Soda)
Make Your Own Fermented Sauerkraut
Pine Needle and Raspberry Soda – Fermented with Wild Yeast
Thank you for visiting Learning And Yearning. May "the LORD bless you and keep you; the LORD make his face shine upon you and be gracious to you; the LORD turn his face toward you and give you peace." Num 6:24-26