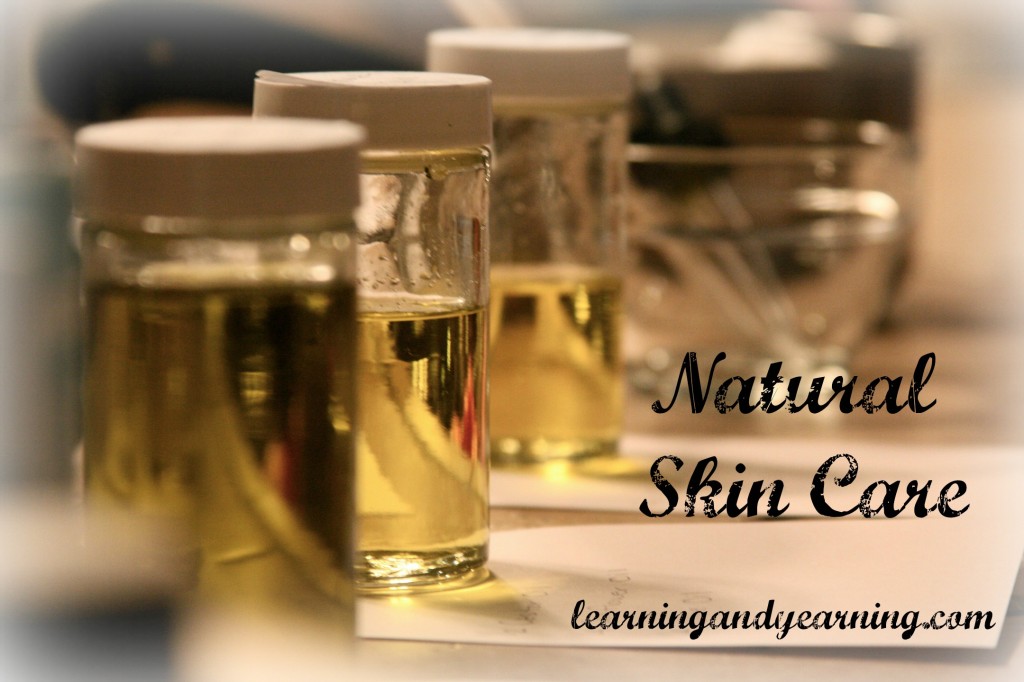 A few weeks ago, I had the  opportunity to get together with a group of friends and learn more about making my own natural skin care products.  It was a wonderful, relaxing evening that included a chair massage! Our teacher for the evening was Melissa who blogs at RestoringSimplicity. Below are the recipes, resources, and tips shared from our evening together:
Deodorant:
DISCLOSURE: In order for me to pay my blogging expenses, I may receive monetary compensation for my endorsement and/or link to products mentioned on this blog. I am a participant in the Amazon Services LLC Associates Program, an affiliate advertising program designed to provide a means to earn fees by linking to Amazon.com and affiliated sites.
6-8 TBSP Coconut Oil
1/4 cup baking soda
1/4 cup arrowroot powder
In a medium bowl, mix together all ingredients. If too thin, add more arrowroot powder. If too thick, add more coconut oil. Scoop into desired container. In the hot summer months, it may be helpful to store in a cool place.
Source: http://www.passionatehomemaking.com/2010/02/homemade-all-natural-deodorant.html
Emollient Facial Cream:
4 oz. Coconut Oil
3/4 oz. beeswax
In the top of a double boiler, melt the coconut oil and beeswax. Stir to incorporate. Once melted, remove from heat and pour into desired containers. Allow to cool and completely harden before use.
Source: http://www.hardlotion.com/make-your-own-moisturizer/
Hard Lotion Bars
Equal amounts* of:

Beeswax
Shea Butter
Coconut Oil
*It is helpful to use a kitchen scale to have the most accuracy in measuring equal amounts.
In the top of a double boiler, melt beeswax, shea butter, and coconut oil. Stir to incorporate. Once completely melted, remove from heat and pour into desired molds. Allow to cool completely. If there is difficulty in removing bars from molds, place into freezer for a little while. Remove from molds and place into a tin or container for storage.
Source: http://www.hardlotion.com/diy-hard-lotion-kit/
Foot-scrub
1 cup Coarse Salt
1 TBSP  Baking Soda
1/8 cup olive oil
2 TBSP Coconut Oil
4-5 drops Tea Tree Oil
4-5 drops Peppermint Oil
3 TBSP Dr. Bronner's Castile Soap (Peppermint)
In a large bowl, toss together salt and baking soda. Add remaining ingredients. Be sure to mix well and mash together to incorporate all the oils. Scoop into desired containers. To use, scoop a small amount to palm of hand, add a little water and scrub away! This is Melissa's own recipe!
 Oil Cleansing Method
Dry or Aging Skin Care Recipe:

1/3 castor oil
2/3 carrier oil

We used:

1/3 Castor Oil, 1/3 Avocado Oil, 1/3 Jojoba Oil

Normal Skin Care Recipe:

equal parts castor oil and carrier oil

We used:

1/2 Castor Oil, 1/4 Sunflower Oil, 1/4 Olive Oil

Oily Skin Care Recipe:

2/3 castor oil
1/3 carrier oil

We used:

2/3 Castor Oil, 1/3 Jojoba Oil
To do the OCM, start with a dirty face (no need to pre-clean here, even if you're wearing makeup), rinse your face lightly with warm, running water. Pour the oil in the palm of your hand and then apply gently all over your face. Massage firmly, but gently, always moving upwards. Massage for 2 minutes, and then let the oil sit on your face for 30 more seconds or more.
Rinse. By now, you should have very hot water coming out of your faucet. Adjust the heat until it's cool enough to apply to your skin, but warm enough to soften the oil (it's probably going to be hotter than the water you usually rinse your face with). Dunk the washcloth under the hot/warm water until it's completely soaked. Apply the washcloth to your face and hold it there for 10-15 seconds. Slowly begin to wipe off. Rinse your washcloth and repeat until you've wiped all the oil off your skin. Susan's note: My face never felt so wonderful after using the aging skin care recipe! 
*Know that it may take a week or two for your skin to become used to the Oil Cleansing Method. But don't give up! It is a wonderful way to cleanse and nourish your skin. It is super natural and healthy – no nasty chemicals! The other wonderful benefit is that when you do the Oil Cleansing Method, you rarely have to use a moisturizer because your skin is getting all of the moisture it needs through the cleansing.
Good Carrier Oil Options:
Jojoba (all skin types, but very desirable for acne-prone skin)
Sweet almond (all skin types, especially oily)
Grapeseed (all skin types, especially oily)
Avocado (dry and aging skin)
Sunflower Seed (all skin types)
Olive (all skin types)
Apricot Kernel (dry, aging, and normal skin)
Argan (all skin types, especially aging skin … very pricey)
Tamanu (all skin types … very pricey)
Source: http://www.crunchybetty.com/nitty-gritty-on-the-oil-cleansing-method
 More Resources:
The Beginner's Guide to the Oil Cleansing Method
The Environmental Working Group has a cosmetic database full of various products. The information there is a wonderful tool to learn what is actually in your conventional bath products. It is also a great place to search for natural skincare options:
Crunchy Betty is a website and blog run by a woman who is passionate about natural skin care and all things "crunchy." She has many resources for lovely homemade bath products, and wonderful information too:
Frugal Granola is a blog that speaks to all things natural and wholesome. If you visit her recipe page and scroll to the bottom, there is a group of recipes dedicated to natural health:
http://frugalgranola.com/my-recipes/
Bubble and Bee Organic is a bath and body website specializing in all things natural and organic. I have used many of their products and been very pleased. If making your own products doesn't sound appealing, I highly recommend them. Her lip balms are wonderful, deodorant is fantastic, and the lotion sticks are fabulous:
Graham Gardens Wholesome Skincare is a website dedicated to healthy skincare for the whole family. Many people love their products:
Apple Valley Natural Soap is a website selling all varieties of beautiful and healthy soaps. Check them out here:
http://www.applevalleynaturalsoap.com
Vitacost is a great place to purchase healthy skincare products. Their prices are usually lower than most. They also offer name brands:
And a great article on Top Five Chemicals to Avoid http://www.bubbleandbee.com/topfivechemicals.html
Photos by Jen Brandon of JacheStudio.com. Used by permission.
Thank you for visiting Learning And Yearning. May "the LORD bless you and keep you; the LORD make his face shine upon you and be gracious to you; the LORD turn his face toward you and give you peace." Num 6:24-26