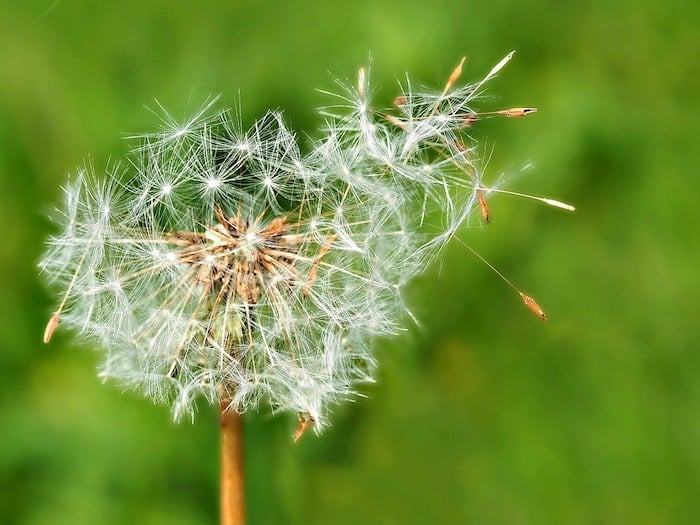 Weeds. One of the biggest problems a gardener faces.  They aren't all bad, of course, but they are competing with your vegetables for nutrients, and because of that, it's helpful to have some strategies for organic weed control.
Don't lose heart, you really can garden in a way that provides natural weed control. Here are 10 tips for getting rid of those garden weeds.
DISCLOSURE: In order for me to pay my blogging expenses, I may receive monetary compensation for my endorsement and/or link to products mentioned on this blog. I am a participant in the Amazon Services LLC Associates Program, an affiliate advertising program designed to provide a means to earn fees by linking to Amazon.com and affiliated sites.
Consider No-Dig Gardening
Not only will transitioning to a no-dig garden save you a ton of back-breaking work, it will go a long way in helping to reduce weeds. Soil is full of seeds and when it is turned it brings those seeds to the surface where they can sprout and fill your garden with weeds.
Using a no-dig method of gardening like lasagna gardening will help your garden go from good to great. It is truly an easy and productive way to garden.
Never Step on Your Garden Beds
Stepping on the soil where you plant your vegetables compacts the soil, and many weeds just happen to love compacted soil. Vegetable plants, on the other hand generally like loose soil where their roots can grow deep.
Keeping garden beds no wider than 4′ is recommended so that you can reach all areas of your garden without having to step into them.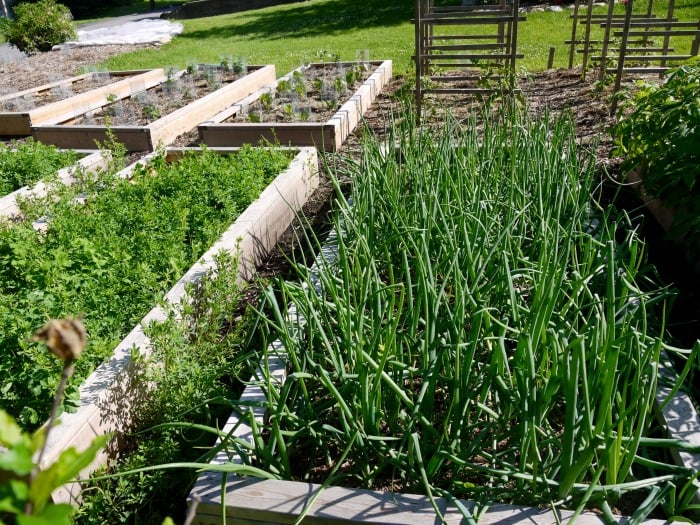 Use Raised Beds for Organic Weed Control
We have over 20 beds in our organic garden and most of those are raised beds with a wooden frame. But a few of our garden beds are no-dig, but without the wooden edging of a raised bed. We use these beds for planting corn, or plants that love to sprawl like pumpkins or winter squash.
Without a question, it is either to control weeds in the raised beds. That's because the wooden barrier prevents our feet from entering the bed. In the areas without that protection, no matter how careful we are, we inevitably step in the edges of the garden. Those areas always get more weeds than the raised beds.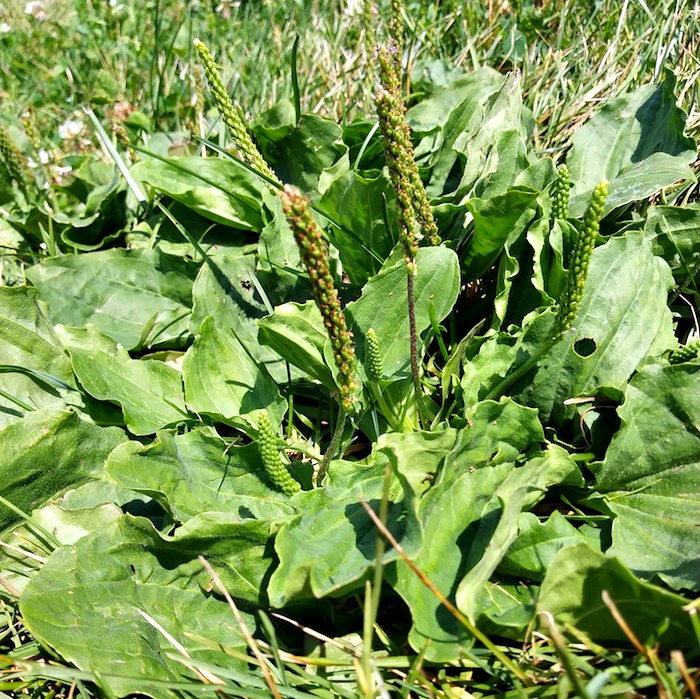 Don't Let Weeds Go to Seed
It is definitely possible to garden in a way that greatly reduces weeds. But every garden will get a few weeds. Being very careful to not let those weeds flower and go to seed will go a long way in reducing future weeds. Cut those weeds back quickly or, even better, pull them out.
Keep Your Soil Covered
Keeping a covering on your garden soil with mulch is one of the most important things you can do to keep it weed-free.
Some good mulching materials include hay, chopped leaves, wood chips, grass clippings and newspaper. I sometimes even use rhubarb leaves.
Depending on the material you are using, you will want to keep a 2″ – 6″ layer of mulch on your garden for organic weed control.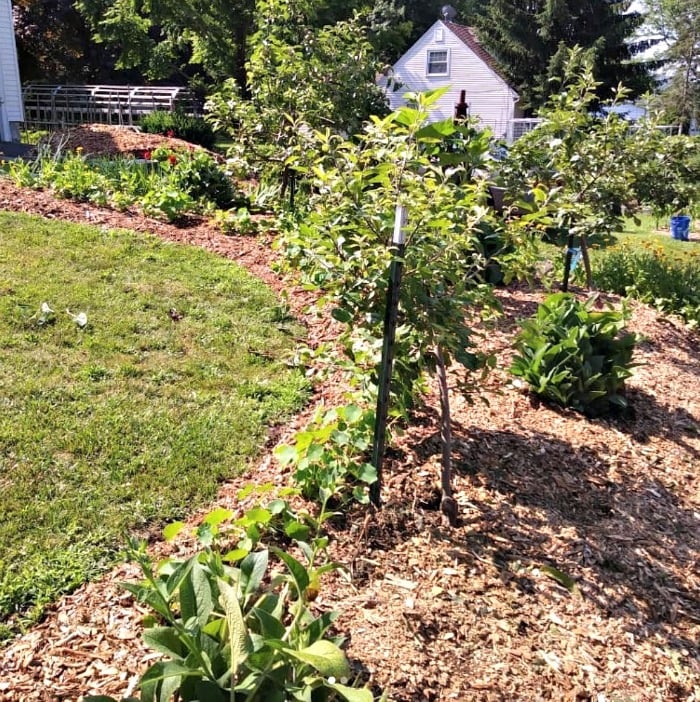 A few posts with more information on mulch:
Plastic Mulch in the Garden: Friend or Foe?
Using Wood Chip Mulch in a Vegetable Garden
Wood Chips: What to Use and What to Avoid
Hay vs. Straw in the Garden: Which is Better?
Grow Plants Closely
Another strategy for keeping weeds out of your garden is to plant your vegetables in such a way that the leaves of one plant touch the leaves of the plants next to it. This will shade the soil below the plants and help to prevent weeds from sprouting and choke out any emerging weeds.
While you don't want to crowd your plants, you do want to plant them close enough to touch each other.
Water Your Garden Plants, Not Your Weeds
Mulching will help to keep your soil moist so that you can water less. But, still, there will be times when you need to water your vegetable garden.
Rather than using a sprinkler, water with a hose at the base of each plant. Keeping the surface area between plants dry means that weeds won't be getting the water they need to survive and multiply.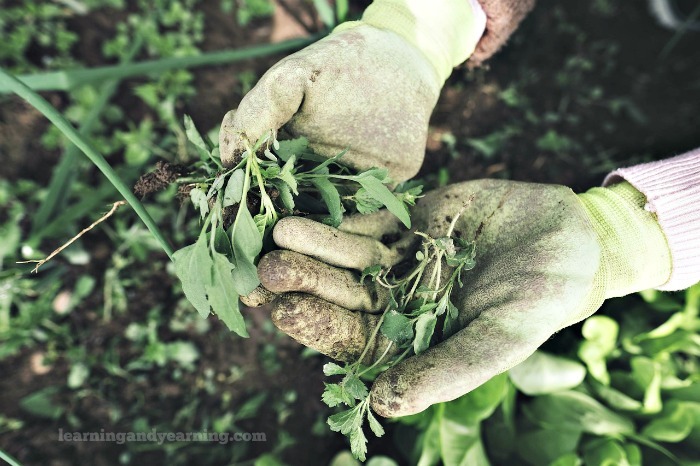 Keep Up With the Few Weeds You Get
This one is hard, I know. But staying on top of the weeds that do pop up in your garden will keep things from getting out of control.
If I am doing other chores in the garden like planting or harvesting and spot a weed I pull it right then and there. It's a lot less overwhelming that way.
I generally just throw the weed on top of the mulch that's on the soil assuming that the weed has not gone to seed. It's a quick and painless way to deal with the situation, and the weed itself is now serving to feed my soil as it decomposes.
Plant a Cover Crop
Cover crops are another way to keep your soil covered and a great way to suppress the growth of weeds.
Attainable Sustainable has a great post on growing buckwheat as a cover crop to keep down weeds.
Clean Up at the End of the Season
There's advice out there that recommends not cleaning up the garden at the end of the season to provide cover for birds and other small animals.
I get that, and we do have areas of our property with brush for these creatures to use as winter protection.
But our gardens get cleaned up at the end of the season, a layer of compost or manure is added, and the beds are all mulched. This provides our soil with protection from erosion, and goes a long way in keeping our garden weed-free as the mulch prevents most weeds from sprouting.
At the end of the season, if you've found that you just weren't successful in keeping those weeds down, add a 1/4″ layer of newspaper over your entire garden, thoroughly wet it, and then cover it with compost or manure, and then mulch. That should help matters next year.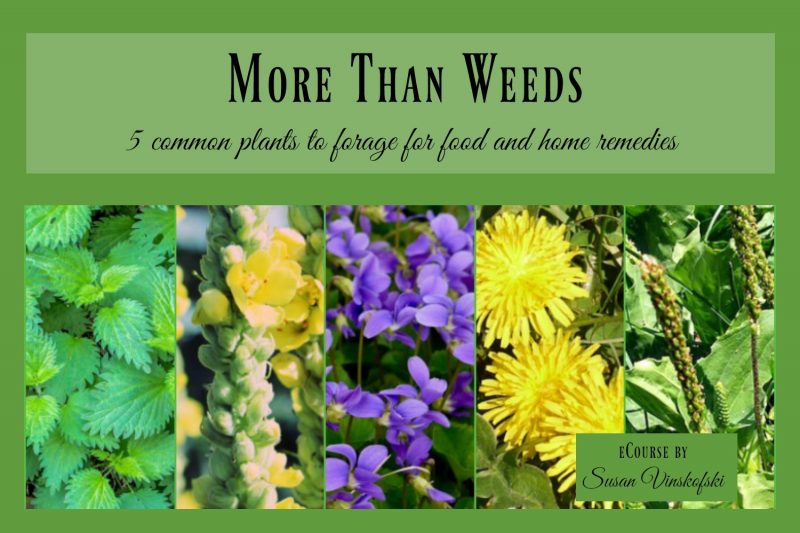 Eat the Weeds or Use them as Home Remedies
So, this is not exactly a strategy for keeping your garden weed-free, but rather an encouragement to not become discouraged if you don't manage to eradicate every last weed in your garden.
Many of those garden weeds are edible or medicinal. Obviously be sure that you have properly identified those plants before using them, and do your homework to learn proper preparation.
My eCourse, More Than Weeds: 5 Common Weeds to Forage for Food and Home Remedies is a great place to start.
A few posts with more information on using weeds as food or medicine:
Dandelion Oil Lotion Bars for Dry Skin and Sore Muscles
Plantain and Jewelweed Home Remedy for Poison Ivy
How to Make Delicious Dandelion Leaf Pesto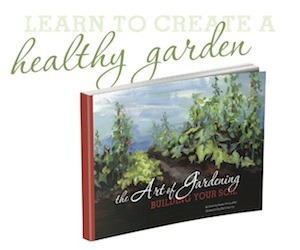 To learn how to build a garden that builds healthy soil, be sure to check out my eBook The Art of Gardening: Building Your Soil. 
You really can become a better gardener, and you really can grow healthy, nourishing produce. It's all about the soil! Click here to learn more.
More Organic Gardening Posts You'll Love
7 Great Benefits of Lawn and Garden Weeds
How to Compost Weeds the Safe Way
Lasagna Gardening: An Easy and Productive Way to Garden
Why Rototillers May Be More Harmful Than Helpful in an Organic Garden
Thank you for visiting Learning And Yearning. May "the LORD bless you and keep you; the LORD make his face shine upon you and be gracious to you; the LORD turn his face toward you and give you peace." Num 6:24-26