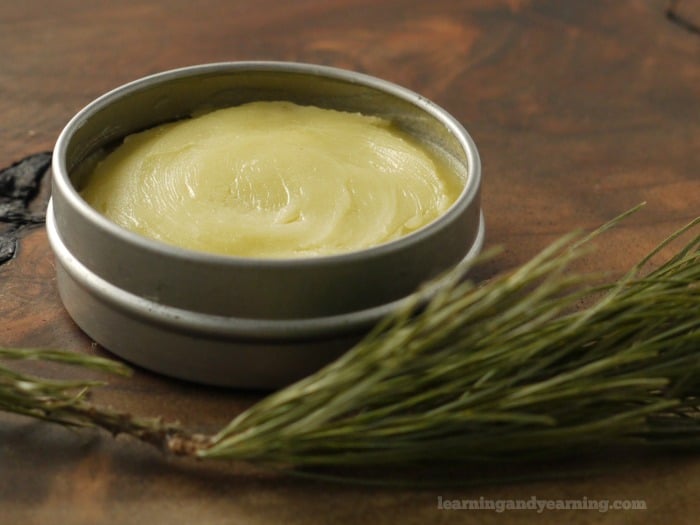 I get it. There are a million ways to make homemade lip balm. But honestly, some really are better than others. Like this Pine and Honey Moisturizing Lip Balm. It's perfect for dry winter lips, and with that fresh-from-the-forest-scent, it's perfect for gift giving. And it's more than that; it really is the best moisturizing lip balm!
Pine is Great For Skin Care
Because pine is astringent, it reduces pore size and fine wrinkles. And pine is a powerful antioxidant which means that it may help to prevent premature aging, and may even help to reverse skin damage. (Source)
In addition, pine is high in carotenoids which are converted to Vitamin A which help to reduce fine lines and keep your skin firm and young looking. Vitamin A is effective when applied topically but its benefits do diminish when application is stopped. (Source)
And the high Vitamin C content in pine speeds healing. When used externally, Vitamin C gives the skin a youthful glow, evens out skin tone, promotes collagen production, and both protects against and heals sun damage. (Source)
And who doesn't love that uplifting woodsy scent? Can you feel your body relax just thinking about it? Then you probably want to also try my stress relieving Pine Bath Salts.
Pine Identification
Pine trees are, of course, evergreens and so the needles are available year round. All evergreens, however, are not necessarily pines. Pine can easily be identified by their needles, which always grow in clusters of 2 to 5 depending on the species. The needles of no other evergreen grow in clusters.
If you're looking for more info on identifying pine, use this tree identification site.
Raw Honey Moisturizer 
Honey is a humectant. What that means is that it attracts and retains moisture. Exactly what you want in a lip balm for dry, chapped winter lips. In addition, raw honey softens the skin and helps to prevent wrinkles.
Like pine, raw honey is an antioxidant which protects and repairs the skin.
(Source)
The Other Beneficial Ingredients
Castor Oil – castor oil moisturizes and heals chapped lips. And it makes your lips shine, something I love in a lip balm! (Source) Purchase organic castor oil here. 
Cocoa Butter -besides its amazing aroma, cocoa butter moisturizes the skin because of its high fat content. (Source) Purchase organic unrefined cocoa butter here.
Olive Oil – a vitamin-rich oil which protects skin from ultra-violet rays, olive oil is also moisturizing and an anti-oxidant. (Source) Purchase organic extra virgin olive oil here. 
Beeswax – beeswax is used in this moisturizing lip balm because of its ability to thicken the other ingredients so that they can easily be spread on your skin. In addition, it acts as a barrier protecting your skin from moisture loss without clogging pores. (Source) Purchase organic beeswax pellets here.
What You Need to Know About Honey in Lip Balm
As wonderful as honey is in lip balm, it does present a problem in that it will separate from the rest of the ingredients after a short time. You'll find it at the bottom of your lip balm container.
But not to worry; there's a simple solution. The trick to keeping the honey mixed in is a rapid cooling time after heating all the ingredients together. That is accomplished by placing the bowl of lip balm ingredients in a bowl of ice water and stirring constantly while the balm cools.
Are you ready to give this moisturizing lip balm recipe a try?
More Great Posts You'll Love
Pine Bath Salts for Natural Stress Relief
How to Harvest Pine Resin and Use it to Make a Salve
Pine Needle and Raspberry Soda Fermented with Wild Yeast
Pine and Honey Moisturizing Lip Balm
This pine and honey moisturizing lip balm recipe is perfect for harsh winter weather when lips get particularly dry.
Print
Pin
Rate
Instructions
Place the chopped pine needles into a 1 cup mason jar.

Cover the pine needles with the olive oil.

Allow to infuse for 3 - 4 weeks at room temperature in a dark cabinet. Alternately, use one of the methods in my post Five Ways to Make an Herb Infused Oil to speed up the process.

Once the olive oil is infused with the pine, strain the needles from the oil.

Mix 3 tablespoons of the pine infused oil, the cocoa butter, the castor oil and the beeswax in a heat proof 1 cup mason jar, or a small metal bowl.

Line the bottom of a pan with canning rings and fill with about 2" of water. Place on low heat and place the mason jar or metal bowl on top of the canning rings to form a simple double boiler.

Heat gently, stirring occasionally, until the beeswax has melted.

Carefully remove the jar from the pan and allow to cool for a minute.

Add essential oils and raw honey, stirring thoroughly.

Place the canning jar or metal bowl into a larger bowl which contains cold water and ice.

Mix constantly while the lip gloss cools until it is thickened. This cooling and mixing is the secret to the honey not separating in your lip balm.

Spoon the oil mixture into cosmetic jars or tins with lids. Be sure the mixture is thoroughly cool before placing the lid on the jar.
Notes
This recipe is meant to be placed in small cosmetic jars or tins, rather than lip balm tubes. It is a softer balm and would not work in the tubes.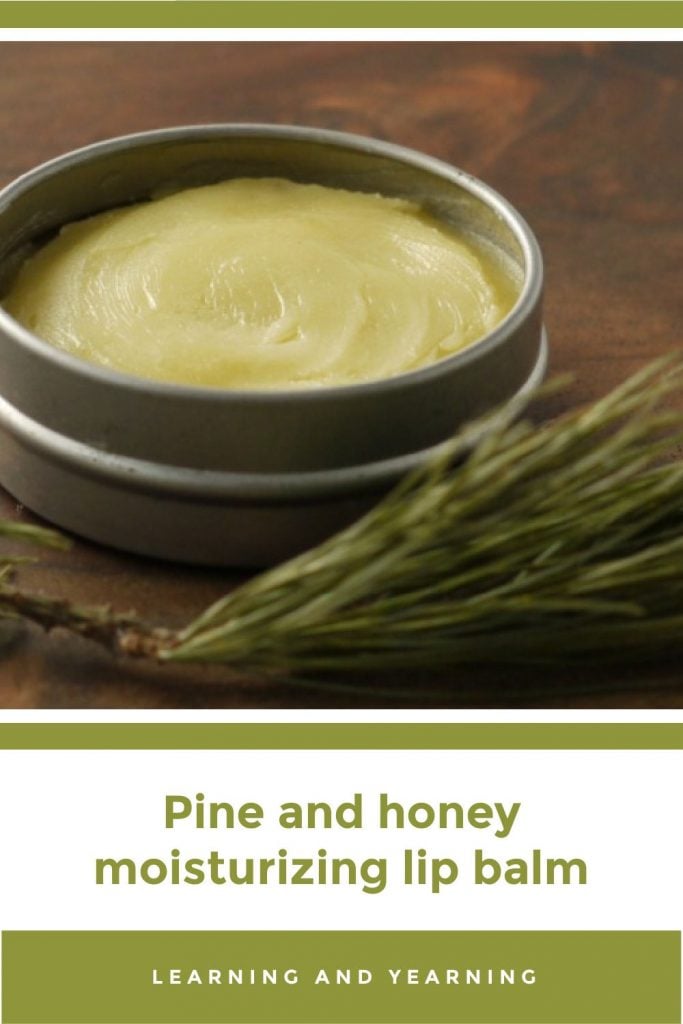 Thank you for visiting Learning And Yearning. May "the LORD bless you and keep you; the LORD make his face shine upon you and be gracious to you; the LORD turn his face toward you and give you peace." Num 6:24-26