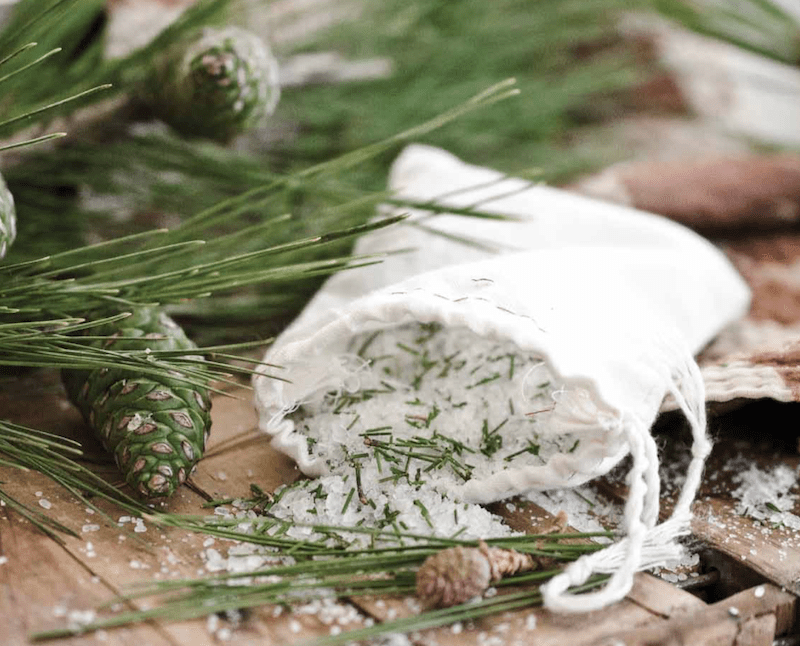 Walking in an evergreen forest has a way of taking me to a place of calm. Does it do that for you? The thick layer of needles under foot makes everything quiet, and breathing in the amazing aroma makes me slow down, and just enjoy the here and now.
There are days when I'm frazzled and hurried and anything but calm. I may not be able to get myself out into the woods, but I can bathe with pine bath salts, and they help to lift my mood, and dispel my fatigue.
Benefits of Pine
Pine can:
lift your mood
dispel worry and fatigue
relieve the pain of sore muscles
relieve headaches
soothe frazzled nerves
relieve skin irritations
Pine Identification
Pine trees are, of course, evergreens and so the needles are available year round. All evergreens, however, are not necessarily pines. Pine can easily be identified by their needles, which always grow in clusters of 2 to 5 depending on the species. The needles of no other evergreen grow in clusters.
If you're looking for more info on identifying pine, see my post on identifying pine.
Pine Needle Bath Salts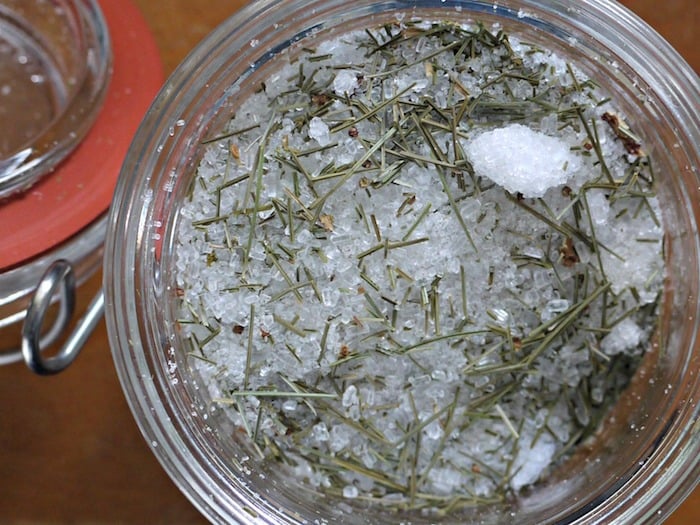 For the bath salts, all that is needed are pine needles, epsom or sea salts, and pine essential oil. Be sure to read my post on the safe way to add essential oils to a bath.
If pine needles are not available in your area, spruce, fir, or even hemlock needles may be used in the bath salt recipe. Use dried needles unless you'll be using the bath salts immediately. And it's ok to use small stems as well.
You'll want to be sure to place the bath salts in a cloth bag so that the pine needles don't clog your drain. Alternatively, tie the bath salts in a paper coffee filter.
Please note that pine can cause allergic reactions in some. If you know that you are allergic to Christmas trees, for example, don't use these pine bath salts.
More Than Weeds
 A Foraging eCourse for Beginners
Are you interested in foraging, but a bit hesitant because you don't trust your own abilities? I created a mini eCourse just for you. In More Than Weeds: 5 Common Plants to Forage for Food and Medicine you'll learn that identifying plants is all in the details.
Using common plants with which may be someone familiar you'll learn beginner botany skills that you will be able to use as you move forward. You'll gain confidence to use these plants for your family in food and safe, home remedies. Get started now!
More Posts that Will Interest You
The Forager's Guide to Plant Identification
How to Harvest Pine Resin and Use it to Make a Salve
Bath Salts: The Safe Way to Add Essential Oils to Your Bath
Gingerbread Bath Bombs from The Pistachio Project
Using Aromatherapy Throughout the Holidays from Naturally Free Life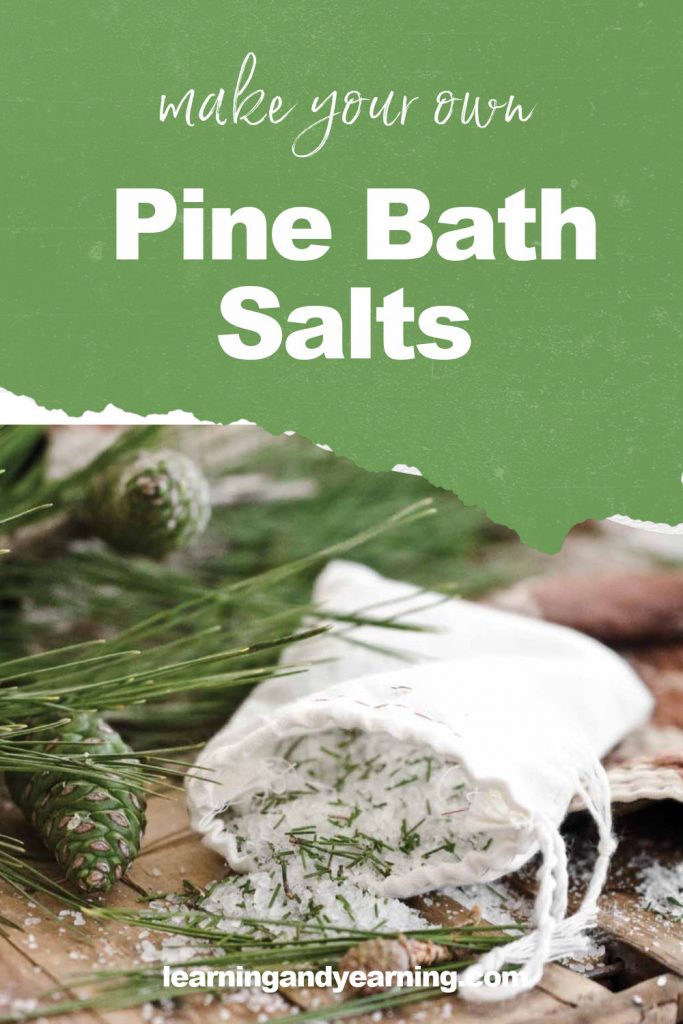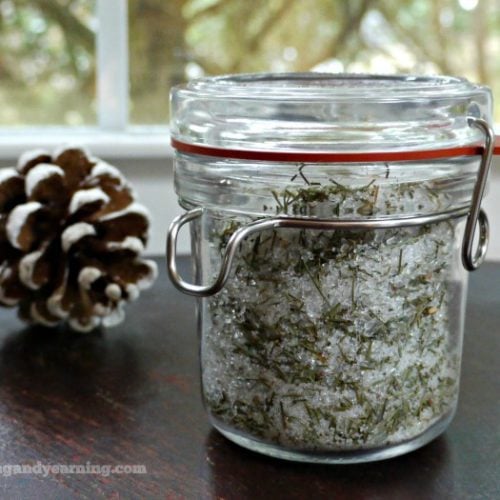 Pine Bath Salts for Natural Stress Relief
Bathing with these pine bath salts is the second best thing to a walk in a pine forest!
Print
Pin
Rate
Instructions
Combine all ingredients and store in an airtight jar.

Place 1/4–1/2 cup of pine bath salts in a cloth bag, or tie in a coffee filter. Place in your tub as you are running your bath.
Thank you for visiting Learning And Yearning. May "the LORD bless you and keep you; the LORD make his face shine upon you and be gracious to you; the LORD turn his face toward you and give you peace." Num 6:24-26