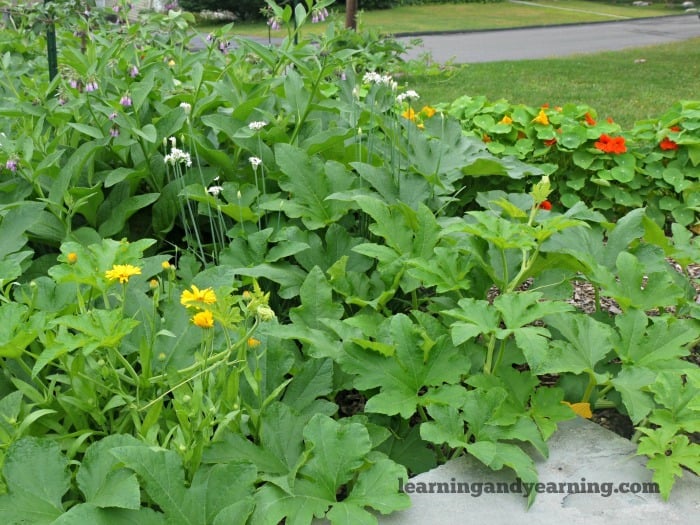 The Benefits of Mulch in the Garden
I seriously couldn't imagine gardening without mulch. Even before transitioning to a no-dig garden, we mulched, mulched and mulched some more.
Why?
DISCLOSURE: In order for me to pay my blogging expenses, I may receive monetary compensation for my endorsement and/or link to products mentioned on this blog. As an Amazon Associate I earn from qualifying purchases.
Well, first of all, because weeding is just no fun. And mulch is an amazing way to prevent weeds from sprouting, and reduces the need to spend time weeding.
We water when we first plant our tender seedlings, and when we direct sow seeds. But, unless we get a spell of really dry weather, we don't do a lot of watering. That's because mulching prevents the soil from drying out and conserves water.
And best of all, organic mulch encourages earthworms, and feeds the soil as it decomposes. If you want to grow healthy, nutrient-dense produce, building soil is the way to go.
Some good mulching materials include hay, chopped leaves, wood chips, grass clippings and newspaper. I sometimes even use rhubarb leaves.
Why Plastic Mulch in the Garden is a Poor Choice
Plastic Mulch is Expensive
There are a lot of good reasons to garden and one of them for many gardeners is that it helps to keep the cost of groceries down. Plastic mulch is expensive, especially because it needs to be replaced every few years at best.
On the other hand, most of the organic mulch that we use – like chopped leaves, wood chips, or hay – can be found for free or inexpensively. We have had good success finding free or inexpensive hay on Craigslist, and a local arborist drops off wood chips for free.
And while more mulch must be added yearly, it is adding value to the garden by building soil when it decomposes.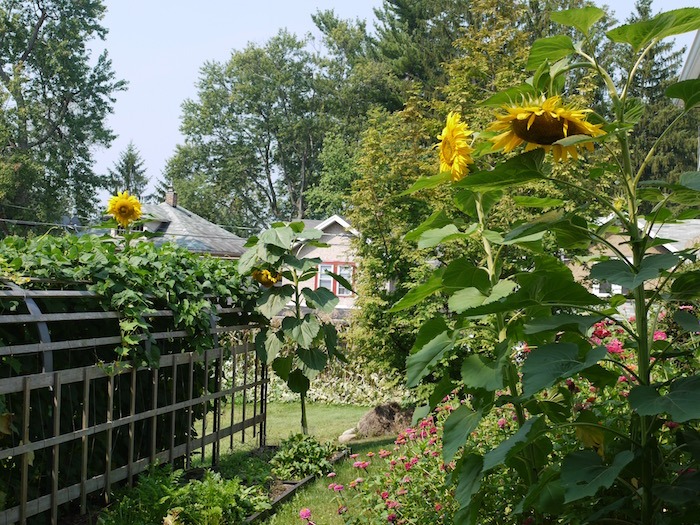 Plastic Mulch is Not Environmentally Responsible
Plastic, as we all know, is not biodegradable. Large amounts of plastic enter the landfill system, or end up as litter, or worse, in the ocean. We have a plastic problem, friends. Let's not add to it by using plastic mulch.
The farming industry generates large volumes of plastic waste (200–300 lb/ac). While that volume isn't generated by gardeners, why add to the problem?
Plastic is energy intensive to make, and is manufactured from petroleum, a non-renewable resource.
Some plastics become brittle, causing them to break and remain in the soil or be scattered in the wind. Others tear, causing the same problems.
Plastic mulch must be removed at the end of the season, and some cases disposed of. It doesn't always last more than one season.
Plastic Mulch Does Not Build Soil
This, to me, is the #1 reason not to use plastic mulch in the garden.
A healthy garden with nutrient-dense produce is impossible in a garden where soil is not being carefully built.
Mulch should break down and provide organic matter and nutrients to feed the soil. It should provide habitat for beneficial insects, earthworms, and beneficial fungus. It should turn to humus.
Michael Phillips, in his book Mycorrhizal Planet, goes so far as to say that plastic mulch in the garden kills soil, causing soil life to leave "in search of greener pastures".
To learn how to build a garden that builds healthy soil, be sure to check out my eBook The Art of Gardening: Building Your Soil.
You really can become a better gardener, and you really can grow healthy, nourishing produce. It's all about the soil!
And More . . .
While plastic mulch does help to hold moisture in the soil, new rain will run off. Drip irrigation is recommended with its use to ensure adequate moisture.
Plastic mulch increases soil temperature and this can help seeds to sprout faster and may even allow a gardener to plant a little earlier than usual. But the increased soil heat can also burn the roots of young plants. In addition, during very hot summers, there is the danger of foliage scorch.
Plastic mulch can be difficult to lay down, and requires anchoring.
In order to plant in plastic mulch, holes must be cut into the plastic. Weeds often emerge at the base of the plant in these holes and can be difficult to control.
Better Solutions
Yes, plastic mulch helps to suppress weeds. Yes, plastic mulch helps fruit to remain clean and disease-free. And yes, it helps to hold moisture in the soil. But all of that can be accomplished with other mulches that also build healthy garden soil.
There is nothing that plastic can do in the garden that other choices of mulch can't do, but there is so much that organic mulches can do that plastic cannot.
You'll get more ideas at my post, 10 Strategies for Organic Weed Control in Your Vegetable Garden.
More Organic Gardening Posts That You'll Love
Using Wood Chip Mulch in a Vegetable Garden
Hay vs. Straw in the Garden: Which is Better?
10 Benefits of Using Alfalfa in Your Garden
The Ins and Outs of Using Manure in Your Garden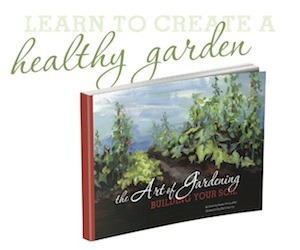 To learn how to build a garden that builds healthy soil, be sure to check out my eBook The Art of Gardening: Building Your Soil.
You really can become a better gardener, and you really can grow healthy, nourishing produce. It's all about the soil! Click here to learn more.
© Depositphotos.com/[battanto7] – Terms and Conditions
Thank you for visiting Learning And Yearning. May "the LORD bless you and keep you; the LORD make his face shine upon you and be gracious to you; the LORD turn his face toward you and give you peace." Num 6:24-26