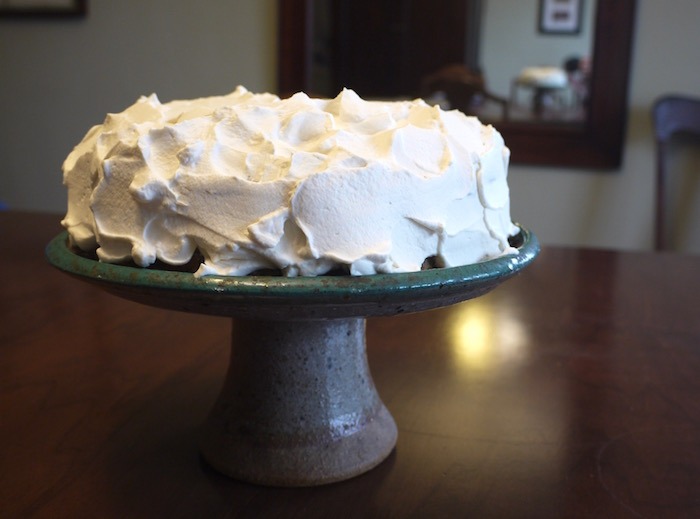 How do you celebrate your birthday? For me, it varies from year to year, but there's never been a year without dessert. I've always been a pie over cake kinda' girl and have often asked for pie for my birthday. But when I was a child, first my grandmother and then my mom would make the most amazing cake I've ever had – Poppy Seed Cake.
I have not had that cake in many, many years. As I thought about what I wanted this year, I couldn't stop thinking about it. Yes, I want this rich, whipped cream smothered Poppy Seed Cake for my 60th birthday.
Several years ago my sister did the most amazing thing. She created a book for our family with recipes that my grandmother, mom, and aunts had prepared over the years. If not for that, I'm afraid that the Poppy Seed Cake recipe and many others would be lost forever.
It's ma' birthday and I'm gonna' eat sugar, but I did take care to adjust the recipe so that it contains less sugar than the original. I've made a few other adjustments to make it a little healthier and I used pastured butter, eggs, and cream, and organic ingredients. What a totally amazing cake!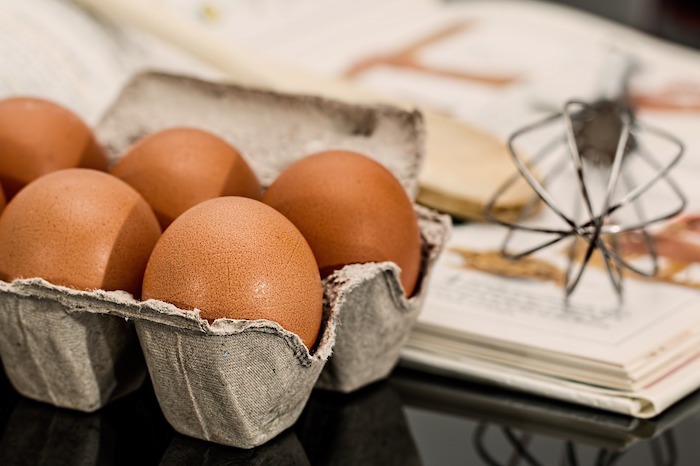 "A Party Without a Cake is Just a Meeting" – Julia Child
The childhood celebrations of my birthday made me feel special. It wasn't every day that we had cake. And they were all homemade with love by my mom. I treasure those memories.
I personally have no problem including something with sugar on special occasions. Because sugar isn't an everyday thing in our home, these treats say "this is special". That's why I love Quinn Veon's approach to cake in her Reformation Acres cookbook, Cake Stand: Fresh From the Market Farmstead Cakes. 
Quinn has a healthy attitude about the place of cake in our lives. She says, "It's not so much the piece of cake that will matter to your overall health and well-being, but what you eat the rest of the time."
With recipes like Strawberry Chamomile Cake and Sweet Potato Molasses Cupcakes, Cake Stand: Fresh From the Market Farmstead Cakes is creative cake baking at its best.
Interested in poppy seeds? Check out these other posts for growing them and using them:
How to Grow, Harvest and Use Poppy Seeds
Gluten-Free Lemon Poppy Seed Cream Cookies
Kale Salad with Poppy Seed Dressing
Dandelion Scrub Soap with Poppy Seeds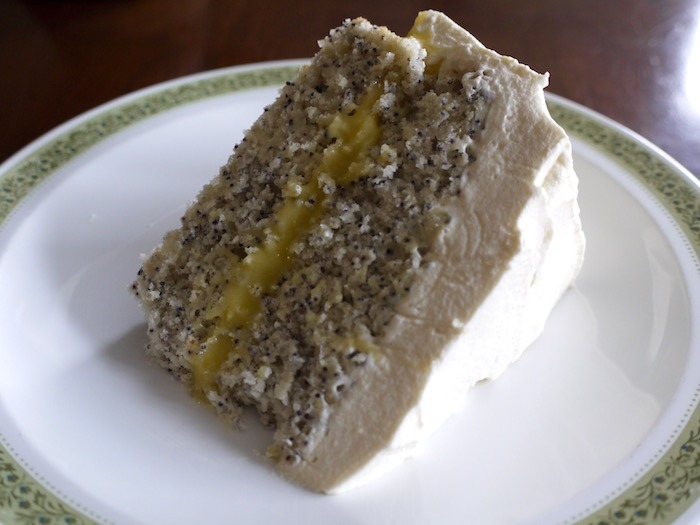 Other Desserts You'll Love
Ube Cake (Filipino Purple Yam Cake) from The Unlikely Baker – this one caught my attention because we have Filipino neighbors and we love everything they make. I have to ask them about this.
Homemade Parsnip Cake with Orange Whipped Cream 
Ingredients
For the cake
1/3

cup

poppy seeds

1/2

cup

butter

1

cup

cane sugar

2

cups

unbleached flour

2

teaspoons

baking powder

1/2

teaspoon

sea salt

1 1/2

cup

water

1/2 cup to soak seeds, 1 cup for cake

4

egg whites

stiffly beaten
Instructions
For the cake
Soak the poppy seed in 1/2 cup of water for 2 hours. Drain.

Preheat oven to 350°F.

Cream butter and sugar until light and fluffy. Add poppy seeds to creamed mixture.

Sift together flour, baking powder and sea salt in a separate bowl.

Alternate adding 1 cup of water a little at a time, and flour mixture to creamed mixture, stirring with each addition.

Carefully fold in egg whites.

Line two 8-inch round cake pans with parchment circles. Grease with butter and dust the bottom and sides with flour, tapping out the excess.

Pour batter into the 2 cake pans.

Bake at 350°F for 30 - 35 minutes.

Cool in pan for 5 minutes. Remove from pan and cool on a wire rack.
For the cream filling
Mix sugar, arrowroot, sea salt and cream in the top pot of a double boiler.

Place the pot on direct medium heat. Bring to a boil, stirring constantly. Boil 1 minute.

Remove from heat. Pour a little of the hot mixture over the beaten egg yolks to begin pre-heating them. Blend the yolks into the hot mixture. Now place the pot into the bottom pot of the double boiler and cook over boiling water, stirring until thick, about 3 - 5 minutes.

Remove from heat. Add vanilla extract. Chill until the cream filling sets.

For the whipped cream icing

Beat heavy whipping cream with the maple syrup until stiff peaks form. Be sure that the cream, the syrup, the bowl and the beaters are all very cold to insure success.

To assemble cake

Place one cake layer on your serving platter. Spread the cooled cream filling on top of that layer. Top with the second layer of cake. Frost the entire cake with the whipped cream icing.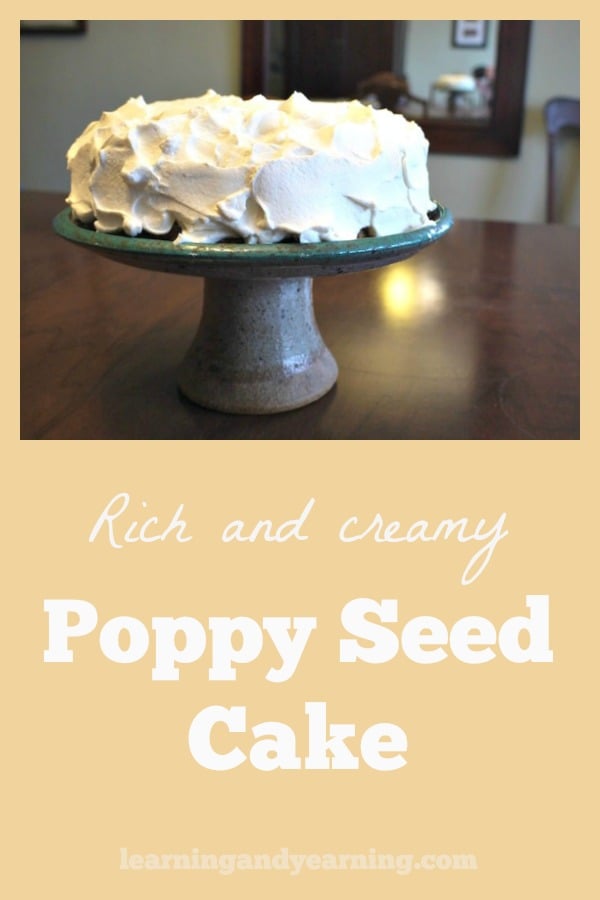 Thank you for visiting Learning And Yearning. May "the LORD bless you and keep you; the LORD make his face shine upon you and be gracious to you; the LORD turn his face toward you and give you peace." Num 6:24-26