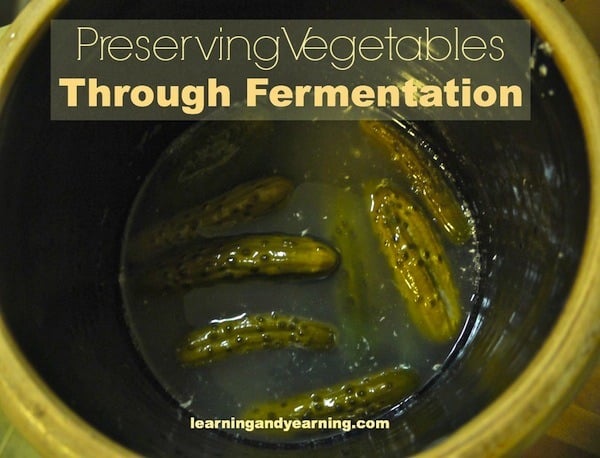 Preserving Vegetables Through Fermentation
When you think of preserving the harvest, what comes to mind? I'm sure you thought of canning, freezing, and dehydrating. Have you ever wondered how our ancestors preserved food before the days of modern refrigeration?
Canning has only been around for about 200 years. What did they do before that? One method used was to preserve vegetables through lacto-fermentation in stoneware crocks.
DISCLOSURE: In order for me to pay my blogging expenses, I may receive monetary compensation for my endorsement and/or link to products mentioned on this blog. I am a participant in the Amazon Services LLC Associates Program, an affiliate advertising program designed to provide a means to earn fees by linking to Amazon.com and affiliated sites.
When canning was found to be more shelf stable and easily shipped, lacto-fermentation went out of vogue. So why would we even consider fermenting vegetables today?
Fermentation Increases Nutrients
Canning preserves food by destroying bacteria that causes spoilage. In the process, many nutrients are also destroyed. Lacto-fermentation, on the other hand, preserves food by growing the good bacteria present on all vegetables–lactobacillus.
Salt is also used in the process. Harmful bacteria do not tolerate salt and are kept in check by the salt until good bacteria increase in number and take over the process of preserving the food.
When people express a distrust of eating something fermented, I ask them if they eat yogurt. When they reply in the affirmative, I remind them that they are eating fermented milk. In Nourishing Traditions, Sally Fallon states:
The proliferation of lactobacilli in fermented vegetables enhance their digestibility and increase vitamin levels. These beneficial organisms produce numerous helpful enzymes as well as antibiotic and anti-carcinogenic substances. Their main by-product, lactic acid, not only keeps vegetables and fruits in a state of perfect preservation but also promotes the growth of healthy flora throughout the intestine.
I've never heard anything remotely similar said about canned vegetables, or frozen for that matter. And friends, I can't stress enough how much easier fermenting vegetables is than canning.
In general, vegetables are fermented in brine; some vegetables self-brine while others need an added brine. Most shredded vegetables will self-brine. Cabbage is the most common vegetable to use this way.
The cabbage is shredded and salted, and then a wooden kraut pounder (or your hands) is used to mash it, bringing out the natural juices. This can be a lot of work, and it really helps to wait about a half hour after salting. That way much of the work will be done for you.
Whether vegetables are in whole pieces (green beans or snow peas) or cut into sticks (carrots or zucchini), a salt and water brine (3 T sea salt to 1 qt non-chlorinated water) is made, the vegetables are packed into containers such as crocks or canning jars, and the brine is poured over them. Whey can also be used in the process. Salt is decreased if whey is used.
After several days of fermentation at room temperature, the vegetables are moved to cold storage–that means refrigeration for most of us, and a root cellar for our ancestors.
I give details showing how to ferment zucchini sticks here. The same method can be used for snow peas, carrot sticks, green beans, whole small cucumbers, or sticks from larger cucumbers, garlic, onion, and more.
For further reading and lots of recipes, I recommend: Nourishing Traditions by Sally Fallon, The Complete Idiots Guide to Fermenting Foods by Wardeh Harmon, and Real Food Fermentation by Alex Lewin. These go into much more detail and include sections on fermenting dairy, beverages, grains, and meats.
Do you preserve food through fermentation? What's your favorite vegetable to ferment?
Fermentation Posts That Will Interest You
Make Your Own Fermented Sauerkraut
Fermentation Weights: 10 Ideas for Keeping Your Ferments Submerged
Lacto-Fermented Green Tomatoes
Kohlrabi Slaw with Probiotic Options
Making Fermented Garlic and Ways to Use It
Homemade Lacto-Fermented Horseradish
Thank you for visiting Learning And Yearning. May "the LORD bless you and keep you; the LORD make his face shine upon you and be gracious to you; the LORD turn his face toward you and give you peace." Num 6:24-26