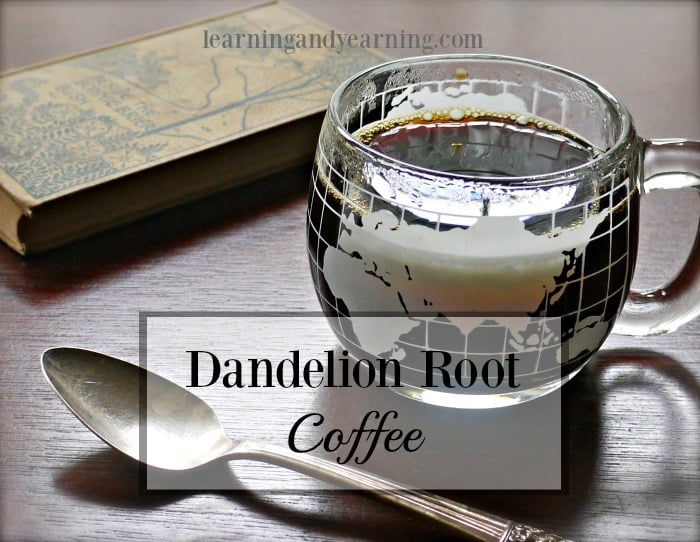 Plenty of Dandelions for the Bees and for Us
Is Facebook getting meaner, or am I just getting more sensitive? It seems no matter what you post these days, someone has to tell you why what you are doing is all wrong. No subject is immune; dandelions included.
While I wholeheartedly agree that there's no reason to eradicate dandelions from your lawn, I can assure you that harvesting the leaves, flowers or roots for food will not hurt the bees. I spent a good hour digging root recently for Roasted Dandelion Root Coffee and I barely put a dent in what's out there.
DISCLOSURE: In order for me to pay my blogging expenses, I may receive monetary compensation for my endorsement and/or link to products mentioned on this blog. As an Amazon Associate I earn from qualifying purchases.
Dandelion,  Taraxacum officinale, has been used for centuries to support the liver, kidneys, spleen, and gallbladder. It is thought that it was brought to the New World on the Mayflower because it was considered such an important plant for food and medicine.
We use the flowers in salads and fritters. It is also quite popular in winemaking. Dandelion Leaf Pesto is one of my favorites, and the leaves also find their way into our salads and juices.
And you'll love Roasted Dandelion Root Chai!
I Needed to Quit Coffee
I've been in denial, but coffee has been bothering me for some time. I love the jolt, but the crash is not pretty. So, I switched to cold-brewed coffee, and that helped because it contains less caffeine. But a little over two weeks ago, I decided it was time to go 100% caffeine-free.
How did I do it? Roasted Dandelion Root Coffee. If roasted properly, it really does taste like coffee. I'll let you in on my secret in a moment. I heard that it would also help with the inevitable headaches that come with caffeine withdrawal. I think that may be true, because I only experienced a few mild headaches when I went cold-turkey.
I've enjoyed roasted dandelion root over the years as an occasional beverage. It's now my daily companion.
Roasted Dandelion Root Coffee Options
If you'd like to give Roasted Dandelion Root a try, there are several options.
Dandy Blend is an instant beverage that, to me, tastes very much like instant coffee. In addition to dandelion root, it also contains chicory, sugar beet, barley and rye. According to its advertising, it contains over 50 trace minerals and is GMO-free.
Another option is to purchase roasted dandelion root. Frontier Herbs carries 1# bags that may be made into a hot beverage in the same way you would brew a cup of loose leaf tea.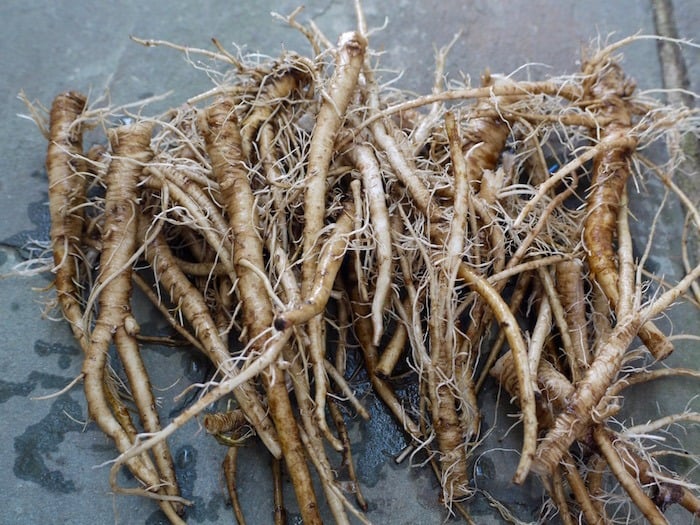 The most economical option, of course, is to dig your own root, and roast it yourself. The right tool makes all the difference when digging dandelion root. A Hori Hori Knife is the most popular choice of avid foragers.
I prefer this Fiskar 3 Claw Weeder because it's fast and there's no bending involved. My back thanks me for that. It's perfect for going out into my yard to harvest dandelion root. Of course, the Hori Hori Knife is best if you need something more portable.
Once you've dug up your dandelion root, you'll need to cut the root from the leaves, and then give them a good washing.
I find that the garden hose does a good job of removing most of the dirt. I then take them into the house and continue giving them a good scrub in my kitchen sink.
After thoroughly cleaning, chop your dandelion root into small pieces. Thinner roots can be cut longer than thicker roots, but try to keep the size uniform.
Heat your oven to 200°F and place the roots on a cookie sheet. I like to line it with parchment paper.
The object at first is just to dry the root. This will take 2 – 3 hours. Then turn your oven up to 350°F and roast the roots for at least another hour, possibly 2.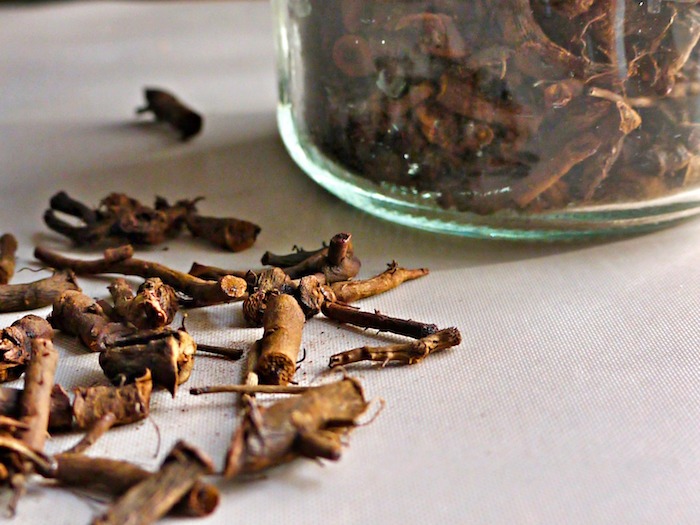 The secret I mentioned is to roast the dandelion roots until they just start to smoke. This will give them the coffee-like taste you're after.
Of course, a lighter roast is okay as well. A very light roast will turn out more like dandelion tea.
After removing the roots from the oven, allow them to cool thoroughly. Then grind them in a coffee grinder or blender with a strong motor. The Nutribullet works well.
To make a delicious cup of Roasted Dandelion Root Coffee, brew as you would a normal cup of coffee, or a cup of loose-leaf tea. I do prefer to use a bit more dandelion root than I would coffee in my brew. Cream is an wonderful addition, of course.
What ways have you used dandelion root? Have you ever tried roasting it yourself?
More Than Weeds
 A Foraging eCourse for Beginners
Are you interested in foraging, but a bit hesitant because you don't trust your own abilities? I created a mini eCourse just for you. In More Than Weeds: 5 Common Plants to Forage for Food and Medicine you'll learn that identifying plants is all in the details.
Using common plants with which may be someone familiar you'll learn beginner botany skills that you will be able to use as you move forward. You'll gain confidence to use these plants for your family in food and safe, home remedies. Get started now!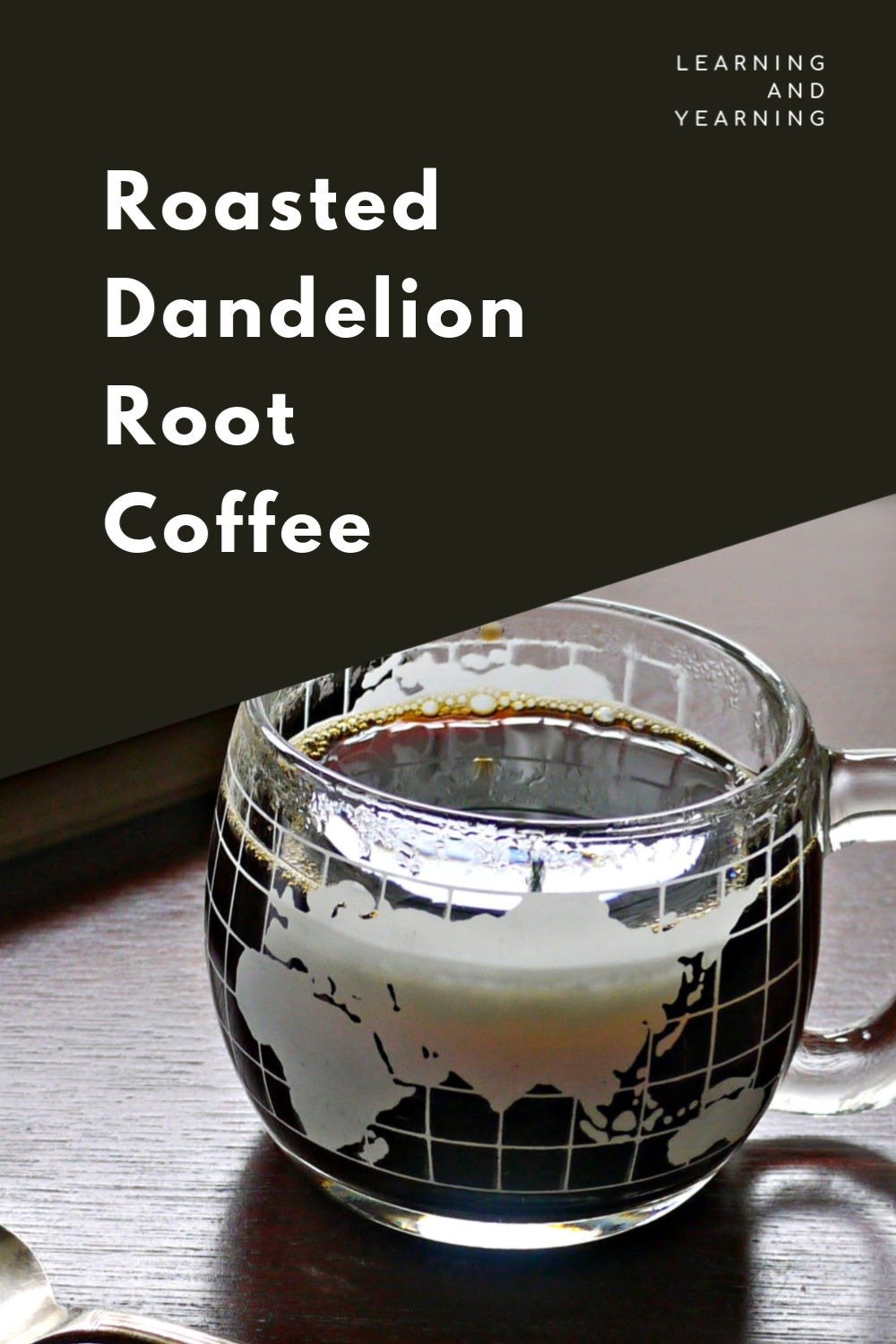 Thank you for visiting Learning And Yearning. May "the LORD bless you and keep you; the LORD make his face shine upon you and be gracious to you; the LORD turn his face toward you and give you peace." Num 6:24-26