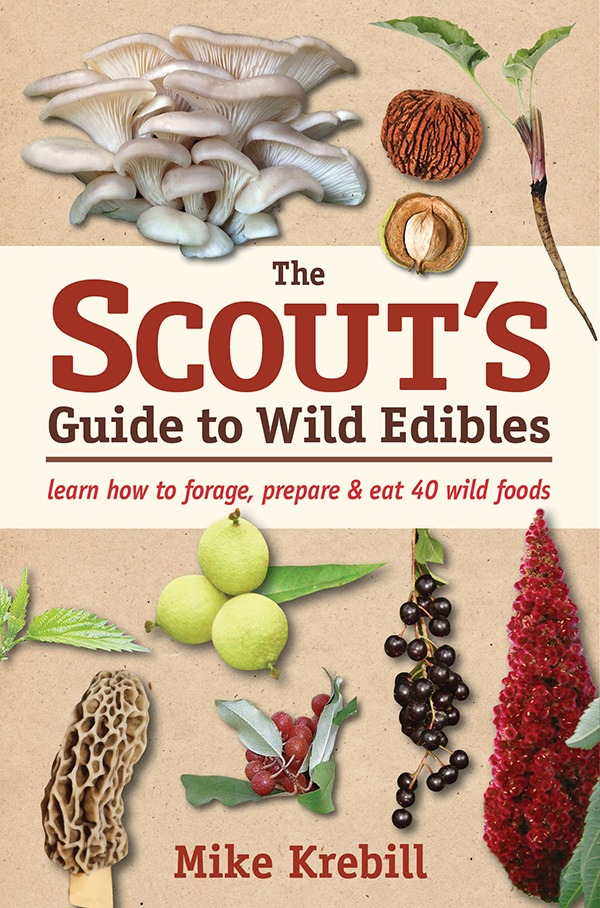 Author Mike Krebill has spent many years teaching middle school science and leading scout troops. But The Scout's Guide to Wild Edibles isn't just for kids. This delightful, pocket-sized guide helps beginners of all ages to identify 40 wild edibles. Recipes and activities included!
Most of the plants in the guide are found throughout the U.S. and Canada's lower provinces. For each of the 33 plants and 7 mushrooms included, the reader is taught to identify, harvest and prepare.
DISCLOSURE: In order for me to pay my blogging expenses, I may receive monetary compensation for my endorsement and/or link to products mentioned on this blog. As an Amazon Associate I earn from qualifying purchases.
Each entry in the book contains the Latin name, range, habitat, and how to positively identify the plant or fungi. In addition, tips for preparing  and preserving the plant, when to harvest, and very importantly – how to harvest sustainably are all included.
There are some fun projects and activities, too – a backpacking make lunch challenge, foraging fruit and making fruit leather, processing acorns and black walnuts and several more.
The last section of The Scout's Guide to Wild Edibles is a collection of recipes, several of which I'm looking forward to trying. These include Cinnamon Black Walnut Ice Cream, Dandelion Donuts, Blueberry pie, Weed Quiche,  and Mulberry Taffy.
If I have one criticism of the book, it is that several of the recipes include ingredients like Bisquick or bread mixes. The amazing scouts featured in the book are going into woods and field to gather wild edibles. Surely they are capable of learning to cook from scratch with high quality ingredients. Of course, it would be easy enough for the reader to adjust the recipes with real food ingredients.
I highly recommend The Scout's Guide to Wild Edibles.
More Than Weeds
 A Foraging eCourse for Beginners
Are you interested in foraging, but a bit hesitant because you don't trust your own abilities? I created a mini eCourse just for you. In More Than Weeds: 5 Common Plants to Forage for Food and Medicine you'll learn that identifying plants is all in the details.
Using common plants with which may be someone familiar you'll learn beginner botany skills that you will be able to use as you move forward. You'll gain confidence to use these plants for your family in food and safe, home remedies. Get started now!
Thank you for visiting Learning And Yearning. May "the LORD bless you and keep you; the LORD make his face shine upon you and be gracious to you; the LORD turn his face toward you and give you peace." Num 6:24-26