We had an old concolor fir on our property that was struggling from the day we bought this place. We tried for 8 years to save that tree. This year, we finally resolved ourselves to the fact that it had to be cut down for our, and our neighbors, safety.
Our arborist (yes, he's ours) cut the tree, and at our request, left the chipped wood in a pile for us to use as mulch. This sat for most of the summer.
We lost a lot of privacy when the tree was cut, but we decided to plant azalea and rhododendron rather than another tree. We purchased and planted three each this past May.
DISCLOSURE: In order for me to pay my blogging expenses, I may receive monetary compensation for my endorsement and/or link to products mentioned on this blog. As an Amazon Associate I earn from qualifying purchases.
The spring and early summer were rainy, so we waited to mulch. July was dry, so we watered faithfully, and around the middle of the month applied mulch from the pile that sat in our yard, to conserve moisture. Each of the plants, up to this point, were thriving and showing new growth.
August was rainy, and one of the rhododendron wilted. A week later, a second one did the same. I used a water meter to be sure they were getting enough water. With the amount of rain we were getting, I don't know how they couldn't, but I wanted to be sure. I felt certain that the problem was too much rain, and that a fungal disease had attacked their roots. I
cut a branch of wilted leaves and took it to the nursery where we had purchased the plants. I was assured that the plants did not have root rot, or any other disease. The gentleman felt certain that I was not watering the plants enough. I felt certain that I was. It continued to rain, I continued to monitor the moisture, and the two plants continued to fail. What really confused me were the four other plants that were growing and thriving.
Friends of ours purchased their first home recently. The property has a number of trees that are showing signs of stress. The previous owner had mulched the trees improperly and this was certainly the cause of the problem.
They asked me for advice; I did a bit of research because I knew that to just remove the old mulch may expose adventitious roots that would have grown up into the much too deep mulch.  And aha! I found the problem that caused my two rhododendron to die.
Our pile of mulch was large, and was not being turned. This caused the microbial activity within the pile to shift from an aerobic to an anaerobic (low oxygen environ­ment) condition.
Anaerobic fermentation can cause waste products such as acetic acid, methanol, ammonia gas and hydrogen sulfide to accumu­late and cause direct plant injury. And newly planted shrubs tend to be the most sensitive to this problem.
The symptoms resemble drought stress, which is why the gentleman at the nursery was sure I was under-watering. And the symptoms began shortly after mulching.
Most of the plants were mulched from the outside of the pile, where oxygen was present. But I remember digging deeper into the pile at times, and it is apparent that the two troubled rhododendron received this mulch.
Sour mulch is easily identified by the presence of a pungent odor similar to vinegar, rotten eggs or ammo­nia, and should not be used.
It is not necessary to dispose of the mulch. It just needs to be spread out for a few days giving the gases a chance to disperse, and then can be safely used.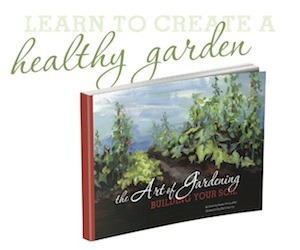 To learn how to build a garden that builds healthy soil, be sure to check out my eBook The Art of Gardening: Building Your Soil. You really can become a better gardener, and you really can grow healthy, nourishing produce. It's all about the soil! Click here to buy now.
Thank you for visiting Learning And Yearning. May "the LORD bless you and keep you; the LORD make his face shine upon you and be gracious to you; the LORD turn his face toward you and give you peace." Num 6:24-26