Have you been pouring over seed catalogs deciding what you'll plant in your organic garden this year? Me, too! Spring is the time to start seeds indoors for later planting in the garden (generally 6 – 8 weeks before the last frost for your area).
Starting Seeds Indoors
Starting your own seeds is a great way to save money and a great way to grow varieties not available in local nurseries. Below are things you need to consider for success.
Set Up Lights For Your Seedlings
Before beginning, decide on a location in your home where you can set up lights for your seedlings.
More seedlings are lost to lack of light than any other factor. Low light will result in weak, leggy plants that fall over and eventually die. Special grow lights are not necessary; inexpensive fluorescent shop lighting works well.
Select The Pots You Will Use to Start Seeds
Next, collect the containers you plan to use to start your seeds. These can include small pots, cut off milk or egg cartons, homemade pots from newspaper, or seed starting trays purchased for this purpose. Be sure each container has a hole for proper drainage (the newspaper pots do not need a hole since they will naturally drain).
Alternatively, you may want to try soil blocks, a way to create blocks of soil to start seeds without a pot at all.
Wash your containers in a soapy solution containing a small amount of bleach to prevent the spread of any disease, especially if the pots have been used previously. Rinse well.
Fill each container ¾ full with a seed starting mixture. Sow 1 – 2 seeds directly into each pot following package instructions for planting depth.
Now cover the pots with plastic wrap or a plastic bag and keep moist, but not soaking wet which can cause damping off, a deadly fungus disease.
Keep these in a warm, dark place until they germinate (there are a few exceptions to keeping seed in the dark – for example, lettuce and arugula need light to germinate). After germination, remove the plastic cover and thin to one plant per pot. Move the plants to a spot under your grow light keeping the light within an inch or two of the top of the plants.
The first two leaves, called cotyledons, are not true leaves, but food storage cells. Once the first true leaves have developed, begin feeding with a fish emulsion based fertilizer. Use half the amount recommended on the packaging for young seedlings.
Harden Off Your Seedlings
A week before setting out your new seedlings, you will have to begin hardening them off. This process allows the tender plants to acclimate to the harsher conditions of the outdoors.
To harden them off, first move the plants to a shady, outdoor location. If the nights are cool, bring them indoors.
Each day, place the plants in the sun for an hour or two and slowly increase the time spent in the sun each day. Keep them well watered during this time.
For more information on when to transplant see The Stone Family's Farmstead post When to Transplant Seedlings Outdoors and How to Do It.
Transplant Your Seedlings to a Garden Bed
After a week, if you are certain that all danger of frost has passed, you can safely transplant your seedling to your prepared garden bed. It is best to provide some shade, or do this on a cloudy day to prevent wilting.
Keep your new plants well watered, especially for the first week, and you are off to a great start.
Which Seeds to Direct Sow Outdoors
Many plants have delicate roots and do not do well with transplanting; these are best sown directly outdoors in the garden. These include:
In addition, most plants that have a shorter growing season can be direct sown, including:
beans
corn
collards
cucumber
kale
lettuce
melons
mustard
parsnip
pumpkin
radish
spinach
squash, summer
squash, winter
Swiss chard
More Organic Gardening Posts to Help You Get Started
Lasagna Gardening – the Best Way to Garden
Using Wood Chip Mulch in a Vegetable Garden
Making Soil Blocks to Start Seeds
Seed Storage and Viability: How Long Do Seeds Last?
Testing Old Seed for Viability
10 Tips for Starting Pepper Seeds Indoors from The Homesteading Rd
The cycle of the seasons and newness of the spring is a great reminder of the faithfulness of God. His Word says it better than I ever could: I will greatly rejoice in the LORD; my soul shall exult in my God . . . for as the earth brings forth its sprouts, and as a garden causes what is sown in it to sprout up, so the LORD God will cause righteousness and praise to sprout up before all the nations. Isaiah 61: 10 – 11.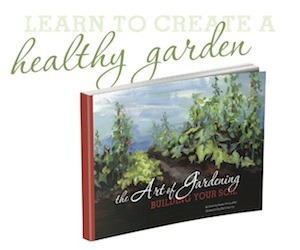 To learn how to build a garden that builds healthy soil, be sure to check out my eBook The Art of Gardening: Building Your Soil. You really can become a better gardener, and you really can grow healthy, nourishing produce. It's all about the soil! Click here to buy now.
Thank you for visiting Learning And Yearning. May "the LORD bless you and keep you; the LORD make his face shine upon you and be gracious to you; the LORD turn his face toward you and give you peace." Num 6:24-26