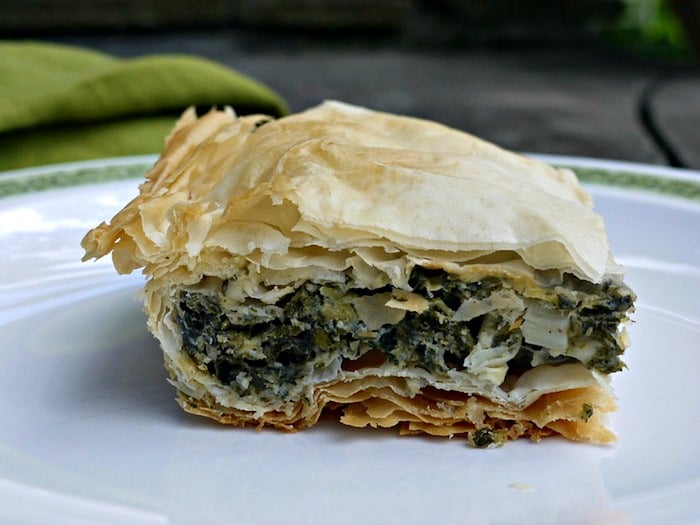 Spanakopita, for those who may be wondering, is a delicious savory Greek pastry. It is traditionally made with spinach, but it is just as delicious, and more nutritious, when made with stinging nettle. No, I'm not Greek, but a local church has a wonderful festival each year and my taste buds definitely say yes to Greek food!
Identifying Stinging Nettle
I most often find stinging nettles growing along moist, forest trails. Urticia dioica is a flowering perennial that loves rich soil and partial shade. It gets its common name from the sharp hairs that sting when touched.
DISCLOSURE: In order for me to pay my blogging expenses, I may receive monetary compensation for my endorsement and/or link to products mentioned on this blog. I am a participant in the Amazon Services LLC Associates Program, an affiliate advertising program designed to provide a means to earn fees by linking to Amazon.com and affiliated sites.
The plant has opposite, serrated leaves which, along with the stems, contain the stinging hairs. Stinging nettle, which begins to flower mid-summer, has small green or brown flowers which grow out of the leaf axil. It is best not to consume nettle after it begins flowering; it is said that the plant can cause kidney damage after that point.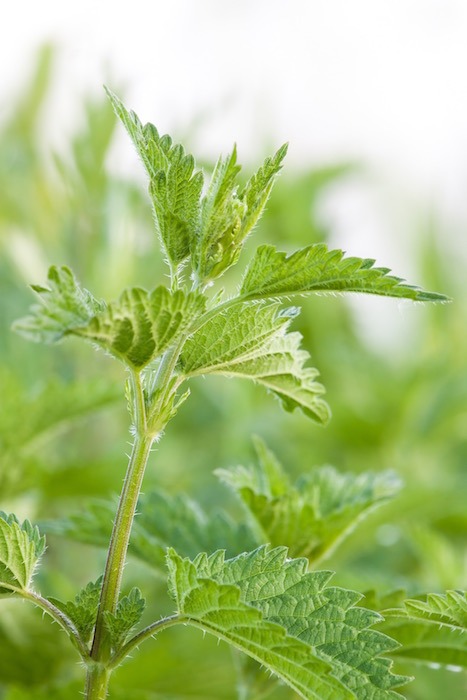 Harvesting Stinging Nettle
There are some who have learned the art of harvesting stinging nettle without gloves. I have not been consistently successful at doing so. Gloves and long sleeves make the job much easier, although I can't say I mind being stung. I find it painfully good in some strange way.
So, wearing your gloves, use scissors to harvest the top 6 or so leaves of the plant. I have to warn you, that even with gloves, I am occasionally stung. If you find the sting unbearable, look for plantain leaf nearby, macerate it by chewing and apply to the sting.
Using Stinging Nettle
You may wonder how to use a plant that has such a potent sting. Cooking stinging nettle renders the stinging hairs powerless. Processing the leaves in a food processor for pesto will also neutralize the hairs and is one way that nettle can be eaten raw.
Nettle leaf can also be dried for tea which I find gives me some relief from seasonal allergies. And it can be cooked in any way that you would use spinach or kale. I particularly enjoy nettle chips.
Stinging nettle spanakopita is an exceptionally delicious way to enjoy nettle and you get a good boost of minerals like iron, calcium, potassium and silica in the process.
Stinging Nettle Spanakopita
Print recipe
Ingredients
8 cups fresh stinging nettle leaves
2 tablespoons melted butter
3/4 cups chopped scallions, or ramps
1 1/2 cup finely crumbled feta cheese
1/2 cup grated parmesan cheese
2 eggs, slightly beaten
1/3 cup fresh, chopped parsley (or 2 tablespoons dried)
1/4 teaspoon grated nutmeg
18 organic phyllo sheets
1/2 cup melted butter
Directions
Steam 8 cups of stinging nettle leaves until thoroughly wilted. (A colander placed in a large, covered pot with an inch or so of water works well). Allow the nettle to drain. Place the nettle on a cutting board and chop.
Sauté the scallions or ramps in 2 tablespoons of melted butter. Add the chopped nettle and sauté a few minutes more.
Remove from heat and add the feta, parmesan, egg, parsley and nutmeg. Mix thoroughly.
Lightly coat a 9" x 13" baking pan with melted butter. Unroll your phyllo and cover it with a damp dishtowel. You'll be working with one sheet of phyllo at a time. Try to work quickly and always keep the sheets that are waiting to be used covered with the damp dishtowel.

Using a pastry brush, brush melted butter on your first sheet of phyllo. Arrange it in the buttered pan off center, so that it is covers most of the bottom of the pan, and comes up one side of the pan. Brush the next sheet of phyllo with butter and place it so that it comes up a different side of the pan. Repeat with 6 more sheets of phyllo, each one coming up a different side of the pan. Now brush 4 more sheets, one at a time, with melted butter and layer them in the center bottom of the pan.
Evenly spread the nettle mixture over the phyllo in the pan. Working quickly, butter the remaining sheets of phyllo, one at a time and place them on top of the filling. Fold the phyllo that is coming up the sides of the pan down on top of the phyllo that is covering the filling. Brush with melted butter.
Score the top of the phyllo cutting it into 12 pieces, but do not cut through to the filling. Bake at 375° for 35 – 45 minutes until the crust is golden brown.