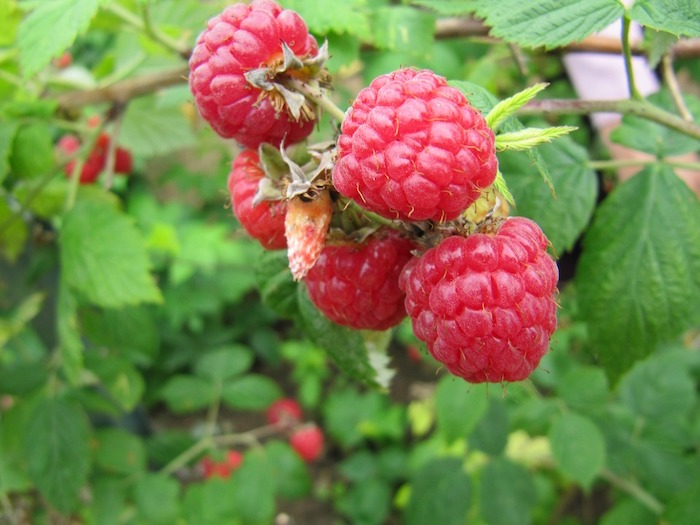 I guess it's part of my personal philosophy. I work hard, but I don't see the point of doing a job a certain way when there's an easier alternative. So, I don't dry dishes, because they'll dry themselves in the dish drainer. And I take the easy way out when it comes to growing raspberries.
DISCLOSURE: In order for me to pay my blogging expenses, I may receive monetary compensation for my endorsement and/or link to products mentioned on this blog. As an Amazon Associate I earn from qualifying purchases.

Raspberries, and other thorny bushes like blackberries, are brambles in the Rubus genus. They are perennials, but their branches (or canes) live for only two years. First year canes are known as primocanes, and second year are called floricanes.
Types of Raspberries
There are basically two types of raspberries you can grow – summer bearing, and fall bearing, also known as everbearing.
Summer bearing – these raspberries produce one crop of fruit in the summer on the floricane. Remember, that's the second year cane.
Fall or Everbearing – these are the type of raspberries we grow, and they produce fruit on the tip of the primocane (first year cane) in the early fall, and then again during the next summer on the lower part of the same cane, so that 2 crops are possible per year. The easy way to grow them, which I'll get to, is to manage them in a way that they produce only one crop per year, beginning in late summer and into the fall.
Pruning Raspberries
All raspberries need annual pruning, which generally requires being able to tell the difference between primacane and floricane branches. It's really not all that difficult during the growing season. Primacanes are green and floricane are brown. But if you plan to prune during the winter, they are impossible to distinguish.
Summer bearing raspberries are pruned after they finish producing for the summer, and all floricanes are then removed.
How and when you prune will depend on whether you want one or two crops of everbearing raspberries. For two crops, pruning is done in the spring. Primacanes are trimmed, and floricanes are completely removed.
Keep in mind that everbearers actually produce the best crop by not allowing them to produce that early summer crop.
If you've ever worked around raspberry bushes, you know that they have thorns. They aren't anywhere as wicked as blackberries, but still, they are enough to make you want to avoid getting in there to remove some canes, while leaving others.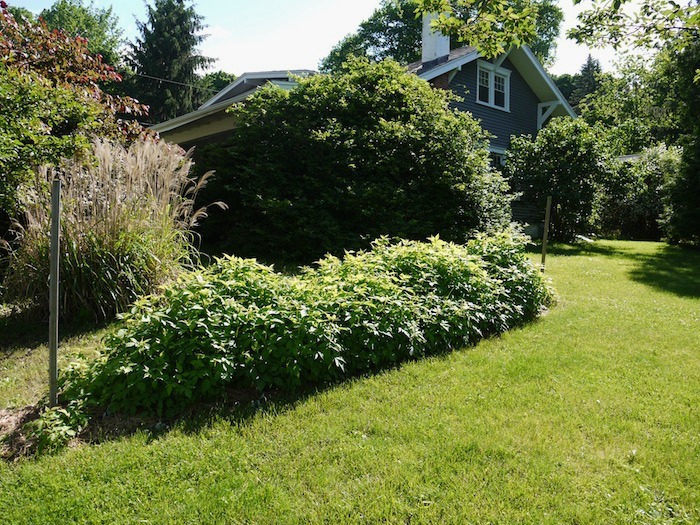 The Easy Way to Grow Raspberries
Here's where we get to the easy way to grow raspberries. We grow everbearing raspberries, and opt for a fall crop only. To accomplish this, all of the canes are cut down to 1″. No need to take the time to distinguish between primacane and floricane. Yes, we still have to face those thorns, but less time spent being picky means less thorns, right?
We generally prune in mid-winter, although pruning this way can be done anytime after the harvest is complete, but before new growth begins in the spring.
Growing fall bearing raspberries is generally best for zones 4 – 7. In areas with an early fall frost, there may not be enough time for fruit to mature. We have extended our fall season here in NE PA by several weeks, by covering our raspberry patch with a floating row cover.
How We Grow Raspberries
We grow Caroline raspberries, an everbearing variety, in our home garden (for zones 4 – 7). These are easy to grow, requiring little attention, and our 15′ x 4′ patch produces gallons of large, delicious berries.
We chose a spot in our yard that gets full sun and has good air circulation and good drainage. Raspberries hate wet feet. We began with just 5 plants, which we purchased from Nourse Farms. After just a few years these have spread to fill in the entire patch. As we mow the surrounding grass, any plants that try to spread are kept in check.
Our patch was prepared by creating a lasagna garden, a method of gardening that creates very fertile soil, rich in organic matter. The bed was prepared in the fall allowing the layers to decompose over the winter.
And then in the spring, the raspberry plants were planted about 2 feet apart down the center of the bed. We kept them well watered, especially that first year.
Each year we generally start getting raspberries near the end of August, depending on the weather. This past summer was particularly cool, and they didn't start producing until mid-September or so. And they keep bearing right through to October.
As I mentioned above, we cover them with a floating row cover before the first frost to extend the season a few weeks.
After the canes are cut down to 1″, the patch is lightly covered with mulch; as this decomposes, it nourishes the soil. We use either hay or wood chips to mulch.
In the spring, we top dress with about an inch of compost. It's best not to fertilize in the fall because this may cause new growth right before the plant goes dormant.
Because our conditions are perfect for raspberries, they are incredibly easy to grow organically. We've never had problems with disease, or even pests. And they attract lots of bees to our garden.
Staking Raspberries
We planted our raspberry bushes in 2012. While it's highly recommended that all raspberry bushes be staked, regardless of the type you grow, ours have only recently been getting to the point where it's becoming necessary.
Sooo, that means that at this point ours are not staked. That's in the plan for the upcoming season, so I'll update this post when we get that done. In the meantime, this post from Nourse Farms has information on staking raspberries.
More Posts You'll Love
Hedgerow Jelly – A Delicious Mixture of Fall Fruit
Using Wood Chip Mulch in a Vegetable Garden
10 Strategies for Organic Weed Control in Your Organic Garden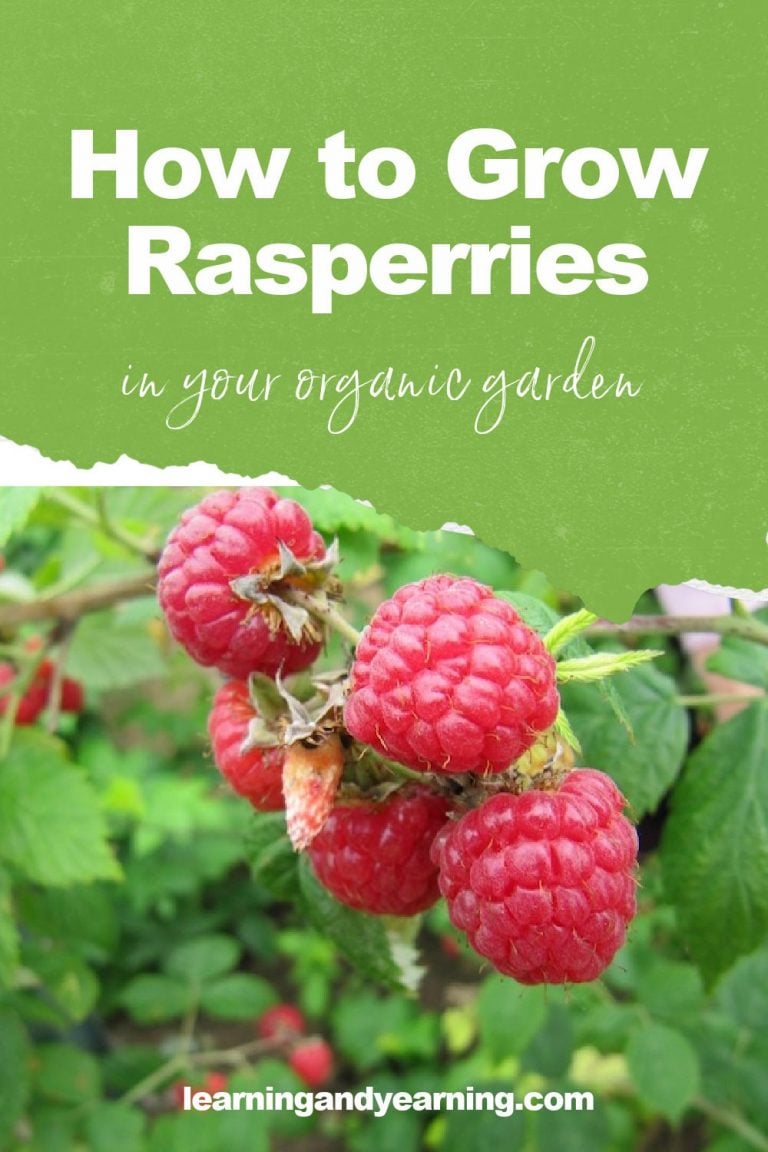 Thank you for visiting Learning And Yearning. May "the LORD bless you and keep you; the LORD make his face shine upon you and be gracious to you; the LORD turn his face toward you and give you peace." Num 6:24-26