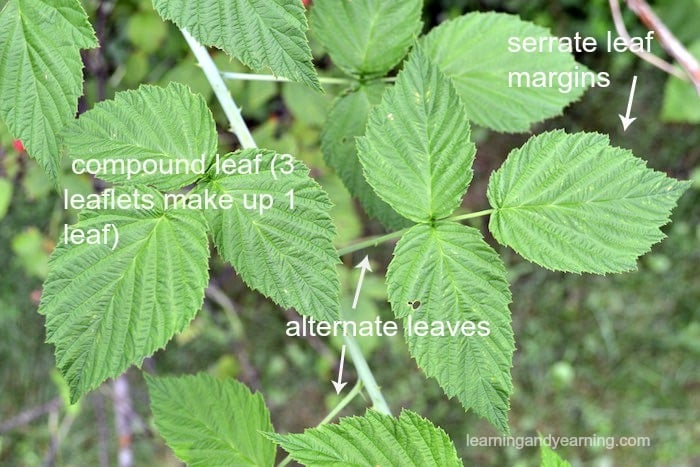 I've loved, and have been learning about plants my entire life. And I have identified quite a few of them. But one of my weaknesses when identifying plants, and one I'm attempting to remedy, is that I tend to recognize plants in the same way I recognize people.
I may know you, but if the pressure was on, I probably would have a hard time describing you in detail. I likely wouldn't know the color of your eyes, and I certainly wouldn't know things like birth marks. Heck, I may not even remember if you have a mustache, or wear glasses.
DISCLOSURE: In order for me to pay my blogging expenses, I may receive monetary compensation for my endorsement and/or link to products mentioned on this blog. As an Amazon Associate I earn from qualifying purchases.
Focus on the Details
If you want to know plants, you need to learn to focus on the details. Especially if you plan to eat those plants, or use them for medicine. There's just no room for 'close enough'. You really need to learn a bit about plant identification.
I suppose that you could spend a lifetime foraging and using many plants that you learned as a child – that someone else taught you. You probably know the common name of those plants in your area. And it's even possible that you don't know a pistil from a stamen, or a simple leaf from a compound leaf. And still, you're a forager.
As a forager, there's no need to become a botanist. But you do need to learn some botany.
If you want to expand your knowledge of edible or medicinal plants, and especially if you don't always have someone to take you by the hand to show you what to harvest, you'll want to learn the basics of plant identification.
Learning Plant Families
I won't take all the blame for my inadequacies in the plant identification department. When I first started to learn to identify plants on my own, at age 17, I purchased this now very old version of A Field Guide to Wildflowers. It's a great book. You look up flowers by color and shape, and then read more about the plant to be sure it grows in your area, and otherwise fits the description.
What the book didn't teach me was how to really observe plant patterns, and to learn plants by family. How much easier identification would have been over the years if I had acquainted myself with some of the most common plant families.
In the mint family (Lamiacea), for example, the plants have square stalks, and opposite leaves. And when crushed, the leaves are almost always aromatic, and the flowers are irregular. Worldwide, there are thousands of species of mint.
So, as you observe a plant that you've never seen before, and see that the stems are square, the leaves are opposite, and the plant has a spicy smell, you can be relatively certain that the plant is in the mint family. That's an amazing start at identifying the plant.
A Few of the Most Common Terms You'll Need to Know
In the last few paragraphs, did you notice that I used words like pistil and stamen, regular and irregular flowers, and simple and compound leaves? If you are serious about learning to identify plants, there's no getting around it. You have to learn some terms.
And that's what this post is about. I'm here to help with a few basics of plant identification, and then I want to make some recommendations that will help you go further than you ever expected as a forager.
Some Common Flower Terms for Plant Identification
Pistil – the female parts of a flower, which include the stigma, style, and ovary.
Stamen – the male parts of a flower, which include the filament, anther, and pollen.
Petals – the usually brightly colored parts of a flower which surround the pistil and stamen.
Sepals – the usually green, leaf shaped structure which protects the flower bud.
Regular – in a regular flower, the individual parts, such as petals, are identical in size, shape, and color. The lily, in the photo above, is a regular flower.
Irregular – in an irregular flower, the individual parts, such as petals, are different.
Some Common Leaf Terms for Plant Identification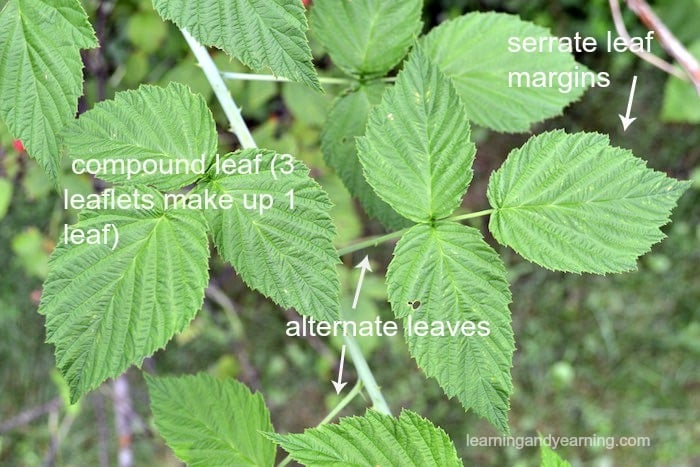 Leaf Arrangement – how leaves are arranged on the stem of a plant.
Alternate – the plant's leaves are attached to the stem on alternate sides of the stalk, or in a spiral.
Opposite – the leaves are attached to the stem in pairs which are opposite each other.
Whorled – the leaves wrap around the stem from a single point.
Basil – the plant's leaves are arranged in a tight cluster at the base of the plant.
Leaf Type
Simple – a single leaf, which is not divided into leaflets.
Compound – a leaf which is composed of more than one leaflet. The leaf on the bramble in the photo above is a trifoliate compound leaf (one leaf with 3 leaflets). Compound leaves can take many different forms, and may contain many leaflets.
Lobed – the leaves have margins which are deeply indented. Oaks and maples are two examples of trees with lobed leaves.
Dissected – these leaves are deeply divided into numerous segments. Ragweed and ferns, among many others, have dissected leaves.
Leaf Shapes
Ovate – oval or egg shaped.
Rounded – in a circular shape.
Lanceolate – shaped like a lance tip.
Cordate – heart shaped.
Sagittate – arrowhead shaped.
Pinnately-lobed – these leaves have lobes arranged on either side of a central rib
Palmately-lobed – these leaves have lobes that create a pattern similar to the fingers on a hand.
Leaf Margins – this refers to the edge of the leaf
Entire – these are smooth leaf margins with no teeth, or are not serrated.
Toothed or serrate – the leaves have sharp teeth similar to the teeth of a saw.
In each of the above categories, there are many more options. And there are many more categories to describe leaf characteristics.
Dichotomous Key
As you learn to identify plants, you will surely run across something called a dichotomous key. This is a tool that asks questions which will help you to identify your plant. In each step, you will have two choices.
But, in order to answer these questions, you will need to know the terms I've covered above, and many more.
If you are trying to identify a tree, for example, you may be asked if the tree is a conifer or a broadleaf tree. Let's say you answer broadleaf. You will then be asked if the leaves are simple, or compound. Opposite or alternate? Palmately, or pinnately compound?
See where I'm going here? I know it sounds confusing if you are a beginner. But just like any other topic you've learned in your life, botany has a language of its own. And once you've learned that language, the topic is so much easier to learn.
I'm been in love with plants my whole life, and have been identifying them on my own for over 40 years. And guess what? I have so much to learn.
So, here's what I've done. I've signed up to take my first official course on foraging. It's called Botany and Wildcrafting and it's curated by The Herbal Academy – an herbal school I know and trust.
More About the Botany & Wildcrafting Course
This course delves into characteristics of plant parts and the use of dichotomous keys for plant identification, as well as the identification of botanical families and patterns in nature. Hands-on lessons on drawing plants and creating a pressed plant herbarium encourage one-on-one engagement with the plant kingdom.
Since taking the Botany and Wildcrafting Course last year, I've developed my own mini eCourse for beginners. It's a very affordable short course that will help you develop the confidence you need to go forward as a forager!
More Than Weeds
A Foraging eCourse for Beginners
Are you interested in foraging, but a bit hesitant because you don't trust your own abilities? I created a mini eCourse just for you. In More Than Weeds: 5 Common Plants to Forage for Food and Medicine you'll learn that identifying plants is all in the details.
Using common plants with which may be someone familiar you'll learn beginner botany skills that you will be able to use as you move forward. You'll gain confidence to use these plants for your family in food and safe, home remedies. Get started now!
Thank you for visiting Learning And Yearning. May "the LORD bless you and keep you; the LORD make his face shine upon you and be gracious to you; the LORD turn his face toward you and give you peace." Num 6:24-26