Why Use Mulch?
Mulch has so many benefits in an organic vegetable garden. I wouldn't even know how to garden without it. We are huge fans of lasagna gardening (which includes wood chip gardening), but even before we switched to no-dig gardening, we were big fans of using natural materials as mulch.
Why do we love mulch so much in our organic garden?
Mulching Reduces the Need to Weed
Well, first of all, because we don't enjoy weeding a garden. Mulch does a fantastic job of  preventing weeds from sprouting, and reduces the need to spend a lot of time weeding.
DISCLOSURE: In order for me to pay my blogging expenses, I may receive monetary compensation for my endorsement and/or link to products mentioned on this blog. As an Amazon Associate I earn from qualifying purchases.
Mulch Conserves Water
Tender seedlings and newly sown seeds need a lot of water. After they are established, though, we don't do a lot of watering unless we are getting particularly dry weather.
That's because mulching prevents the soil from drying out and conserves water.
Mulch Builds Soil
Most importantly, organic mulch encourages soil organisms like earthworms, and feeds the soil as it decomposes. If you want to grow healthy, nutrient-dense produce, building soil is the way to go.
Some good mulching materials include chopped leaves, hay, grass clippings, wood chips, and newspaper. I sometimes even use rhubarb leaves.
Wood chip mulch is just one option out of many.
What is Wood Chip Mulch?
As the name implies, this type of mulch is made from chips of wood. But not all wood chip mulch is created equally.
Many landscaping companies sell mulch – you've seen the colored piles at their places of business. This mulch is generally made of bark, or shredded discards of the lumber industry, and is often lacking the nutrients your vegetable garden needs.
In addition, if the mulch is colored it may contain questionable chemicals that have no place in an organic garden.
Arborist wood chips are valuable in an organic garden–particularly ramial wood chips. Ramial chips come from small branches and leaves and are wonderful for building healthy garden soil. The leaves provide nitrogen to help break down the carbon in the branches.
Where to Get Arborist Wood Chip Mulch for Garden
If you are searching for soil building, ramial woods chips for your organic garden, I highly recommend that you begin by calling arborists or landscapers in your area.
We personally have made a wonderful friend by doing just that. We first met our arborist when a tree fell during a storm, crushing my car, and blocking the front entrance to our home. Alan quickly arrived on a Sunday and removed the tree.
We then hired the same arborist to remove a dying ash tree and asked him for the chips to mulch just the paths in our garden.
It was perhaps a year later that we watched the documentary Back to Eden, which dramatically changed our view of gardening. After watching the film, I began to observe that the wood chips that had been placed on our garden paths were decomposing and turning into amazing, black soil.
We were hooked and began to use wood chip mulch in our vegetable garden in earnest. This was not without challenges.
As I say in my post on using wood chips as mulch in a vegetable garden, of all the materials we have used as mulch in our garden, wood chips are the least forgiving. That is not to say that they aren't worth it, though.
What Concerns Are There in Using Wood Chips for Mulch?
When using arborist wood chips in a vegetable garden, people have a lots of questions. What if the tree was diseased, or infected with insects? How deep should I mulch? Are there certain kinds of trees to use, or wood chips to avoid?
I'll do my best to address those concerns here.
Types of Wood to Avoid For Mulch 
There is the concern that some mulches leach allelochemicals into the soil which may kill nearby vegetation. It is accurate that these chemicals can prevent seed germination or even kill young plants.
Black walnut, tree of heaven, magnolia, and eucalyptus all exude allelochemicals. But that does not mean that those chemicals will kill all nearby plants; they each affect only certain species.
Maple, too, is known to have allelopathic tendencies and yet is quite safe to use as a vegetable garden mulch.
Black walnut exudes juglone would can be quite toxic to a number of vegetable plants, such as eggplant, tomatoes and asparagus. But there are vegetables like snap beans, beets, corn, onions, garlic, carrots, cauliflower, and squash which are not sensitive to juglone.
So, to be on the safe side, I would recommend never using black walnut as a mulch in your garden, and would be careful about tree of heaven, magnolia, and eucalyptus. A small amount mixed in with other types of chips should not be problematic.
Is it Okay to Use Wood Chips from Conifer Trees?
Wood chips from conifer species such as pine, spruce, fir, and hemlock are quite acidic. As the wood chips are decomposing, the pH of the chips themselves may be acidic. But this won't affect the soil below the mulch, and once the wood chips decompose, the soil it produces will not be acidic.
The following information concerning the pH of different tree species is quite interesting. You will find that the pH of oak is just as acidic as those of several conifer species:
Elm pH 6.0 – 7.2
Oak pH 3.3 – 3.9
Douglas fir pH 3.75
Scots pine pH 4.3 – 4.6
Source – The Woodchip Handbook by Ben Raskin
Still, many garden experts recommend that not more than 20% of your wood chip mixture be from coniferous species.
If you are still concerned, use only wood chips from deciduous trees on your vegetable garden, and save those from conifers for acid-loving plants like blueberries.
What About Diseased Trees?
Wood mulch should never be dug into the soil but used only on top. Studies show that diseased mulch cannot transmit pathogens to the roots of healthy trees.
Not as much is known about it ability to infect vegetables, although it is thought unlikely. Keeping the mulch on the surface of your soil will keep it away from the roots of your plants.
What About Trees With Insect Infestations?
Many insects are decomposers; their job is to feed on rotting organic matter breaking it down so that healthy soil is built in the process. So, yes, you will see insects in your mulch, especially at the point where the mulch meets the soil.
For this reason, it is best not to allow mulch to touch your home or other structures so that insects are not able to enter and do damage.
But what about using mulch from a tree such as ash, for example, that is infested with the emerald ash borer? A friend asked me this question recently since they were cutting several ash trees on their property and wanted to use the chips as mulch.
There really is not a lot of information about this to be found but I contacted our arborist and our local extension agent. Both informed me that it is highly unlikely that using such mulch would harm vegetables. That is because insects like the emerald ash borer are species specific. They only feed on very specific plants – the ash tree in this instance.
So, it is would be wise to know what you are getting, but in general mulch from a tree that has been killed by an insect should pose no problem in your vegetable garden.
How Deep Should I Mulch With Wood Chips
This is an important question and is essential to your success in using wood chips as a mulch in your vegetable garden.
As I mentioned, of all the types of mulch we have used, we have found wood chips to be the most unforgiving. It is essential that wood chips be used properly.
I have found that 2 – 3″ is just right for wood chip mulch. Most problems from using wood chips result from mulching too deeply. Be sure to read my post on using wood chips as mulch in a vegetable garden for more information.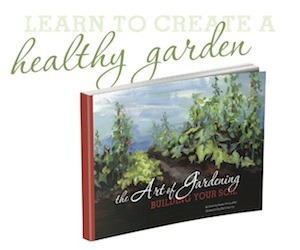 To learn how to build a garden that builds healthy soil, be sure to check out my eBook The Art of Gardening: Building Your Soil. 
You really can become a better gardener, and you really can grow healthy, nourishing produce. It's all about the soil! Click here to learn more.
More Organic Gardening Posts You'll Love
10 Common Mistakes When Using Wood Chips in Your Vegetable Garden
What are Ramial Wood Chips and How to Use Them
Lasagna Gardening – an Easy and Productive Way to Garden
Using Wood Chip Mulch in a Vegetable Garden
Plastic Mulch in the Garden: Friend or Foe?
Are You Killing Your Trees With Mulch?
Hay vs Straw in the Garden: Which is Better?
6 Simple Steps to Planning a Vegetable Garden Each Year
Source, Source, Source, Source, Source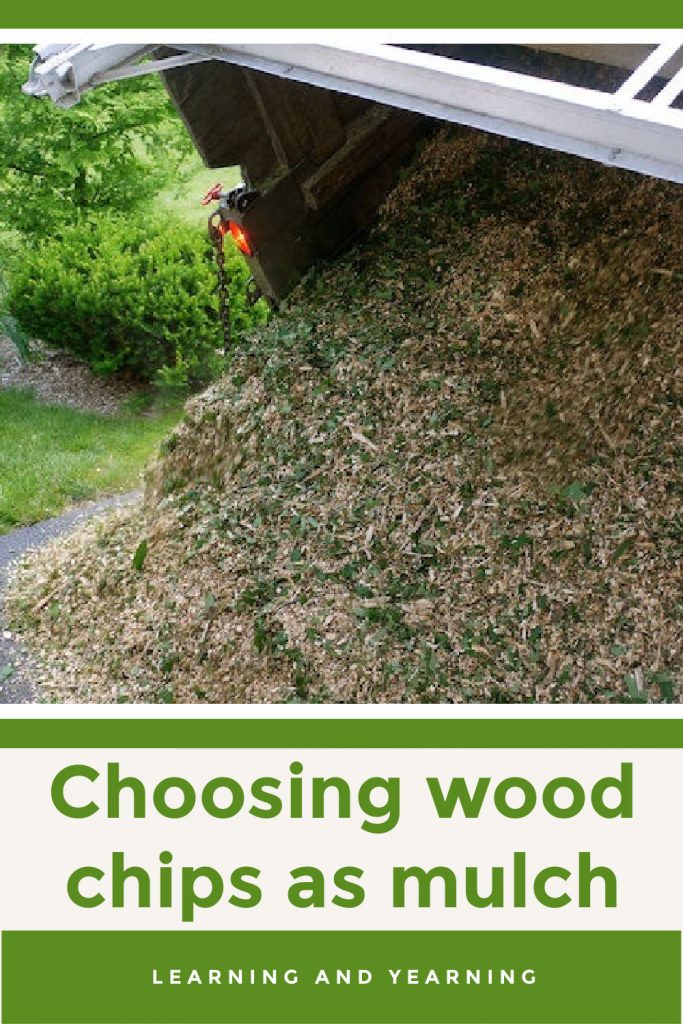 Thank you for visiting Learning And Yearning. May "the LORD bless you and keep you; the LORD make his face shine upon you and be gracious to you; the LORD turn his face toward you and give you peace." Num 6:24-26