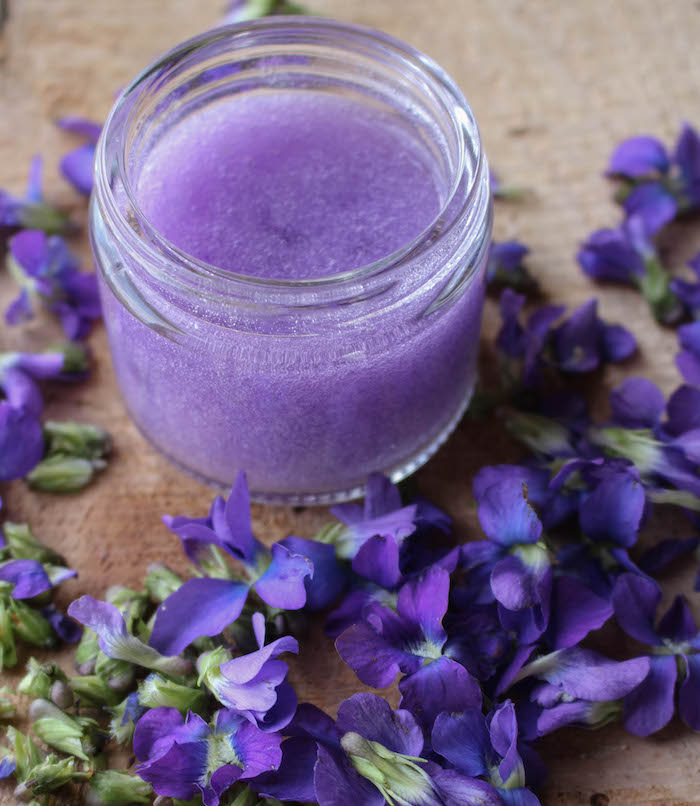 Do you need relief from skin irritations like sunburn, bug bites, razor burn, or dry skin? This easy to make violet-infused aloe soothing gel will bring about quick relief. Aloe and violet each have natural skin-calming and anti-inflammatory properties that your skin will love.
The recipe for this soothing gel is from the new edition of Jan Berry's beautiful book, The Big Book of Homemade Products for Your Skin, Health & Home. Jan was kind enough to grant me permission to use the recipe, and that absolutely gorgeous photo above is from the book as well and is used by permission. And this edition has 50 additional recipes.
The Big Book of Homemade Products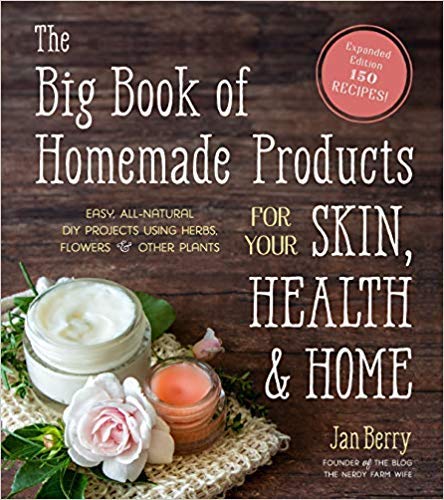 The Big Book of Homemade Products for Your Skin, Health & Home has easy, all-natural projects that use herbs, flowers, and other plants for homemade skincare recipes, home remedies, soaps, and non-toxic cleaning products. I highly recommend it.
In it, you'll learn the benefits of herbs and flowers, and how to preserve them for your projects. Jan will take you through everything you need to know about equipment, other ingredients, and even substitutions.
Some of the projects include:
Chamomile Honey Face Wash
Cayenne and Ginger Arthritis Balm
Mint Cocoa Body Butter
Oatmeal and Chickweed Eczema Cream
Lavender Milk Bath Bombs
Peony and Orange Sugar Scrub
Dandelion

Plantain Chapped

Lip Treatment
Herbal Dry Shampoo
Hollyhock Shampoo Bar
Catnip and Basil Insect Repellant Spray
Orange Pine Floor Cleaner
and so much more!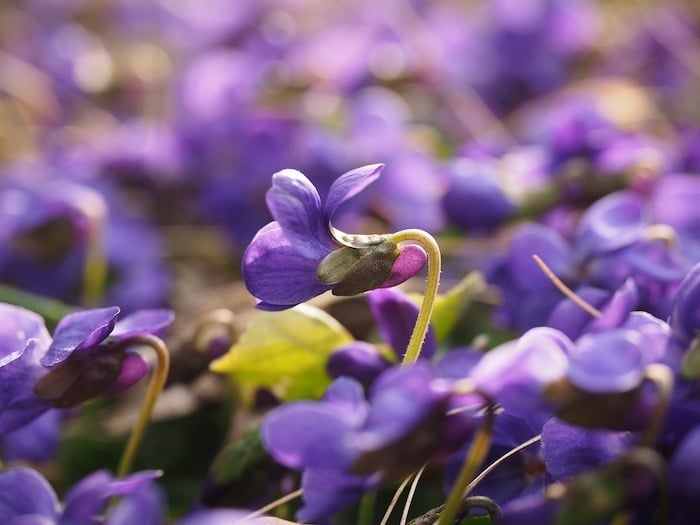 Foraging for Wild Violets
The lovely violet (Viola odorata) prefers the shade of woods, thickets and stream banks, but it is quite adaptable, and we have have many violets growing in our yard in full sun.
It's a perennial which grows low to the ground. The leaves are heart-shaped and the flowers of the common blue violet are purple. Other species may be white or yellow.
Observe the violet flower. Notice that it has 5 petals which include two pair of lateral petals and one petal which often has veins of another color. This is considered an irregular flower. If you were to cut the violet flower in half from top to bottom, each half would be a mirror image of the other.
In addition to 5 petals, the violet had 5 sepals and 5 stamen. The reproductive organs are often difficult to see and the flower must be dissected to observe.
The leaves of violets are usually oval or heart-shaped, and may be lobed. Lobed refers to the structure of the leaf, rather than the leaf margin and means that the leaf has either rounded or pointed protrusions. The margin, or edge of the violet's leaf is crenate; it's margins have rounded, outward-pointing teeth.
Benefits of Violet
Violets are high in vitamins A and C. Because they are soothing and cooling, they relieve swollen lymph glands, and can be used for a dry cough or sore throat. And violets also contain salicylic acid, a pain relieving component similar to aspirin, so don't ingest if you are allergic to aspirin.
In my foraging eCourse, More Than Weeds, I feature 5 common plants which are often considered weeds. Violet is one of those plants. I teach many more details about the plant, and include recipes for a beautiful low-sugar violet jelly, and a violet flower and leaf vinegar.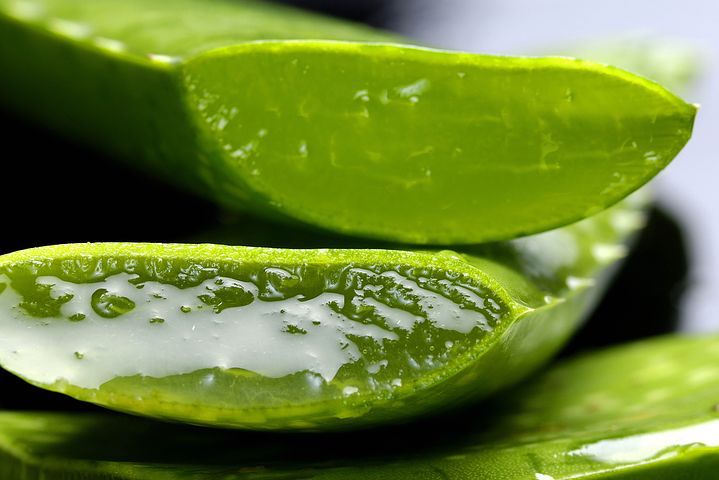 Benefits of Aloe
Aloe vera (Aloe barbadensis) contains B vitamins, vitamin E, selenium, silicon, enzymes, aloin, anthraquinones, polysaccarides, and tannins.
Because of its soothing and pain relieving properties, aloe is commonly used to treat minor burns. Its anthraquinones promote healing and tissue repair.
And aloe's soothing gel also soothes other skin irritations and is a perfect compliment to the violet in this recipe.
If you are interested in growing your own aloe, visit Schneider Peep's post, Tips Growing Aloe Vera Indoors or Out.
Making Violet-Infused Aloe Soothing Gel is Simple
The process to make this Violet -Infused Aloe Soothing Gel is as simple as putting fresh violet petals and aloe vera into a food processor. Strain through a fine mesh sieve, and you have your amazing remedy for skin irritations.
Directions for storage are on the recipe card. along with suggestions for other flowers that would work in the recipe as well.
If You Want to Add a Preservative
If you'd like to add a preservative to the infused aloe, the following information comes from Jan Berry, the author of The Big Book of Homemade Products for Your Skin, Health & Home.
You could use 1 to 2% Leucidal SF Complete for a mild natural Ecocert-approved option, or 0.5 to 0.75% Optiphen Plus (not natural, but paraben & formaldehyde free & stronger/longer lasting). These amounts are on the lower end of the normal suggested usage rate range because the bottled aloe will already contain preservatives.
Different brands of aloe vary in weight, so to determine the exact amount of preservative needed, weigh the final product and multiply it by the percentage.
For example, if the infused aloe weighs 100 grams and you want to use Leucidal SF Complete at 2%:
100 g x 0.02 (which is 2%) = 2 grams preservative needed.
Or if the final infused aloe weighs 60 grams:
60 g x 0.02 = you will need 1.2 grams Leucidal SF Complete preservative
Use a small jeweler's scale to weigh preservatives.
Other Home Remedy Posts You'll Love
Calendula Oil Body Butter Moisturizer
10 Edible Flowers You Can Also Use for Home Remedies
Homemade Arnica Salve for Sprains and Bruises
Pine and Honey Moisturizing Lip Balm
Natural Home Remedies for Your Medicine Cabinet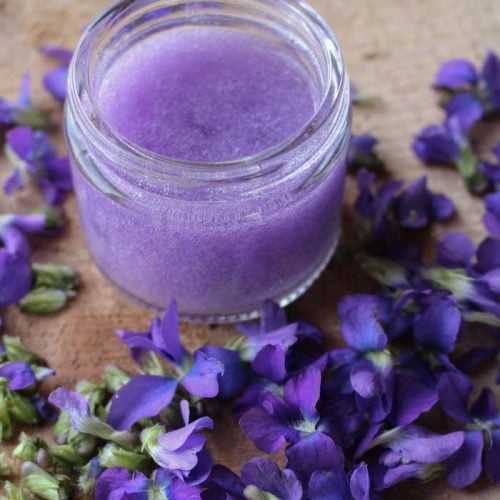 Violet-Infused Aloe Soothing Gel
Rub this soothing gel over mild skin irritations for skin-calming relief!
Print
Pin
Rate
Instructions
Place the flower petals and aloe vera gel in the bowl of a small food processor. Blend them together thoroughly. The mixture may get a little frothy in the process; that's okay.

After blending, strain the now purple aloe through a fine mesh sieve. You'll need to use your fingers to press and squeeze out most of it. The consistency of bottled aloe vera gel varies widely between brands; if yours is particularly difficult to strain, you may need to stir in a few drops of water to facilitate the process.

Store the finished violet-infused aloe soothing gel in a glass jar in the refrigerator. It should stay fresh for several weeks or longer. For longer storage, freeze in ice cube trays and store individual cubes in freezer bags for 3 to 6 months. The frozen cubes can also be rubbed over sunburnt or irritated skin to cool and soothe away pain and inflammation.
Notes
Other flowers that work well in this recipe include chamomile, calendula and rose. 
Thank you for visiting Learning And Yearning. May "the LORD bless you and keep you; the LORD make his face shine upon you and be gracious to you; the LORD turn his face toward you and give you peace." Num 6:24-26