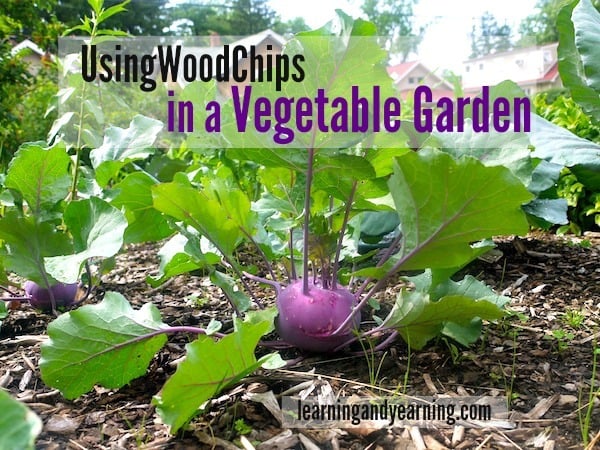 Several years ago, we had to have an ash tree in our yard cut down. We asked the arborist to chip the smaller branches, and we used those wood chips in our garden to mulch the paths. A year later, we discovered the documentary, Back to Eden, about Paul Gautschi and his method of wood chip gardening.
We were intrigued, and as I looked at the paths in our garden I noticed that as the wood chips mulch was decomposing, the soil was becoming black and gorgeous. We've been mulching our garden with hay, leaves, and grass clippings for many years, but thought that it might be worth experimenting with garden wood chips.
DISCLOSURE: In order for me to pay my blogging expenses, I may receive monetary compensation for my endorsement and/or link to products mentioned on this blog. As an Amazon Associate I earn from qualifying purchases.
We've had some amazing results, as well as some dismal failures. Here's some of what we've learned about using wood chips in our vegetable garden.
Using Wood Chip Mulch for the Garden
First let me say while I am a firm believer in the benefits of mulch in a vegetable garden, I don't think that any one method is the end all, or right for everyone. The best mulch that you can use is the one that is available in your area for free, if possible.
For us, wood chip mulch, grass clippings, and leaves from our own yard are available for free. We can often find spoiled hay relatively inexpensively, or even free. We use them all. By the way, here's why I use hay, and not straw in my garden.
I wanted to discuss wood chip gardening and using wood chip mulch because somehow it seems to have become a controversial topic online. Even some of my favorite bloggers are dismissing it.
Often, the people who are disparaging wood chip gardening have not tried it, or as you read how they are using it, are using it incorrectly.  I will say this from our experience – of all the mulches we've used, wood chips are the least forgiving. They need to be used properly, or can cause disaster.
What's Being Said About Using Wood Chips for Gardening
1. Wood Chip Mulch Robs the Soil of Nitrogen (False)
It is true that there is a nitrogen deficiency at the point where mulch and soil meet. It is important to plant below this level. Wood chips should not be dug into the garden for this reason, but only used as a mulch on top of the soil. I personally like to use a high nitrogen amendment like blood meal just below the mulch. Source.
TIP: if you are able to get wood chips that include branches with green leaves, those leaves are also a nitrogen source.
According to a 1971 Cornell bulletin, a 15 year study using wood chips was conducted on a farm in NY. In some areas, wood chips were applied as a mulch, in others, the wood chips were plowed under. Other test areas included traditional methods of farming and using cover crops. Over time, nitrogen levels in the soil increased in the areas where wood chips were used as a mulch. Source.
2. Perennials Prefer a Fungal Dominated Soil Which Wood Chips Provide, But Annuals Prefer a Bacteria Dominated Soil (False)
When I read this, I contacted Dr. Linda Chalker-Scott, horticulturist and professor at Oregon State University. Here's what she had to say:
I don't buy the "annuals prefer bacteria, perennials prefer fungi" mantra, since I've seen nothing in published literature to support it. In fact, it's well known that many annuals, including vegetable crops, are mycorrhizal, so I think this whole "bacterial soils for vegetables" thing is bunk. Basically, all non-grass species are mycorrhizal.
And Michael Phillips, in his book Mycorrhizal Planet, says:
Nearly every plant on this planet benefits from fungal connection. Most annual vegetables and flowers have to be included here as well . . which suggest the entire concept of "bacterial gardening" is far too simple a construct.
3. Wood Chip Mulch Will Acidify the Soil (False)
As the wood chips are decomposing, the ph of the chips may be acidic. This won't affect the soil below the mulch, and once the wood chips decompose, the soil it produces will not be acidic. There is no scientific research to support the idea that mulches such as wood chips affect soil pH.  Source.
Our Problems with Wood Chip Gardening
Yes, we have had problems in our wood chip gardens. In every case, however, we were the problem, not the wood chip mulch itself. As I mentioned, wood chips as a mulch are not as forgiving as say, hay.
Mulch too deeply with hay, and you won't likely have any problems. Maybe your soil won't warm as quickly in the spring, or you'll have a problem with slugs in a particularly rainy year.
No matter what mulch you use in a no-dig garden, it will need to be pushed aside at planting time so that you can plant your seeds, or seedlings in the soil, not in the mulch.
Deep wood chips are very difficult to push aside. Not so with hay. Hay, of course, needs to be replenished much more quickly than wood chips and for us, often comes with a dollar sign attached.
I have found that 2 – 3″ is just right for wood chip mulch. Most of our problems have resulted from mulching too deeply.
In addition, according to this source, "wood chips that heat up and partially decompose can produce volatile organic compounds that inhibit seed germination and plant growth." I have found that to be true.
Seeds, especially small ones, that have planted in the layer just between the soil and the mulch (partially decomposed chips) don't germinate. This can be a plus, since weed seeds also don't germinate.
Plants That Have LOVED Wood Chip Mulch
We have found that all seedlings have done just fine, planted in the soil below wood chips. Also, any larger seeds that are not spaced closely seem to love the chips. For us, it has been too difficult to push all of the chips away for seeds that are closely spaced, like carrots. Squash does particularly well in wood chips.
And Those That Haven't
Our carrots, beets, spinach and onions have not done well in our wood chip garden. In all cases, I suspect I did not move the mulch enough and planted in mulch rather than in soil. Mike planted some onion sets around our apple trees a few weeks ago, in a wood chip garden. He was particularly careful to plant them in soil. We'll see how it goes.
I suspect that as the years pass and our wood chips fully decompose, planting small seeds like carrots will not be a problem. In the meantime, I keep some beds mulched only with hay or leaves, and plant these types of seeds in those beds.
I think that the beginning can be the hardest for this type of garden. The mulch is not yet decomposed, providing the soil with its rich store of nutrients.
Paul Gautschi has been gardening this way for over 30 years. His soil is rich and deep. In the 15 year study I mentioned earlier, yields, in general, were highest in the plots that were mulched with wood chips. The method clearly works.
If you're wondering if wood chips can be used as mulch for gardening, the answer is a resounding yes!
My Method of Wood Chip Gardening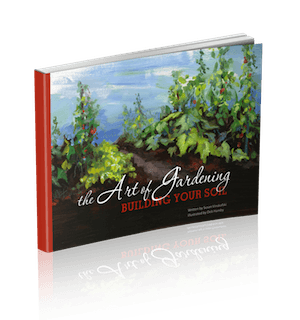 It is generally recommended when starting a new wood chip garden to layer a few inches of compost on top of newspaper, and then a few inches of wood chips on top of that. Seeds and seedlings are then planted in the compost layer.
I've mulled this over quite a bit and have come up with a method that solves some of the beginner problems and provides a richer base for planting. I have basically combined lasagna gardening with wood chip gardening, and have detailed that method in my eBook, The Art of Gardening: Building Your Soil.
What's your experience with wood chip gardening? I'd love to hear about it in the comments.
Thank you for visiting Learning And Yearning. May "the LORD bless you and keep you; the LORD make his face shine upon you and be gracious to you; the LORD turn his face toward you and give you peace." Num 6:24-26