Are you as forgetful as I? The last time we were at our cottage, I left my camera there. We were planning a trip to the shore, and of course I wanted the camera, but the day we planned to drive out and pick it up, well, I was suffering from food poisoning of all things.
Thankfully, I was feeling much better when we left for our vacation and we had a fantastic few days, sans camera. (I did take a few pics with my phone).
DISCLOSURE: In order for me to pay my blogging expenses, I may receive monetary compensation for my endorsement and/or link to products mentioned on this blog. I am a participant in the Amazon Services LLC Associates Program, an affiliate advertising program designed to provide a means to earn fees by linking to Amazon.com and affiliated sites.
The garden grew a ton while we were away but I still don't have my camera to take a few photos. Soooo, I decided to make my first ever video. Don't get too excited, since I had to use my phone, and I'm such an amateur. Still, I hope you enjoy it!
By the way, the plant that my weary brain was struggling to remember is horseradish.
What's going on in your garden these days?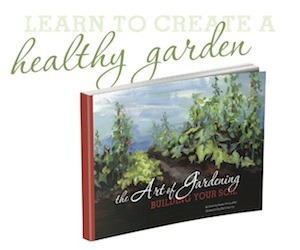 To learn how to build a garden that builds healthy soil, be sure to check out my eBook The Art of Gardening: Building Your Soil. You really can become a better gardener, and you really can grow healthy, nourishing produce. It's all about the soil! Click here to buy now.
Thank you for visiting Learning And Yearning. May "the LORD bless you and keep you; the LORD make his face shine upon you and be gracious to you; the LORD turn his face toward you and give you peace." Num 6:24-26