Scape

/

noun
a long, leafless flower stalk coming directly from a root.
Growing Hardneck Garlic
If you live in a northern climate, it is recommended that you grow hardneck garlic because of its hardiness. The added bonus is that, unlike softneck varieties of garlic, hardneck garlic produces scapes, a long flower stalk.
Cutting off the scape before it blooms helps to insure a larger bulb of garlic. The plant's energy will go into producing a bulb rather than producing a flower.
The scapes are quite delicious and can be used in a variety of ways:
They may also be chopped and used in any recipe that calls for garlic. I think my favorite way to use them, however, is to make garlic scape infused olive oil.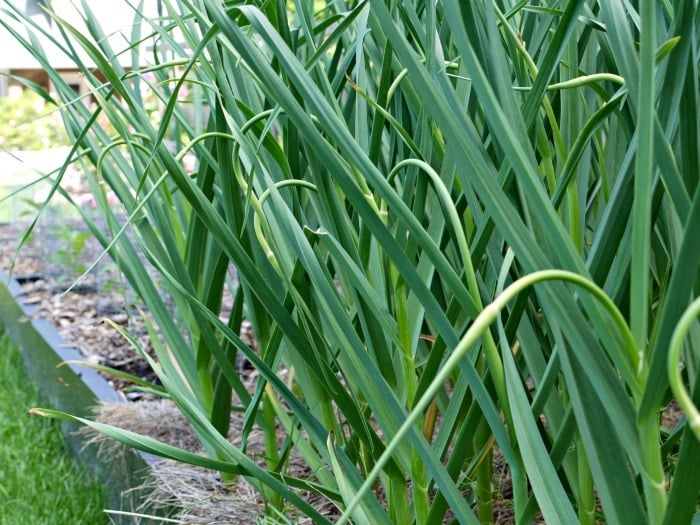 Harvesting Scapes
Scapes begin to form a month or so before the garlic is ready to dig up. Harvesting garlic scapes is easy. With a pair of scissors, simply cut the scape as far down on its stalk as you can without cutting any of the plant's leaves.
Making Scape Infused Olive Oil
The most important consideration when making scape infused olive oil is safety. Since water and oil don't mix, the potential for mold and even botulism increases if fresh, rather than dried plants are added to oil.
Chopping the scapes, and then dehydrating them in either an oven at its lowest temperature, or in a dehydrator is the best way to prepare your scapes if you want an oil that can be kept for any length of time.
For more on safely infusing oils, see this cooperative extension post.
Infused Oil With Fresh Scapes
To infuse your olive oil, place 1/2 to 2/3 cup of fresh chopped scapes into a one cup mason jar. Fill the jar with extra-virgin olive oil and place the jar in the refrigerator for 3 – 4 days. Strain and refrigerate the oil. Be sure to use within a few days.
Infused Oil With Dehydrated Scapes
To infuse your olive oil, place 1/3 to 1/2 cup of dehydrated scapes into a one cup mason jar. Fill the jar with extra-virgin olive oil and leave at room temperature for 3 – 4 days. Strain. This may be refrigerated or kept at room temperature and will keep for months.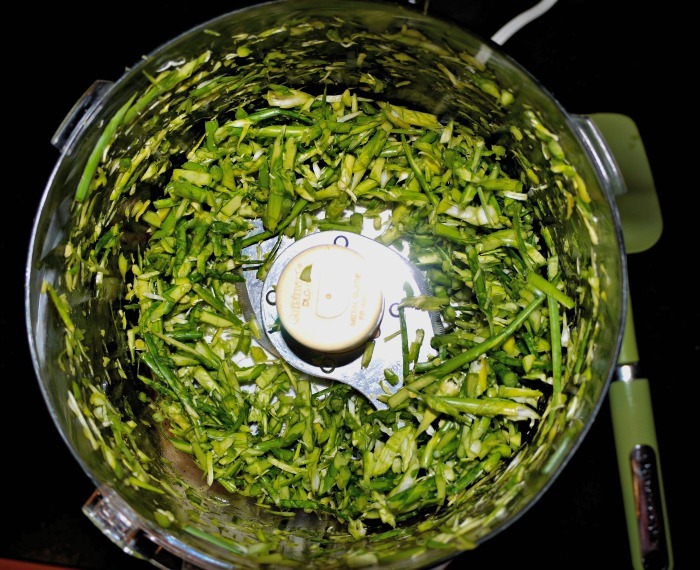 Using Scape Infused Olive Oil
Bread Dip
What could be better than dipping a good, crunchy loaf of Italian bread into olive oil? Dipping it into scape infused olive oil. That's what! Add a little parmesan cheese or oregano if desired.
Salad Dressing
Do you make homemade salad dressing? Use the infused oil the next time you make it; you'll love it! Or try my recipe:
2 tablespoons of fresh-squeezed lemon or lime juice
1/3 cup scape infused olive oil
1/2 teaspoon sea salt
1/2 teaspoon oregano
1/2 teaspoon basil
1 teaspoon maple syrup (optional)
Combine ingredients. Makes enough for 1 large salad.
Marinade
Marinading meat or seafood before cooking is a great way to add flavor, and it tenderizes it in the process. Use your favorite recipe, substituting the infused oil for the oil in the recipe.
Pasta
Scape infused olive oil is perfect for drizzling over pasta. Add some parmesan and a salad and you have an easy meal. It's also great in pasta or potato salad.
Sauté
For extra flavor when low-heat sautéing, use your infused oil instead of plain olive oil. I even like to add it to the pan when heating up leftovers. It really makes them extra special.
What's your favorite way to use scapes?
You'll Also Enjoy:
Thank you for visiting Learning And Yearning. May "the LORD bless you and keep you; the LORD make his face shine upon you and be gracious to you; the LORD turn his face toward you and give you peace." Num 6:24-26