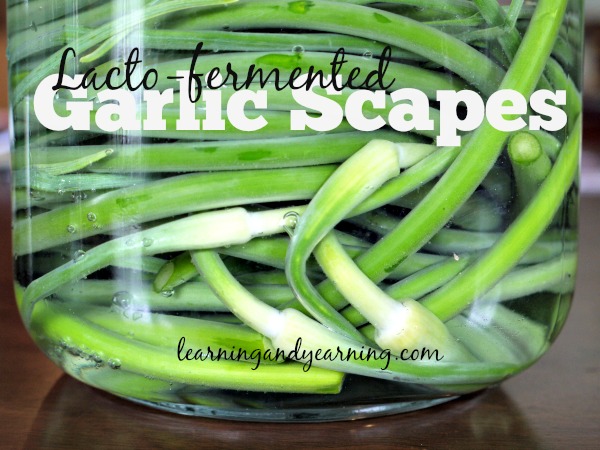 Are you in love with garlic scapes? Me, too! They are great oven-roasted or grilled, in tossed salad, potato salad, or you can even use them to make pesto.
For the uninitiated, scapes are the curly stalks that form a seed head and grow on hardneck garlic varieties. It's a good idea to remove them to allow all the plant's energy to form bulbs. Milder than garlic, they are a treat themselves.
DISCLOSURE: In order for me to pay my blogging expenses, I may receive monetary compensation for my endorsement and/or link to products mentioned on this blog. I am a participant in the Amazon Services LLC Associates Program, an affiliate advertising program designed to provide a means to earn fees by linking to Amazon.com and affiliated sites.
Fermented Garlic Scapes
Scapes couldn't be easier to ferment. Fermenting them preserves them for later use, and is a great way to add probiotics to your diet.
The fermented garlic scapes may used in the same ways you would use them straight from the garden. Keep in mind, though, that cooking them will destroy the probiotics.
You may ferment as little or as many scapes as you like. Simply curl the scapes into a circle just smaller than the diameter of your clean fermenting jar, and place inside. Cover the scapes with brine which consists of 3 tablespoons of sea salt to 1 quart of water. Adjust the amount of brine to suit the amount of scapes you've harvested.
Place a weight on top of the scapes to keep them submerged. You may use a scrubbed rock, a purchased weight for fermentation, or even a plastic bag which contains some water.
Allow your scapes to ferment for several days at room temperature, and then refrigerate. For more information on fermenting vegetables, see my post Preserving Vegetables Through Fermentation.
More Posts You'll Enjoy
Preserving Vegetables Through Fermentation
How to Grow, Harvest, and Cure Garlic
Fermentation Weights: 10 Ideas for Keeping Your Ferments Submerged
Making Fermented Garlic and Ways to Use It
Thank you for visiting Learning And Yearning. May "the LORD bless you and keep you; the LORD make his face shine upon you and be gracious to you; the LORD turn his face toward you and give you peace." Num 6:24-26