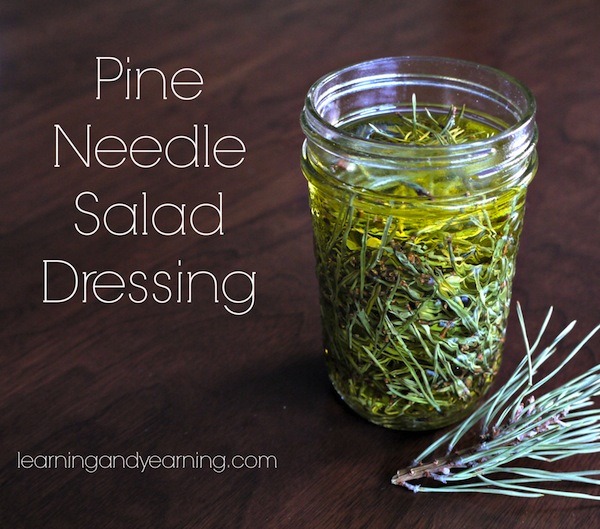 Just after Christmas, I was at a friend's home and was admiring her tree. Seeing that it was a pine, I did what any normal person would do. I pulled off a few needles and tasted them. Sincerely, it was some of the best pine I've ever had, and she happily let me gather a bagful of needles.
The next evening I was gifted a bagful of Scotch pine branches from another friend. I think it's awesome that despite the fact that my friends may consider me "different", they love me enough to honor who I am.
DISCLOSURE: In order for me to pay my blogging expenses, I may receive monetary compensation for my endorsement and/or link to products mentioned on this blog. As an Amazon Associate I earn from qualifying purchases.
Of course, pine is quite abundant in my area and I don't have to rely on friends and their Christmas trees to get my fix.
Just a word of caution about using Christmas trees before we go on. Know where and how the tree was grown before using. It may have been sprayed with chemicals, or even colored green. You don't want to consume these trees.
Properties of Pine
Pine needles are high in vitamins A and C. The oil of pine is analgesic, antibacterial, antifungal, anti-inflammatory, antimicrobial, antineuralgic, antirheumatic, antiseptic, antiviral, bactericidal, balsamic, cholagogue, decongestant, deodorant, disinfectant, diuretic, expectorant, insecticide, stimulant, and vermifuge.
Identification
Pine trees are, of course, evergreens and so the needles are available year round. All evergreens, however, are not necessarily pines.
Pine can easily be identified by their needles which always grow in clusters of 2 to 5 depending on the species. The needles of no other evergreen grow in clusters.
If you're looking for more info on identifying evergreen trees, see my post Identifying Pines, Spruces, Hemlocks and Firs.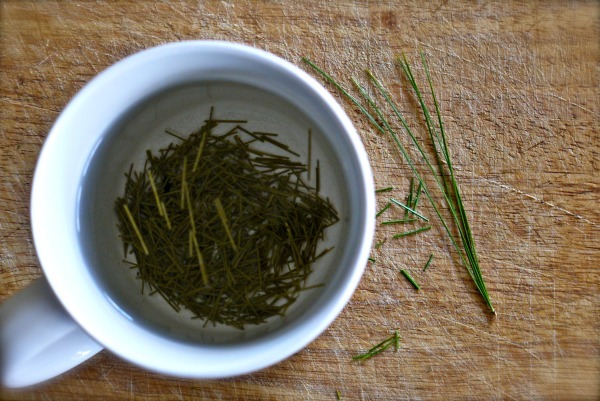 Collecting Pine Needles
If there are several pines in the area where you are foraging, go ahead and taste needles from different trees. Some will be better than others. Collect needles from the tastiest tree.
Young pine needles will be the most flavorful; those are the needles found closest to the ends of each branch.
Eating Pine Needle
Warning: It is generally advised that pregnant women not consume pine because ponderosa pine needles have caused abortion in cattle. And, of course, do not consume pine if you are allergic.
Yes, you can just nibble on a pine needle. Making a tea of them is simple and quite delicious. Just pour boiling water over a small bunch of fresh or dried pine needles and steep for about 5 minutes. Strain, and add honey, if desired.
The tea is especially nice if you have a cold since it is both an expectorant and decongestant.
Pine Needle Infused Olive Oil for Salad Dressing
One of my favorite ways to use pine needles is to infuse them in olive oil for use in salad dressing. The needles should first be spread out to dry for a few days. The moisture in fresh needles (or any herb that you might infuse) can cause mold, so it's always best to use dried.
Pack a 1 cup canning jar (or other glass container) with dried pine needles, leaving a good inch at the top. Chopping the needles first is optional, but does seem to impart more of the wonderful pine flavor and aroma.
Cover the needles with olive oil, and put the lid on your jar. Now allow your needles to infuse for a week or two in a warm, dark spot.
Alternatively, you may place the jar of needles and oil in a dehydrator set at 100°F for about 8 hours. Or see this post Five Ways to Make an Herb Infused Oil for even more ideas on how to infuse your pine needles into oil.
Strain your oil for use in your favorite salad dressing recipe, or use my recipe below.
Pine needles may also be infused in vinegar for your salad dressing, but I find that the infused oil has a much nicer flavor.
More Than Weeds
A Foraging eCourse for Beginners
Are you interested in foraging, but a bit hesitant because you don't trust your own abilities? I created a mini eCourse just for you. In More Than Weeds: 5 Common Plants to Forage for Food and Medicine you'll learn that identifying plants is all in the details.
Using common plants with which may be someone familiar you'll learn beginner botany skills that you will be able to use as you move forward. You'll gain confidence to use these plants for your family in food and safe, home remedies. Get started now!
Pine Needle Salad Dressing
One of my favorite ways to use foraged pine needles is to infuse them in olive oil for use in salad dressing.
Print
Pin
Rate
Ingredients
1/3

cup

pine needle infused olive oil

see post for instructions

2

tablespoons

fresh squeezed lemon juice

1/2

teaspoon

sea salt

1

clove

garlic

pressed

1

teaspoon

maple syrup

optional
Instructions
Combine all ingredients. This is enough dressing for one large salad.
Thank you for visiting Learning And Yearning. May "the LORD bless you and keep you; the LORD make his face shine upon you and be gracious to you; the LORD turn his face toward you and give you peace." Num 6:24-26